The term 'autism' may not only be strange to ordinary citizens who have not stepped in a medical lecture theatre, but also to the men and women who have spent years dismantling huge books of medical theories
However, as strange as the name may sound, 'autism' is a common condition across the world, and Zambia is not an exception.
As the world is still in the dark on the causes of autism, one Zambian is going against odds, leading the way to find best ways of taking care of 'autistic' children
Joackim Nyoni, a Zambian PhD student at the South African University of Cape Town, in the School of Health Sciences, Department of Health and Rehabilitation, is leading a research project in Zambia, seeking to establish the challenges faced by parents and other stakeholders in taking care of children with autism.
Before giving a professional definition of autism, Nyoni confirms that the condition is not very well known in Zambia, hence the need to delve into empirical evidence by conducting research on the condition.
"I am doing a study on disabilities, more to do with issues of health. This study is a participatory action research trying to look at available services for families with children living with autism. Autism is not a very well-known disability in our country, but in other countries, especially the developed countries, people are aware of it. But a survey from a Zambian perspective shows that very few people know and understand what autism spectrum disorder is. Autism is a neuro developmental disorder, which affects the child's communication aspect, the child has communication deficit, language deficit and even social interaction is affected.
"These children have different characteristics, some of them have repetitive behaviour, for example, an autistic child you may find instead of playing with a toy car in a normal way that any other child does, he may be playing with wheels and if he wants something he may continuously stick to that, so they have that stereotype of behaviour. Of course, some of them are very intelligent children," Nyoni says.
The ignorance about the condition, especially among people who have flipped medical books, the doctors, is a source of worry for Nyoni. His worry is that if medical professionals do not know about autism, there is no way they can care to dedicate their efforts in finding the cure and ways in which to take care of autistic children
"The research is in three phases; in the first phase, I have been working with parents to identify the challenges they have in accessing the services that would help to take care of these children, what future support services would they need; who are the stakeholders who would help to bring about advocacy and self-determinism. So, I have interviewed parents from both rural and urban areas within Lusaka Province, I have also interviewed professionals, mainly those from Ministry of Health, Ministry of Education and the Department of Social Welfare, I have also interviewed policy-makers to find out the challenges they have as professionals. Some of the professionals, including doctors do not know about autism. Go to the school of medicine, there is a very small component about autism and a lot of students don't know autism. If we have students who are learning medicine do not learn more about autism, then it's a challenge; there are very few doctors who have ventured into this aspect," Nyoni added.
Nyoni, a University of Zambia (UNZA) masters graduate in psychology, said his research is participatory action-based, which is also raising awareness and promoting advocacy for recognition of autism as a serious, independent health condition that should be given serious attention by all stakeholders
He added that the study is also seeking to establish the knowledge that different stakeholders that include medical professionals, teachers, policy makers and parents, have about autism.
"My research is a participatory-action research; I am looking at the services available to families of children with autism. My thinking is, 'what is it which professionals know about autism?' 'What is it which they don't know about autism?' 'Do we have any statistical data about the number of children with autism?' The answer is no! Go to Central Statistical Office (CSO), there is nothing; go to Ministry of Health itself…., information is only found in the (assessment) centres; there is no database where somebody can go and get the number for children with autism. If you go to Ministry of Education, you will find the number of visually-impaired, they have the number of those who are deaf, but autism is silent, it is embedded in the intellectual disabilities instead of bringing it out."
Delving into the details about the condition, Nyoni explains that autism affects boys more than girls
"Research shows that one in every five of autistic children is a girl, and four in every five are boys. So, it catches more into the boys as compared to girls. It's a spectrum, which means that some of them maybe on the higher side in terms of behaviour, in terms of hyper-activeness, intelligence, while others maybe on the lower side. You may find that even their performance in school maybe low. One thing about these children is that, it's difficult when you meet them in the streets, you can't know that this is an autistic child," Nyoni observes.
He further stated that autistic children are at a higher risk of social vices, such as rape and general violence, as some people may take advantage of their condition
Nyoni added that based on research, parents with autistic children are more stressed than other parents with children living with other forms of disability.
"Studies have shown that parents of children with autism have more stress than any other disability and yet it is silent, and the numbers are growing. So, here is a disability, which makes people more stressful than any other disability and yet it is silent, and the numbers are growing. So, the aim of this research is to have a clear understanding on how it is to have a child with autism, what are the services that they can access," Nyoni said.
Nyoni did not let the opportunity go without making his honest appeal to government, especially on policy formulation.
"Where there is no policy, people will do it at their own will. So, if there is a policy, which says, 'let children be examined according to their interests and their need' because they have been identified and labeled as autistic children and you have known their characteristics. So, why should you expect them to write the same exam with other children? So, a policy in that direction would help. We are also saying, if you have a sixteen-year child with autism, you go to town or a shopping mall and she says, 'daddy I want to go to toilet, as an adult man, where do I take that child for help, men's toilet or women's toilet? Can't we have the policy for such disabled children, which can look into such needs?" wondered Nyoni.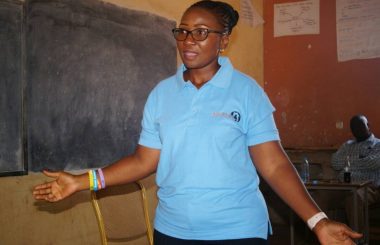 Meanwhile, Dr. Tamara Chansa Kabali, an UNZA psychology lecturer, who is also one of the founders of 'Mulenga Autism Foundation', an organization advocating for awareness on autism in different parts of the country, said so far, there is no research that has revealed the causes of autism, making it difficult to find the cure for the condition.
Speaking when her organisation held a sensitization meeting at Namalombwe Primary School in Chilanga District, Dr. Kabali, who also has a child with autism, called on parents and other stakeholders to show love and care to autistic children as the surest way of helping them
"Unfortunately, even as we speak, there is no research that has been done that has successfully revealed the causes of autism and if that is the case, then it means there is no cure. Everywhere in the world, in America, UK, there is no established cause of autism, but because here in Zambia where we don't even have advanced facilities, we are more affected. However, studies are ongoing and we hope we get the information. The most important thing is to understand the condition of the child as a family and ensure that all stakeholders, such as teachers, the police, friends and other community members, know the condition of a child so that they don't mistreat that child. Children with autism need more love and care from parents and the family," said Dr. Kabali.