Vice-President Inonge Wina says increased propaganda in Zambia will damage the investor confidence.
And Vice-President Wina says government will extradite some Zambians in the Diaspora who are inciting lawlessness through social media.
Responding to a question from Bwana Mkubwa PF member of Parliament Jonas Chanda, who wanted know what government was doing about those denting Zambia's image to the international community during the Vice-President's question time in Parliament yesterday, Vice-President Wina urged political party leaders to be careful with their utterances as certain words had the potential to incite people to break the law.
"To protect the image of the country positively inside and outside is a responsibility of every Zambian and not only the government. But of course the government has got the upper hand when it comes to propagating the good image of Zambia. It's very unfortunate that the real culprit that spoil the name of Zambia are Zambians themselves and the reasons for doing so are really not well established because since the end of the election scenario of August 2016, we have seen an accelerated propaganda on damaging Zambia's reputation particularly its leadership," Wina said.
"And this will really damage the investment opportunities in this county. I don't know whether the people who are doing this realise the implications of this propaganda which is so negative that the world thinks Zambia is in a state of emergency which is not [the case]. That is why the President of this country Mr Edgar Chagwa Lungu has used the law to ask the Zambians to inform them that the situation in the country requires that I am given certain powers by parliament to address the issues at hand."
Vice-President Wina said Zambians were lucky to have a leader like President Edgar Lungu who could seek the mandate from the representatives of the people in parliament to evoke certain orders.
"Madam speaker, it's very seldom that you find leaders who can seek the mandate from the representatives of the people in this parliament to give the President powers to evoke certain orders because in some countries, a President would have just declared a state of emergency but in this case, our President is a man of laws, he is a democrat, he listens and he is a humble person, and above all! He is a God fearing President. So I don't know what a Zambian would be looking for in a President, maybe an arrogant and a bull-dozer, that is what others may accept as a good President," she said.
Vice-President Wina also reminded political party leaders of their collective responsibility not to influence youths to undertake serious violations of human rights as that could land them in problems.
"For now I can only say all political leaders including Patriotic Front have to be careful with the way we use words because this can insight people to undertake acts which are contrary to the morals and norms of society. And it is a collective responsibility for all political party leaders, not to influence our young people to undertake this very serious human rights violations in the country because when these people are apprehended, these leaders will not be there," she said.
"The other people especially the youths who are given money to perpetrate such acts will suffer on their own, their families will suffer, so the country suffers when these acts are not stopped. This is what the president is trying to do, to give him powers to arrest this situation before it gets out of hand."
She was responding to a question from Chitambo PF member of parliament Remember Mutale who wanted to know what government was doing about political party leaders who were issuing statements threatening the peace of the country prior to the 2016 August elections.
And in apparent reference to staunch UPND supporter Larry Mweetwa, who is based in the UK, Vice-President Wina said government would extradite some Zambians who were inciting lawlessness in Zambia through social media.
Moments after news broke that the Lusaka City Market was in fire, a screen shot of Larry Mweetwa's posting in which he was seemingly celebrating the occurrence went viral on social media.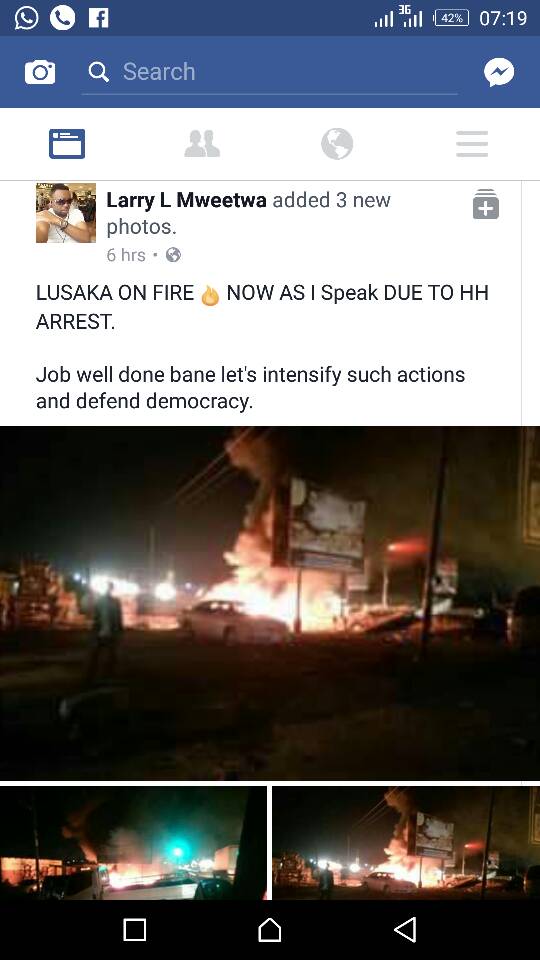 "Lusaka is on fire now as I speak due to HH arrest. Job well done bane, let us intensify such actions and defend democracy," read the posting.
However, Mweetwa later posted a statement saying the screenshot which was circulating had nothing to do with the Soweto Market fire.
"I would like to inform the public that the post circulating on social media attributed to me is fake news and has nothing to do with Soweto market. This is an attempt by PF to avoid responsibility, shift blame and minimise the damage they have caused on innocent citizens of this great nation. When you see such fake post from PF, take time and look at the two images they are totally different. Our prayers are with the people of Zambia who have lost property and income," stated Mweetwa.
But responding to a question from Chinsali PF member of parliament Halalwe Mukosa, who wanted to know if government was considering extraditing Zambians living in the Dispora who were inciting sabotage through social media, Vice-President Wina said steps had already been taken towards that and the nation would be updated in due course.
"This government has signed some agreements with some foreign countries regarding extradition of undesirable characters or Zambians in their countries or in our country. and we are in discussion with these countries to ensure that they do no harbor people who are doing damage to our country and we have also engaged international security agencies like Interpol to look into these issues so the country will be informed when some developments have been achieved in this area," said Vice-President Wina.
Meanwhile Deputy Speaker of the National Assembly Catherine Namugala reserved a ruling on a point of order raised by Mandevu PF member of parliament Jean Kapata wondered whether it was right for Namwala UPND member of parliament Moono Lubezhi and her Monze counterpart Jack Mwimbu to abscond from proceedings of the House even after the Speaker had made a ruling that they were wrongly suspended.
"I reserve my ruling to allow me to investigate as to why the mentioned honorable members of parliament have not been attending the sittings of the House," said Namugala.