Police this morning stopped a semi-naked Chilufya Tayali from proceeding to present his petition to their boss Kakoma Kanganga.
Tayali, who is Economic and Equity Party leader, marched from the Freedom Statue to Police Force Headquarters where he was supposed to present a petition to the Inspector General clad only in a beige short.
But upon arrival at Police Force Headquarters, a senior officer, Mbita Mpazi, told him that he could not be allowed in because of the way he was dressed.
Despite borrowing a jacket, Mpazi insisted that Tayali could not be allowed to see Kakoma.
Mpazi ordered his juniors not to allow Tayali into the premises and denied the latter's request to deliver the petition on his behalf.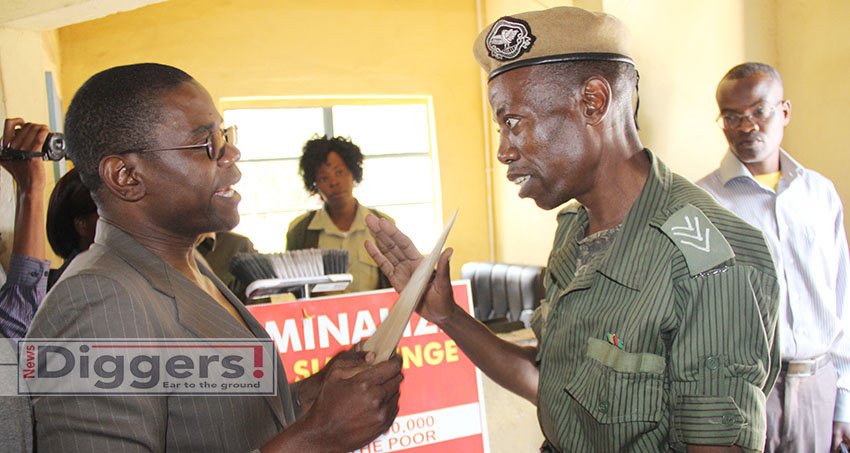 "I wanted to come naked but I have given respect to the officer in charge. You are the very people Mr Mbita that is why even in court, you couldn't testify, you are the people who are spoiling the police Mr Mbita. So this is the police, these are the public office, a person dressed who cannot afford clothes, a poor person cannot see the IG. Who is the IG? The IG is paid by the people. It's very unfair, what country is this? A public officer refusing to see a citizen, what is wrong with me? Are there no people who dress up like this?" Tayali asked.
"All of you are scared to get the petition for the IG, am going since you want to deal with rich people, I will come, I will bring the petition."
Tayali said he would return to submit his petition after he wears a suit.
Take a listen:
Below is Tayali's petition to the IG:
PETITION AGAINST UNPROFESSIONALISM, INCOMPETENCE, INEFFICIENCY AND CORRUPTION IN THE ZAMBIA POLICE SERVICE, TO BE PRESENTED TO THE INSPECTO GENERAL OF POLICE, MR. KAKOMA KANGANJA, AT POLICE HEADQUARTERS, ON 29 AUGUST 2017
We are very concerned about the high levels of unprofessionalism, incompetence, inefficiency and abuse of human rights by the Zambia Police Service under your leadership, Mr. Kakoma Kanganja, as Inspector General of Police. We would like to urge you to resign immediately, failure to which, you should change your attitude towards work and start acting professionally. If you cannot do either of the two, we fear for the security of our nation, the citizens, and that of the President, with you heading the police.
Sir, if you take time to go round our police cells, you will find a lot of people detained for cases that they don't need to be held in police custody for. There are many cases of arbitrary arrests of innocent people, which are congesting our detention facilities.
The police, under your command, are fond of arresting and detaining people illegally, over such matters as personal differences, debt, holding a different political or personal opinion from the ruling party, and other tramped charges which, end up in acquittals or nolle prosequi, for known public figures, while poor people rot in police cells or jails, waiting to go to court.
Sir, the Minister of Home Affairs banned unlawful road blocks, yet, our roads are filled with traffic police officers, swarming like a plague of locusts, stopping vehicles at will, at any make-shift check point, causing traffic jams and inconveniencing motorists.
What is more baffling is that while your traffic police officers spend a lot of time pursuing motorists, many of them own and drive defective vehicles, some with no number plates at all, in contravention of the same traffic laws that they enforce on others. This anomaly is very common among police officers who own and operate minibuses as a business.
It is a fact that our roads have more roadblocks than toll-gates, with higher penalty fees being collected at such road blocks, compared to the toll-fees collected at designated toll- gates, yet the police do not declare and deposit as much money as the National Road Fund Agency (NRFA), who are operating very few toll-gates.
One can easily conclude that your police officers are highly corrupt and that you are heading a corrupt police service. Unfortunately, you are not doing much to deal with this scourge of corruption in the police. You are turning a blind eye. If the police were honest and not corrupt, the police service would be collecting so much money that it would not have to depend on Government funding, given that there are too many roadblocks cashing-in on various traffic offenses with "instant" unreceipted fines.
Sir, while we observe that, there are some political players who are unruly and have an inclination towards creating conflict, we believe that you have exacerbated the political tension among political parties, especially the opposition and the ruling party, due to your biased and unlawful application of the Public Order Act (POA).
Sir, you and the majority of your Police Commissioners and senior officers, have conspicuously been politically biased in the way you have treated members of the opposition political parties, when they give you notices to hold public meetings. Further, members of the opposition, have been arbitrarily arrested, without proper investigations, over the matters reported against them by members of the ruling Patriotic Front.
A case in point is how you arrested Mr. Hakainde Hichilema, President of the United Party for National Development (UPND), his five co-accused, and many other people associated with the UPND leader, or, his party. Mr. Hakainde would not have been arrested in that brutal manner, causing damage to his property, if it was not for his political activities.
You personally, read out the charge of treason against Mr. Hichilema when you ought to have known that he committed no such crime. The case was not investigated and it showed high incompetence on your part, and that of your officers, though you denied responsibility in court. But, if it is not your incompetence as Inspector General of Police, then whose is it? To-date, we have not seen anyone punished for endangering the life our Republican President in Mongu, due to the incompetence of you and your officers in Western Province, on the material day.
We, therefore, insist that that mishap should be blamed squarely on you and you should resign on moral grounds, because endangering the life of a Republican President is a grave mistake by people who are supposed to protect him. It amounts to Treason. We are very concerned for the life of the President, owing to what happened in Mongu, especially that, no one has taken responsibility for that, you in particular, being the head of the police.
Sir, your bias against opposition members of political parties made you arrest Mr. Obvious Mwaliteta a UPND member and his colleagues, over a political misunderstanding during a highly emotive electoral period last year. You further, went on to "criminalize" your colleague, former Western Province Polilce Commissioner, Mr. Fanwell Siandenge, by putting him on a Wanted List and pegging a colossal reward of K300,000 for his capture.
The case of Mr. Mwaliteta has since been disposed-of by way of acquittal and the State has announced that they will not appeal, yet you have conveniently left the bounty on former Commissioner Siandenge open. We demand that, Commissioner Siandenge should be removed from the Wanted List, so that he can enjoy his freedoms and liberties.
It does not please us to see citizens living in fear of the police whom they pay, through their taxes, while you remain oblivious of the realities mentioned in this petition and many others.
Our police fail to solve serious crimes, where lives have been lost, including police officers lives, yet you waste time pursuing political opponents of the ruling party with vigour and gusto.
We suspect that it was at your request that the President declared a Threatened State of Emergency to give you more power to crackdown on saboteurs, but to-date, you have not given us substantive revelations of the suspects that you have arrested, when they will appear in court, etc., apart from labeling alleged crimes, like the Lusaka City Marker fire, as political, with no evidence to back your claims.
Sir, we would like you to give us evidence to back your earlier statement that the saboteurs are politically inclined other than quoting an excited politician who was making statements without thinking of who might use his statement against him.
Sir, we also wonder, why you seem to have special police officers whom you work with, overlooking other police officers on the ground. We wondered why, it had to take police from force headquarters to arrest Mr. Hichilema and other politically motivated cases when the incidence happened in Mongu where there are police officers as well.
This selection or discrimination among the police, encouraged by yourself, can cause demonization in the police. Zambians employ all police to serve them, not just a few preferred officers. If some police officers cannot do the job, it is better to relieve them, just like we are asking for your resignation, instead of keeping them to draw salaries and other benefits of the Police service.
Sir, though in court you denied responsibility of a number of issues happening in the police, we would like to remind you that, as the inspector general you bear responsibility of everything that happens in the Police. Therefore, we are holding you responsible for the unprofessionalism, incompetence and inefficiency currently going on in the our Police Service and we think you have failed, therefore, it would be good for you to step aside for another person who can do better.
We will continue talking about the issues we have raised herein, until we see change either in your office or service delivery by the Police.
Chilufya Tayali
PRESIDENT