Felix Mutati's MMD faction die hard youths yesterday stormed United Voice Christian Radio in an attempt to interrupt a programme on which Nevers Mumba was being featured.
The youths, who were led by their coordinator Gerald Chiluba and Prince Ndoyi, said they wanted Mumba to stop featuring on radio programmes because he was "a masquerader".
The cadres stormed the radio station around 10:30 hours but United Voice Radio officials told them that he had already left the station.
United Voice Radio management locked Mumba in the studio upon noticing the presence of the youths, oblivious to him as he was busy responding to callers.
Police arrived and dispersed the youths a few minutes later and they parked at a nearby filling station shouting, 'walamona ngawafuma' (you will see when you come out).
And in an interview, Chiluba said Mumba was masquerading as MMD president.
"Pastor Mumba is not MMD president. The MMD president is honourable Felix Mutati. This country is governed by laws and the laws which govern political parties are very clear in terms of how political parties are supposed to conduct themselves. It is mandatory that each and every political party is supposed to hold intra-party elections and MMD as a mother of democracy we have been adhering to that democratic tenet [and] that is why every five years, we usually hold our conventions. And this time around the convention as held in 2016 where honourable Mutati was elected by the membership of MMD as the MMD president. Now we have always been at pain every time when Dr Mumba goes on the media masquerading to be MMD president," said Chiluba.
And speaking to journalists after the programme, Mumba said those were not youths, but thugs.
"I am not aware that any MMD person came here. There is no MMD youth who would come to disrupt his president. So those who came obviously are not MMD, we would call them thugs and that is why the police came and I understand the police dealt with them. And that is how you deal with thugs, the police has to move in and deal with them. But if they did come, then it's very unfortunate that such undisciplined people would come to a church and try to create a crisis at church and anybody who calls himself a leader would know that it's wrong for him to bring his…secondly if these colleagues believe [that] they stand any chance in court, they would have stayed where they are and wait for the courts to determine whether that convention which they had in Kabwe has any legitimacy. These are what call the last kicks of a dying hose. They know that they have lost the case, they know that they will soon be shown the door," said Mumba.
Meanwhile, speaking on radio earlier, Mumba insisted that former republican vice-presdients deserved retirement packages.
"First of all, let me clarify something, I didn't make that statement relating to the death of the late Honourable Lupando Mwape, I raised a cardinal point because I knew Honourble Lupando Mwape and I was also familiar with the difficulties that he himself as an individual was facing. I also knew that he went through a very difficult time, but shortly after he died we had a state funeral, for which we are grateful that once we die as former leaders the state can recognise us with such an honour. But I decided to throw a moral debate to the Zambian people that how moral is it that once a former vice president leaves office, he has no package to help him when in retirement but when he dies, the whole nation stands still with a 19 gun salute. I thought that was an immoral position. I think that like all other constitutional office holders, the vice president should also be considered. The President has a retirement package, we are not asking that the vice President has a similar one but just like in death, the President has 21 gun salute, the vice President has 19 gun salute, the president has a seven day mourning period, the vice president has a three day mourning period. In the same way, if they are trying to value their contributions to the country, my proposal was that they are also considered for the benefits so that they can leave an honourable life," said Mumba.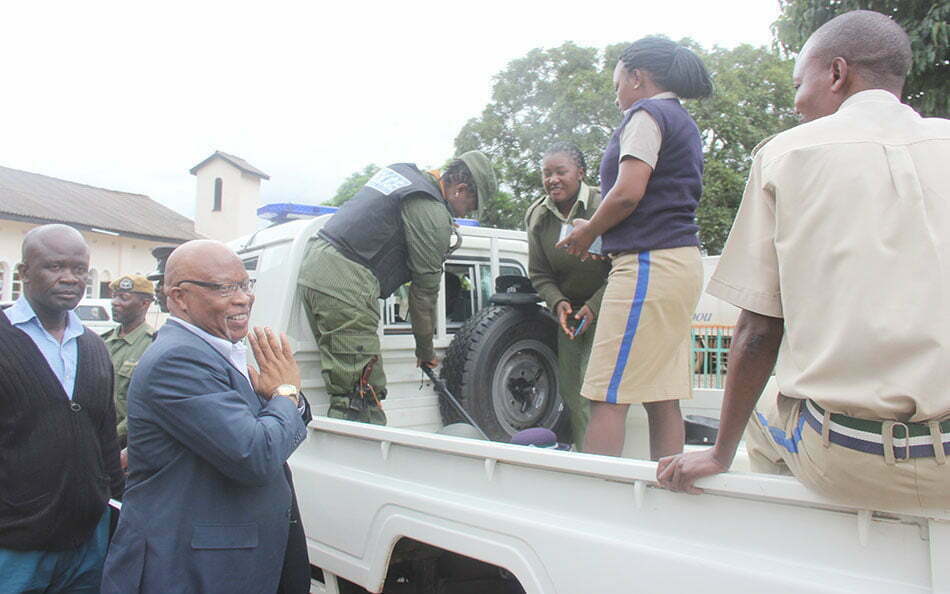 "I think I am a little bit disappointed that some of the media people would limit that concern to my personal situation. I never complained at any point that I was desperate for that. In fact, I went further to state that don't backdate it to my time as vice president, start with Inonge Wina. It has nothing to do with an individual, it's a principle. I think if the President has a package, Chief Justice has a package, Speaker of National Assembly has a package, service chiefs have packages, I think that the same reason they have packages, even the vice-presidents should have a package. Now there is a feeling, somebody advanced in the Diggers Newspaper when they spoke against me that vice-presidents are satisfied with the gratuity that they receive, he is forgetting that even Presidents receive gratuity but still have a package."