When we say that president Edith Nawakwi of the Forum for Democracy and Development (FDD) is turning into a political opportunist, we say it with all the respect she deserves considering the achievements she has made in her political careers.
We are alive to the fact that president Nawakwi is among the most experienced politicians we have, having served the Republic of Zambia as first female Minister of Finance; not to mention the roles she played as Minister of Energy, Agriculture, and Labour in the MMD government.
Nawakwi's bio cannot be summarised without mentioning the courageous, spirited fight she gave against Frederick Chiluba's third term bid – a debate which actually gave birth to FDD in 2001. In fact, without taking away anything from late Christon Tembo, this country may never get to know the great depth to which president Nawakwi went, risking her life in covert operations to defend Zambia's Constitution from being abused by Chiluba's administration.
But now, the fact that we are beginning to list her achievements when she is still alive and leading a political party; when she is still seeking to be President of Zambia, tells us that something is amiss. Indeed, something is definitely politically wrong with Ms Edith Nawakwi.
If we didn't know what she is capable of achieving, we probably wouldn't be holding this strong opinion against her. But we do, and the fact that Ms Nawakwi will come back to us seeking our votes not long from now, gives us the right to tell her what she needs to know when it really matters.
To start with, maybe those in FDD can help us understand; where is Edith Zewelani Nawakwi? Why is the president of the Forum for Democracy and Development hiding when Zambia desperately craves her strong voice?
God forbid, if an election was called in Zambia tomorrow, we know that Ms Nawakwi would resurface, but we wonder what her campaign message would be. Would she be able to say with a straight face that those who wield political power in Zambia have assumed unprecedented totalitarianism, when she watched in silence as things degenerated? we wonder how Ms Nawakwi's silence is helping to protect the interests of the poor people of Namushakende whom she passionately peaks about during campaigns.
We are not calling on Ms Nawakwi to stand up and condemn the Patriotic Front or disagree with President Edgar Lungu. It is within her right to accept the political state of affairs in Zambia as totally democratic. Our call is that if that is what she thinks, let her gain the courage of standing up to say so. It is not a secret that Ms Nawakwi doesn't buy the politics of Mr Hakainde Hichilema (despite supporting his presidential bid in 2006) and she made it clear during the last campaign that the UPND would be worse than the PF in power. Our challenge remains that if the FDD president sees nothing wrong in the manner that the police under the PF is treating citizens, especially those affiliated to the UPND, at least let her declare that position so that Zambians can decide if that is a kind of president they would want to see take over State House after Mr Lungu.
Even Mr Wynter Kabimba, whose party is newer and quite frankly not as popular as FDD, has spoken and we know where he stands. With today's technology, you only have to Goggle "Kabimba's views on arrest of HH" and the answer will be right at the top; "HH should face persecution alone like I did – Wynter Kabimba".
At least we can conclude that Mr Kabimba views Mr Hichilema's situation as persecution but he has also made it clear to the Zambian voters that he will not join the fight for the rights of the persecuted UPND leader because when he (Mr Kabimba) was facing persecution in the PF, he fought alone without calling on the UPND's assistance. That is the president (or General Secretary) of the Rainbow Party.
The leader of the National Restoration Party Elias Chipimo has given his voice over the country's state of affairs. People's Party leader Mike Mulongoti and Alliance for Democracy and Development president Charles Milupi have also stated their positions, to mention but a few. And all these political parties above are new; they found the FDD already had members of parliament in the National Assembly.
Those who have spoken have not done so because they support UPND. They have spoken because they understand that what is happening to Mr Hichilema can happen to any of them tomorrow.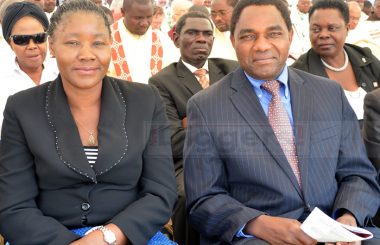 A famous quote by Adolf Hitler's foe Martin Niemöller can effectively help communicate the message we are trying to pass to president Nawakwi.
Pastor Martin said: "First they came for the Socialists, and I did not speak out – because I was not a Socialist.
Then they came for the Trade Unionists, and I did not speak out – because I was not a Trade Unionist.
Then they came for the Jews, and I did not speak out – because I was not a Jew.
Then they came for me – and there was no one left to speak for me."
Again we ask the question; why is president Edith Nawakwi not speaking when the police are going for the UPND? Is it because she is not UPND? Why is Nawakwi not speaking when the PF is going for the Bishops? Is it because she is not a priest? Why didn't president Nawakwi speak when PF thugs went to hound out Linda Kasonde from the LAZ secretariat? Is it because she is not a lawyer? If police tomorrow arrested Nawakwi for whatever political reason, who will be left to speak for her? This is why we would like to know where president Nawakwi is standing on the matters that are affecting Zambia and her voters?
We may be wrong, but our view is that Zambians do not give the same measure of respect to the FDD as they give to the Heritage Party. That is why Nawakwi's silence is, by and large, immoral for a political leader who speaks so strongly against corruption, dictatorship, human rights abuse and poor governance. Compared to Brigadier General Godfrey Miyanda, Ms Nawakwi's silence is damaging for a politician who has had so much going for her in the past decade.
How can president Nawakwi sit comfortably wherever she is, leaving the entire FDD in the hands of one Antonio Mwanza to run? Today when we hear that FDD will be featuring on a radio programme, we know it's not the party's president or its secretary general. If you see a political statement from FDD, know that it has been issued by Antonio Mwanza and not the party president – and the excuse is that Antonio is the spokesperson. Really? Antonio Mwanza whom president Nawakwi strangely denied the opportunity to serve as her running-mate is now the one taking on the PF, single handedly from the opposition party.
Anyway, that is not our issue because we are not politically experienced enough to guide the FDD on how to manage their party. However, we insist that since Mr Mwanza has never been on the presidential ballot paper representing FDD, president Nawakwi should show leadership and the bravery we know her for, by standing up to speak now! – even if it is to sing praise for President Lungu.
This strategy of showing up during campaigns, making noise and money in the process from financiers, is sadly exposing Ms Nawakwi as a political opportunist who cares quite less about rule of law and good governance. If it bothered the FDD president that the police were abusing the public order Act during campaigns, it should also bother her now after the elections, when the police go to arrest UPND officials from their secretariat, for merely attempting to hold a press briefing.
We don't want to speculate about any possible silent alliances between her and the Head of State, considering the fact that her last public appearance was with President Lungu at State House during the 2016 Independence celebrations. However, we can only imagine how betrayed the villagers of Namushakende who voted for her in the last election are feeling with the fact that their leader is nowhere to be seen when Zambia needs her voice.