BATOKA, Sinazongwe and Maamba have been cut off from the rest of Southern Province after heavy rains washed away part of the Maamba-Batoka road, leaving a seven-meter-long ditch.
The collapse, which happened near Kanungu stream, has left many motorists stranded as there is no alternative route.
An angry motorist, who resides in Maamba, described the road as a death trap.
"Personally, I have been telling these people for a long time that this road is a death trap. There are a lot of other spots where this is going to happen eventually. This is the road which we all depend on and I hope that this time when RDA comes to do some assessments, they should make the right call and avoid this kind of thing from happening again. For me I will simply drive back home now but for people coming from Congo, they will have to sleep here and we can't allow it," said the motorist.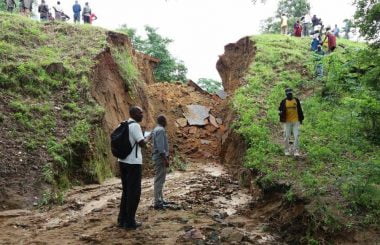 And RDA communications director Loyce Saili has advised motorists to avoid the road.
In order to mitigate the situation, the agency has dispatched engineers to carry out a thorough assessment of the damage and ascertain the appropriate intervention that is required to remedy the situation. As an immediate solution, the agency is working closely with Maamba Collieries to reinstate the affected section by way of backfilling the gap with rockfill…motorists are advised to avoid using the Maamba Batoka road until it is reinstated," stated Saili.
"Further, the agency as a medium term solution, is making arrangements to mount a bailey bridge at the affected point. Bailey bridge components are being mobilized from RDA provincial offices in Mongu and Central Province. The transportation of the bailey bridges to Batoka will commence today.