The National Union of Metalworkers of South Africa (NUMSA) has resumed its protests at Zambia's High Commission in Pretoria, challenging President Edgar Lungu's declaration of the Threatened State of Public Emergency, saying the move is meant to further clamp down on the country's opposing views.
But Zambia's High Commissioner to South Africa Emmanuel Mwamba says Zambia has a fearless, vocal and active labour movement which NUMSA must allow to deal with matters of governance in the country.
Acting NUMSA spokesperson Phakamile Hlubi accused President Edgar Lungu of using the recent City Market fire incident as justification for his increased authoritarian rule on Zambia.
Her organization gathered outside the Zambian High Commission to demonstrate against what they described as a dictatorial regime of President Lungu.
"It seems Lungu is using the fire as a justification for increased authoritarian rule. The nation, which was once famous for providing refuge to South Africans, who were escaping the tyranny of the Apartheid government, is now in the clutches of tyranny. NUMSA condemns Edgar Lungu's call for a state of emergency, Hlubi said.
"Over the last year, Zambia has increasingly suppressed any voices of dissent, including clamping down on independent media houses, and incarceration of UPND leader Hakainde Hichilema, who is languishing in jail since April for daring to defy the Lungu autocratic regime. The right to associate in Zambia has been suppressed by the current administration and workers have been denied the right to organize. Those who publicly voice criticism of the Lungu administration find themselves victims of harassment and state sanctioned brutality."
She said NUMSA would not sit back and watch the Zambian government behave like the Apartheid regime of old South Africa.
"We cannot stand back when the current Zambian government behaves like the Apartheid government and continues to violate basic human rights. We owe a huge debt to the people of Zambia for the sacrifices they made for the liberation movement in our country. And now that they are in need, we will stand in solidarity with them," said Hlubi.
But Mwamba said he was surprised by NUMSA's interest in Zambia's domestic affairs.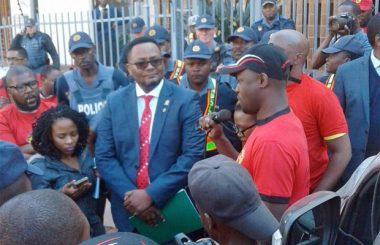 "We are rather surprised by the keen interest so far shown by the National Union of Metal Workers in South Africa( NUMSA) in the democratic process of our country. It should be noted that Zambia has a vibrant, vocal, fearless and active labour movement that champions the cause of workers and advocates a healthy and rooted practice of democracy. It should be noted that our labour movement was deeply involved in the liberation of Southern Africa and relentlessly fought against the shackles of colonialism and its offshoots such as racism, apartheid and Neo-colonialism…Therefore If anything was amiss in our country, you would have loudly heard the voices of our labour movement," Mwamba said.
He said there was no State of Emergency in Zambia as reported by South African media.
"Recently there were acts of sabotage and acts of arson to public installations that prompted President Edgar Lungu and his Cabinet to approve a proclamation to preserve public security and safety. I was shocked to see in the Media here in South Africa reporting that Zambia had declared a State of Emergency when in fact no such declaration was made. There is NO State of emergency. This is not true. There are no curfews, there is no disruption of ordinary life and business in any way and in any form," said Mwamba.
"Banks have maintained their operating schedules, no single airline has cancelled a flight schedule including those that arrive in the night. No freedoms or rights have been suspended and the measure to secure public safety is a measure provided for in the Constitution. This is a mere set of constitutionally approved powers that gives the Police latitude to investigate and prosecute such matters. Any country facing a security threat resorts to similar measures. But our country is not at a stage where it would even declare a state of emergency. These measures are limited and will last in the short prescribed period as defined by the Constitution."