Africa Confidential says Zambia is buying a new Presidential Jet fitted with a cutting edge military grade defence system which fires lasers at incoming heat-seeking missiles.
The Zambian government at its recent Cabinet meeting prodded Attorney General Likando Kalaluka to pursue a possibility of taking legal action against Africa Confidential for what it terms as a negative publicity campaign which it says has contributed to the country's crumbling economic outlook and currency depreciation.
But the bi-weekly Africa Confidential has ignored such State threats and has instead zeroed in on Zambia's spending towards aviation, placing President Edgar Lungu's yet to come war-designed 'Ferrari in the Sky' at the centre of investigation.
"Israel and Zambia are almost ready to sign a new US$400 million package for high-tech aviation equipment to be funded with a loan from Israel's Hapoalim Bank. The deal is believed to include a new presidential jet. Military experts question Zambia's need for the new equipment it is ordering from Israeli contractor Elbit Systems, as well as its enormous cost. Elbit has $400m of existing supply contracts with the Zambian military for surveillance equipment and other services, such as 18 Skylark mini-drones, an unspecified number of F-5 supersonic jet fighters, ground vehicles, and upgrades to the air force's Russian-made Mi-17 E transport helicopters. One of the contracts was part-funded with a $48m loan from Israel Discount Bank, which was signed by President Edgar Lungu on 5 September 2016," Africa Confidential revealed.
"The aircraft may also be equipped with Elbit's MUSIC anti-missile system, which fires lasers at incoming heat-seeking missiles. Elbit has said it was supplying an African country with the MUSIC system in a context that suggested Zambia may be the client. A defence expert described the installation of such a system on a presidential jet as 'insane'."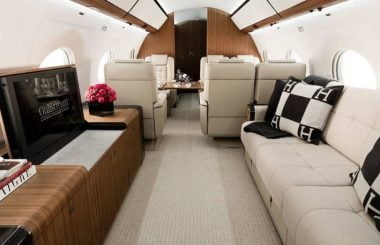 African Confidential also pointed to corruption allegations surrounding the upgrade of Maino Soko, a military hospital located almost opposite State House in Lusaka.
"The upgrade of the Maina Soko military hospital in Lusaka by Israeli company Ashtrom is costing almost $200m, which officials close to the project say is extremely high. Ashtrom also has a $400m contract for military housing and barracks in Kawambwa District, which the same Zambian government source says is over-priced. The overall cost of the Elbit and Ashrom contracts is $1.4 billion, although the government is still to sign the latest $400m tranche with Elbit. More than $50m of other equipment was ordered from Israel Weapons Industries in January 2017, mainly weapons and ammunition for the army, also funded with a loan from Hapoalim Bank," reported Africa Confidential.
"Ferrari in the sky. Aircraft of this type are normally used by troops in special operations, such as covert raids or rescue missions, or stealthy extraction of military assets. Military experts consulted said they doubted Zambia had any requirement for them. The deal also comes with an eye-watering price tag. Arranged by the London branch of Italian bank Intesa San Paolo, with funds from the bank's Dubai office, the structuring fee totalled US$1 million, we hear."
Read the full Africa Confidential report here
https://www.africa-confidential.com