Corruption has confused President Edgar Lungu, Roan PF member of parliament Chishimba Kambwili vented after being released on police bond yesterday.
And Patriotic Front cadres attacked National Democratic Congress supporters who thronged Lusaka Central Police to offer solidarity to their leader, Kambwili who appeared before the anti-fraud unit for questioning.
Kambwili arrived at 10:00 hours in the the company of his Secretary General Mwenya Musenge and they were ushered into the interrogation room five minutes later.
NDC cadres remained outside the station chanting anti-PF slogans, with one of the cadres carrying a mattress for Kambwili, just in case their leader was detained.
Police had to fire teargas canisters to disperse the NDC supporters but the were vigilant and stuck around.
About 30 minutes later, however, some machete-carrying PF cadres arrived on the scene and attacked their opponents, injuring about four NDC cadres in the process; among them Copperbelt chair Mulenga Chikopa.
A security guard from Levy Mall was also badly hurt and had to be rushed to the hospital by an emergency vehicle.
Police apprehended three NDC cadres but did not apprehend any ruling party supporter.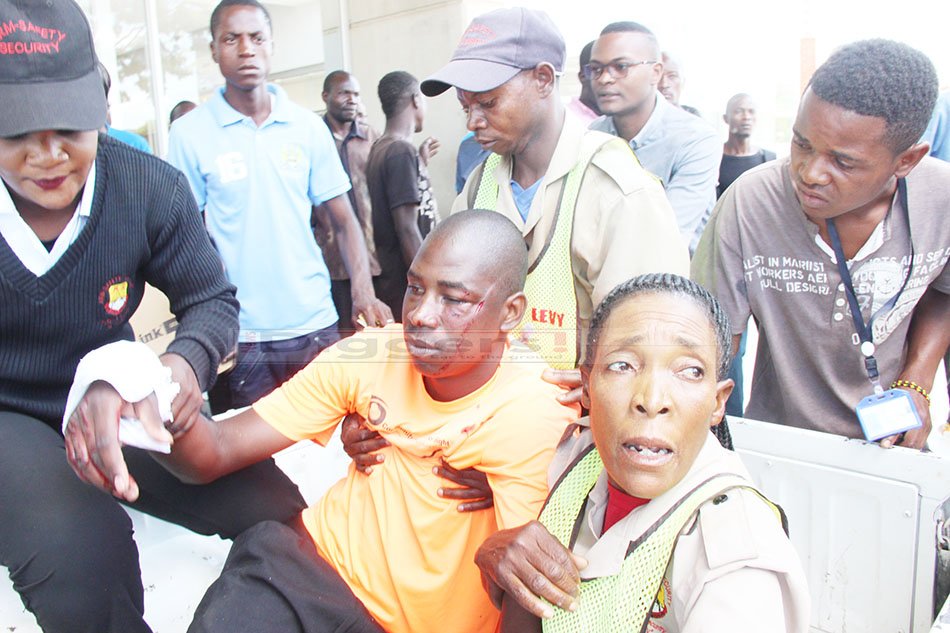 Police spokesperson Esther Mwaata Katongo confirmed the arrests and identified them as Andrew Lupindula, Overt Kasongo and ex-boxer Joseph Chingangu.
Katongo said the trio was charged with conduct likely to cause the breach of peace.
Meanwhile, police arrested Kambwili and charged him with forgery, uttering false documents and giving false information to a public officer.
He was only in detention for about 20 minutes as his lawyer managed to secure police bond.
When Kambwili finally walked out of Lusaka Central, the supporters who remained thronged to him as he declared, "I am not scared of Lungu and his police!" before proceeding to his house for a press briefing.
Once at his house, the outspoken politician labelled the charges "tramped up" and said corruption had confused the Head of State.
"I don't want to go into the details that we shall adduce in court but I only tell you that the charges that have been given to me are tramped up charges. They are saying they've charged me with three counts; one of forgery, that I signed company returns for Mwamona Engineering on behalf of my son who is the director and that time he was living in England and obviously, you people know that this world provides for such issues like when one is not there…but I don't want to go into details on what happens when one is out of the country and there is need for a signature. So because of signing for my son, they have charged me with forgery, unfortunately my son was there (at the police) and he's not the complainant in this matter and he's not complaining that I signed on his behalf. Secondly they charged me for uttering a false document, obviously the returns that I presented at the registrar of companies is what they are saying that I uttered a false document and the third charge is presenting a false statement to a public officer," Kambwili said.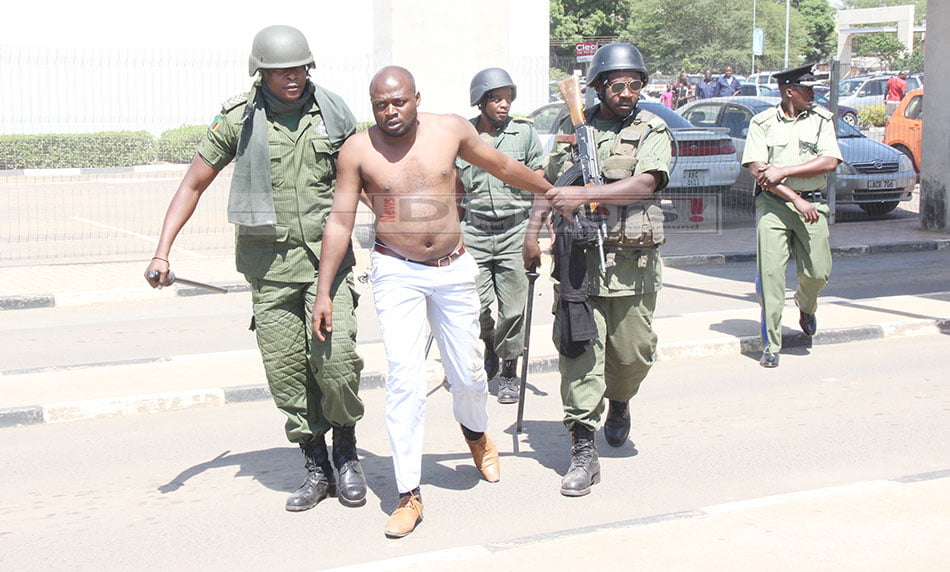 "We are ready for them, we are ready to meet them at the courts, we will go to court on Friday at 09:30 hours. So we are not worried about that but what we are worries about is the fact that why should police be told to act outside the norms that they are trained for…Now, the danger is when you allow State House to be giving instructions to the police then the rule of law is not being respected. President Edgar Lungu is the worst President this country has ever seen and I think he is drunk with his corruption because when somebody becomes so corrupt with to the extent that even a little child knows that they are corrupt, they get confused so I think the man is becoming confused and when he sleeps, I think he even dreams of all the houses he has built using a pot of stolen money. So he is getting confused by the day. But I can tell him that he will not live in those buildings he's constructing. Some of them will be turned into government hospitals and others will be houses for civil servants."
He vowed that he would not be intimidated.
"And let me tell you President Lungu, I can never be intimidated, imbwili ni mbwili (a leopard is a leopard) and I want to tell you that your actions and everything you are doing against me you are just making me more wounded and I will be on you until you are taught a lesson in 2021. By the way 2021 is too long, I can already see you surrendering before 2021. You are even sending Kaizer Zulu to call the police asking them why had to release me on bail, you think I didn't hear you?" Kambwili asked.
He also condemned PF attacks on his cadres, charging that their leader, a cadre popularly known as Commando from Intercity, was not even Zambian.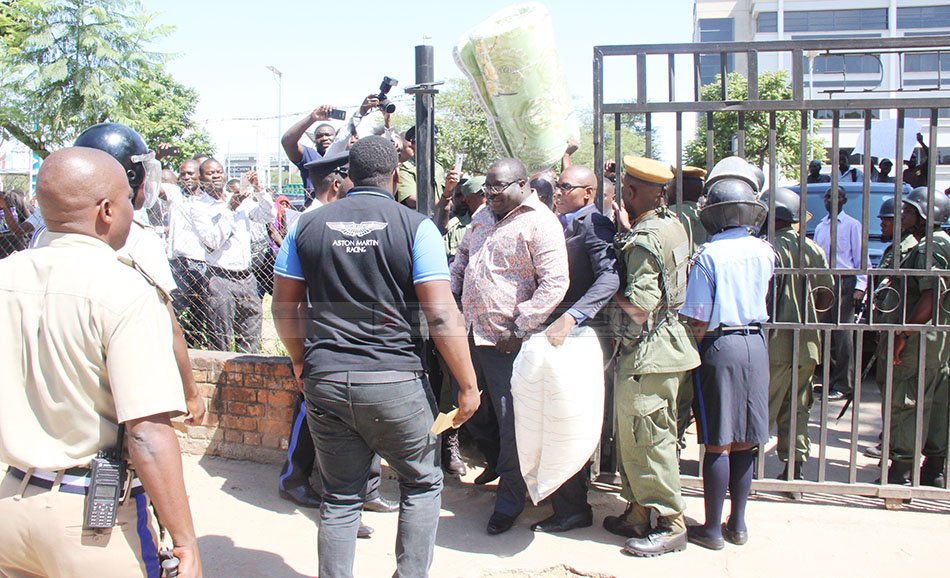 "Let me take this opportunity to warn this boy called Commando, we are now going to take action through our lawyers. We are going to sue the State to compel them to remove that criminal called Commando from intercity because the presence of Commando at intercity is an illegality and the law is very clear, markets and bus stations are supposed to be run by the council through the boards. Now today, Commando collects money from levies from buses and all those who sell in intercity and all the money is pocketed by Commando and his group of thugs and those are the boys you are now using to attack innocent people. What happened today is unfortunate., we went to the police and our supporters were there but from no where we just see Toyota Corollas and buses coming with boys from intercity carrying machetes and they've hacked like they hacking wild animals. Really Lungu you must be ashamed of being a leader," said Kambwili.
"Stop this nonsense of that commando that is beating people and I have challenged the police today, if they are not going to arrest commando we are going to court to remove all PF cadres from all the stations, we want those stations to be run by the council. My dear commando, we are giving you two days to leave intercity or else we are going to instruct a group of cadres to start legal proceedings to have those cadres at intercity removed. And I am just surprised, how can the police fail to arrest those cadres that came with machetes but arrested our supporters who were hacked and detain them? It is very unfortunate. So I am urging the police, we have opened up dockets for our people who have been hacked arrested and we want to see the arrest of commando. And by the way, ba immigration, that commando is not a Zambian, even by his name you can tell Eddie Gowa is not a Zambian, he comes from Malawi so am asking the immigration to go and search this boy."