Ministry of Information and Broadcasting Permanent Secretary Chanda Kasolo says free media is a prerequisite for democracy and in order to to promote media freedom, government is going to enact the Access to Information Bill before the end of 2019.
And Free Press Initiative founder Joan Chirwa says FPI will champion freedom of the press and professionalism through dialogue and the organisation will also offer refresher courses to serving journalists in order to remind them of professional ethics.
Speaking when he officiated at the launch of Free Press Initiative, an organisation aimed at championing media freedom, Kasolo promised to enact the ATI Bill before the end of 2019.
"Government remains committed to the enactment of the Access to Information Bill but the introduction of Digital Media which saw us migrate from analogue to digital, we realised that enacting the bill into law in the old form in which it was written would make it archaic as it does not cover the electronic media. There are must be other pieces of legislation that must be put in place before the Access to Information Bill. And we are working very hard to ensure that before the end of the year, all the relevant legislations including the Access to Information Bill are passed. My minister is very committed and she will push for all these legislations," Kasolo said.
Kasolo welcomed the formation of FPI.
"In the days when we have been having Radio stations being suspended or licenses being withdrawn and even one TV station was suspended for 30 days, it is important for us to realise that we at the ministry including our sister organisation where madam Josephine Mapoma is a very able leader, we just do the job and the job has to be done correctly. And to that instance what we have decided is that we are going to publish the entire history of that TV station that was closed. I think it's only fair that we are judged fairly by people going through exactly what we have done with that TV station, from over a year ago, and then people can make informed judgment. I can assure you, we did everything to the book. To founders of this (FPI), I can assure you that the free press is a prerequisite to functioning democracy because of the role that the media plays in society. We will consult with you very closely whilst we are trying to put regulations for media and journalists into place. We have only started writing this, but we need as many professional journalists as possible to put input into this because this is your legislation," said Kasolo.
"The IBA is there to help you stay within the law. I know one TV station such as Diamond TV, they continuously consult IBA and therefore it is very unlikely to get on the wrong side of the law. But the vast majority of TV stations and Radio stations, they don't even consult, they just go ahead and broadcast, they even forget what they signed up for when applying for their licenses. So with your coming FPI, you are going to add value to what you are doing, so I really welcome your coming."
And Chirwa said her organisation would champion freedom of the press and professionalism through dialogue, adding that FPI would also be offering refresher courses to serving journalists in order to remind them of professional ethics.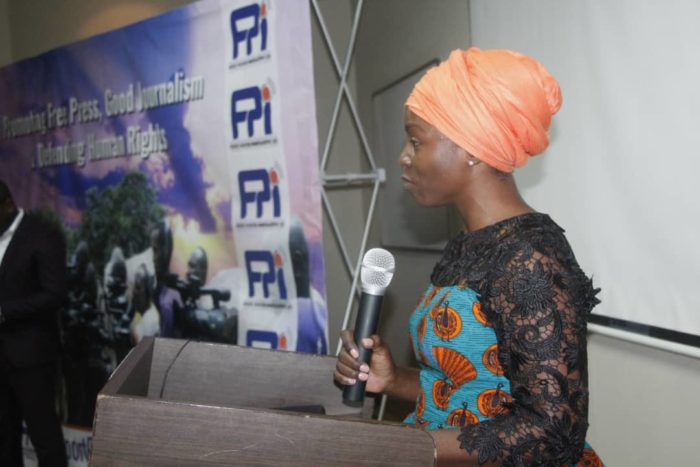 "The FPI is committed to finding new means of engaging government whenever concerns are raised affecting journalists. Both Journalists and government must allow dialogue to prevail whenever differences arise. In the next few months, the FPI will not only work on mentoring young people in higher learning institutions on best practices and survival skills, but also mobilise resources to help train vulnerable persons who have a calling to this noble profession. We will also provide bridging courses to graduate students, gradual journalists, while those practicing will be targeted for retraining in line with our goal of getting to the basics. As we head towards the 2021 elections, the FPI will intensify training and discussions among media personnel on how to offer a balanced and fair coverage of all parties involved in our democratic process," said Chirwa.
"It is also a known fact that the harassment of journalists continue to be on the rise, not only in Zambia but in many other countries. This has contributed to making the work of the media difficult. Our country does not only need the unity of the media practitioners to fight these injustices journalists have been subjected to, but they also need the assurance of their government that it is ready to stand with the media by providing necessary protection upon which a free and professional media can thrive."