Chiefs and Traditional Affairs Minister Lawrence Sichalwe yesterday accidentally posted a pornographic video in a WhatsApp group called "What Government is doing", and struggled to delete as ruling PF youths who are members of the group, took turns roasting him for circulating the obscene material.
The 58-year-old minister, who succeeded President Edgar Lungu as Chawama member of parliament, admitted that technology challenged him, adding that he was trying to delete the said video from a different WhatsApp group, but ended up forwarding it to "What government is doing".
The group members, however, did not buy the excuse, arguing that if he was trying to delete it from a different group, it meant that he posted it himself as WhatsApp could not allow anyone to delete what he did not post in a group.
Although the minister himself does not feature in the 30 seconds obscene video which was apparently filmed by an unknown third party, the youths demanded that Sichalwe must face the law for circulating pornography, adding that it was unacceptable for a government leader holding his position to be found with such material on his phone.
The video depicts a woman laid on an office table, screaming with pleasure, as a man performs oral sex on her.
Minister Sichalwe, who is otherwise an inactive member of the group, made his very first contribution at 14:02 hours, and apparently did not realise until about an hour later when group members who initially could not identify his phone number petitioned him to delete the obscene clip.
"Honourable Lawrence Sichalwe MP, what is happening to your phone?" asked group admin Fidelis Ngoma, at which moment other group members got agitated to learn that it was in fact a Cabinet Minister in charge of Chiefs and Traditional Affairs who had dropped the surprise.
"My apologies. [It] was not meant to be posted on the blog. [I] was trying to delete from another blog. This modern technology…!" Sichalwe apologised before deleting the video.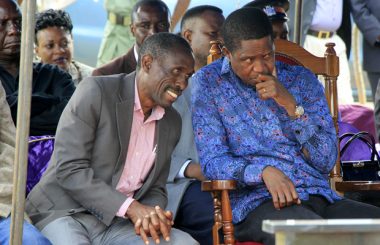 Some other senior members of the ruling party joined the minister in expressing remorse, but the more they attempted to silence the youths, the more the members got angry.
"Don't tell us to shut up. First of all, the minister must have been watching that porn during working hours, that is unacceptable. We now know what the minister was doing during working hours, he was trying to send a pornographic video to someone, but before sending it, he was watching. Yes he has apologised, but it does not end there. Here many people did not have access to that video, now he has access to that because the Honourable Minister has circulated that porn during working hours, using a phone that we bought [as taxpayers]," argued one PF supporter called Prince Chanda.
"So this behaviour of saying 'because the one who has circulated it is a minister, lets shut up [will not be accepted]. A lady in Chingola is facing criminal charges right now for circulating obscene material. It is an offence and there is precedent. Now, here is a person who is supposed to be implementing that policy, doing the same thing. We are dealing with hypocrisy now and we must deal with it like any other person."
"Ubupuba pachintubwingi mulenashako. Who sends such a nonsensical video on a platform like this kweena? Uku kutumpa, shaaa! (this is being stupid)," reacted another PF supporter.
Another one argued: "We know that it's the minister who posted, but the question is, who was he forwarding it to? He runs a ministry so we demand to know."
"But the Honourable in question has never posted anything on this platform just for a very first time, boom! He posts unbaptised video file… Perhaps he's preparing [for] ladies night tonight," another one mocked.
But in an interview with News Diggers! Sichalwe explained that the video was brought to his attention as a problem that needed to be dealt with, but that he had no interest in handling it since he could not report issues of that nature to his superiors.
"It was being brought to my attention that there are these activities happening somewhere in our circles. So, for me, I had no interest to handle it because I could not even report to my superiors over such and that was the more reason I was deleting it. You can [even] follow it up, it's somewhere on Facebook, I don't know…they call it: 'Top Secret' you can find what is written there," said Sichalwe.
Later yesterday, Ministry of National Development Planning spokesperson Chibaula Silwamba issued a statement, dismissing reports that the participants in the pornographic video were employees there.
"The individuals reported to appear in the said obscene materials do not, and have never, worked for the Ministry. We note with deep contempt the mischaracterisation that the false reports have portrayed.
We wish to warn perpetrators that production, dissemination or possession of obscene materials is a punishable offence. Section 177 (1) of the Penal Code of the Republic of Zambia states that any person who is found guilty of making, producing or possessing obscene materials is liable to imprisonment for five (5) years.." stated Chibaula.