This report can reveal that Democratic People's Republic of Korea (DPRK) officials in Africa have continued to engage in illegal smuggling, thus putting African governments at risk and wildlife species, such as Rhinos, in danger. According to a government official who requested to remain anonymous due to the on-going investigation, a North Korean diplomat named Kim Hyon Chol was this year caught by Dutch authorities smuggling tusks out of South Africa.
This is yet another smuggling incident by DPRK, as multiple other incidents across Africa have been reported in recent years. In December 2015, a North Korean diplomat was ejected from South Africa after he was allegedly discovered to be abusing his diplomatic immunity and his embassy's diplomatic bag to smuggle rhino horn out of South Africa, according to reports from national media outlet News24. South Africa's Department of International Relations and Co-operation spokesman Nelson Kgwete then regretted the incident involving the North Korean diplomat named Park Chol-jun.
In September 2017, The Economist reported that Africa is a smugglers' paradise for North Korean diplomats, citing another North Korean official, Kim Jong Su, who was detained in Maputo, Mozambique after police found about $100,000 in cash and 4.6kgs of rhino horn in his vehicle.
A 2017 report by The Global Initiation against Transnational Organized Crimes lifted the lid on state-sanctioned North Korean criminal activity in Africa, exposing diplomats and embassies linked to illicit trade in rhino horn, ivory, cigarettes and gold.
African governments have previously taken some action against North Korea smuggling of endangered animal parts, and these deterrent actions by affected countries have received praise from the UN and regional conservative groups.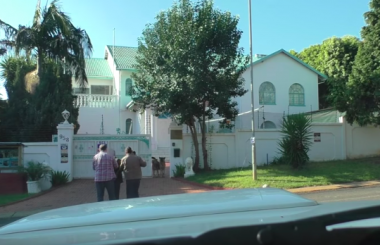 Commenting on the latest development in South Africa, Tanzanian Minister of Natural Resources and Tourism, Dr Hamisi Kigwangalla, condemned the conduct of North Korean diplomats, describing it as a shame.
"A criminal is a criminal, period! It makes no difference whether you are a diplomat or a peasant. As diplomats they should have been more noble. It is disappointing to learn that a reputable diplomat could actually do such a despicable thing quite unbecoming of their caliber. Shame on them!" said Dr Kigwangalla.
And spokesperson of the Mozambique National Police, Orlando Mudumane, recalled how his officers caught two North Koreans with smuggled rhino horn and bags of dollars, but expressed ignorance that one of them was a diplomat.
"Indeed, North Korean citizens involved in the trafficking of rhino spikes were arrested in Maputo and were publicly presented to the press but were not diplomats. I was the one who presented the case to the press. Mr Pak Chol Chun and Kim Jong Su, the latter was that he would be in Mozambique as a taekwondo master," he recalled.
"In the car transporting the two North Koreans, and two more Mozambican citizens, the Police of the Republic of Mozambique found 4.6 kilograms of rhino horns and $ 93,300. We said the two foreigners accused of trafficking were returned to freedom after a US$30,000 bail was paid," said Mudumane.
A South African Foreign Affairs official who sought anonymity said the continued involvement in smuggling by North Korean diplomats was straining the relations with African countries.
"Look, diplomats are expected to be exemplary. These incidences take away from the mutual trust and the diplomatic spirit that is expected from bilateral relations. This is not the first time. In 2015, there was a similar case; that incident was an embarrassment, and this latest development only goes to show that there is an element of State sponsored smuggling by our colleagues," said the official.
"So this, indeed, is a wake up call for African government to evaluate their relationship with North Korea. I can tell you that South Africa has made formal complaints to DPRK in the past."
While Kim Hyon Chol has left South Africa permanently, a source involved in the investigation noted that North Korean officials involved in the attempted smuggling are still in South Africa.
Regional experts say that the Dutch interdiction of Kim Hyon Chol is expected to encourage African governments to step up mechanism aimed at curbing state-sponsored smuggling. Experts further warn that if African government do not shake up their "risky" relationships with North Korea, their bilateral ties will largely be one way in favour of the Asian country.
Meanwhile, shipping companies in Southern Africa say they are increasingly skeptical of doing business with DPRK, as the companies are likely to lose money as shipments risk confiscation.
African rhinos have been poached at a rate of three per day for five straight years. This is according to the International Rhino Foundation 2018 report. And the World Wildlife Fund (WWF) is warning that two of Africa's rhino species are being pushed back into the brink of extinction due to a huge surge in poaching and illegal rhino horn smuggling, primarily into Asia.
Countries and conservationists are stepping up their efforts to curb wildlife smuggling on the continent, but there appears to be loopholes in these efforts to stop the systematic trend of State-sponsored wildlife smuggling involving diplomats.
According to a new National Geographic report, at least 18 instances of North Korean diplomats being implicated in smuggling have been reported, but they've rarely been caught or punished.