After talking to his sister and promising to send her some money using a telecom mobile cash transfer facility, a Lusaka businessman received an SMS, purportedly from his sister, guiding him to send the cash to an alternative line. "Or you can send the money to this MTN number 0961****68, the name will appear as Nalwamba Ireen." To his shock, his sister denied ever sending that message, and when he called MTN to enquire, he was told that the said number was not registered or linked to anyone.
Many Zambians who have been receiving these messages are happy that this businessman has decided to sue the telecommunication company so that they can explain how mobile money fraudsters could have access to his phone number and private conversation. And to be fair, MTN is not the only culprit abetting this ongoing fraud and invasion of privacy. Airtel subscribers are being exposed to the same mobile money fraudsters every other day. It is just last year when an Airtel subscriber sued the company for revealing confidential information to a third party without her consent. If it's Cell Z, their negligence and poor services are not even worth the time and space.
What is more frustrating to phone users is that the Zambia Information Communication Technology Authority (ZICTA) seems to be doing nothing about it. The regulator is just as unconcerned as the mobile phone companies – as long as taxes are being paid and profits are pouring in, no one gives a damn about the exploitation and risks that subscribers are going through.
This criminality has to be stopped, that is why we are applauding those that are dragging the telecommunication companies to court and citing ZICTA as second respondent. It doesn't make sense that shortly after discussing a mobile cash transfer with someone, you receive a message from an unregistered number, prompting you to send the money to a different line. How is that number not registered in the first place?
The directive given to all the phone network companies was that any number that would remain unregistered after a prescribed deadline would be blocked; and indeed, the companies warned that they would delete all unregistered numbers, how come we still have unregistered numbers committing these crimes? Why hasn't MTN, Airtel and Cell Z initiated an awareness campaign to explain this to educated subscribers on how they can avoid being victims of this fraud?
The negligence on the part of mobile phone network providers and the regulator is just too much. Airtel, MTN and Cell Z have become too disgruntled when it comes to disregarding consumer rights, and it pains to see ZICTA asleep while this is happening.
Let's talk about the unsolicited promotional messages. After receiving numerous complaints from the public about the continuous bombardment of unsolicited promotional SMSs from subscribers in 2011, ZICTA ordered that: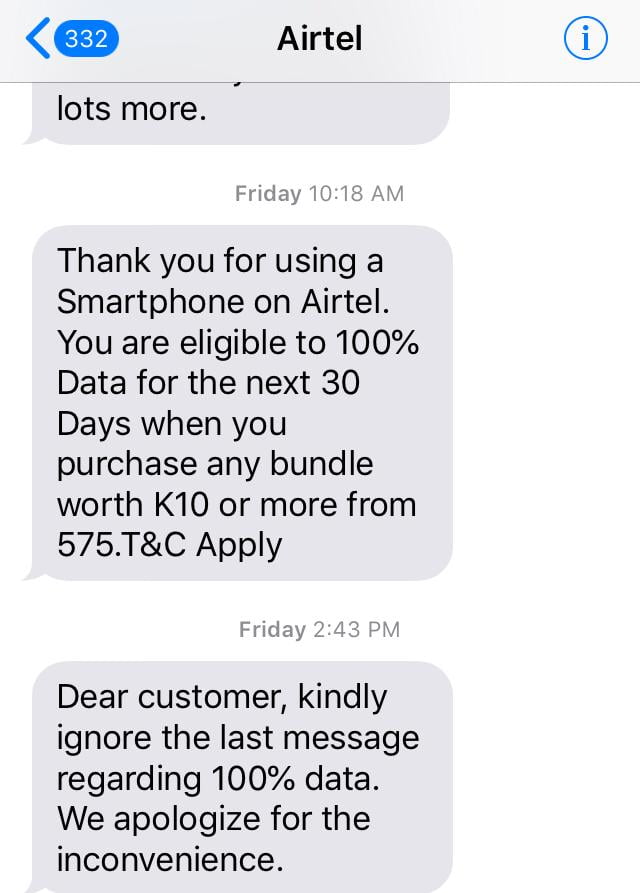 (I) No promotional SMSs will be transmitted between 20:00 hours and 07:00 hours. (II) Only one promotional message of the same nature will be transmitted per week. (III) Providers are only allowed to transmit one SMS per day. (IV) With effect from 1st September, 2011, providers will put in place a mechanism that will allow consumers to opt in/opt out of any promotions being run.
This directive was given to the mobile network providers eight years ago, but which network is adhering to these rules? Today, subscribers are receiving countless promotional messages from their network providers, with no provision to opt out. The law is being broken in the face of ZICTA and nothing serious is being done.
Look at this message, for example. Airtel sends a message to its subscriber: "Thank you for using smartphone on Airtel. You are eligible to 100% data for the next 30 days when you purchase any bundle worth K10 or more from 575. T&C apply." Then three hours and 30 minutes later, Airtel sends another message (probably after the customer has already purchased their airtime) saying: "Dear customer, kindly ignore the last message regarding 100% data, we apologise for the inconvenience."
There is no provision for the subscriber to opt out of this promotion. Is this not criminality by a mobile network provider? Where is ZICTA? Probably dreaming about the 30 ngwee Internet calling tariff!