One of UPND leader Hakainde Hichilema's lawyers Kieth Mweemba has asked for protection from the court saying the safety of his family is at risk.
And Vincent Malambo State Council has questioned the presence of police in the courtroom, saying he does not feel comfortable presenting his submissions in those conditions.
When the matter came up before Magistrate Greenwell Malumani today, Mweemba said he was forced to move out of his house because some unknown people have been trailing him for the past two days.
He said some unknown people in white land cruisers, whose details he availed to the court, have been hovering around his residence, forcing him to evacuate his family.
He narrated that the said Land Cruisers had at one point rammed into his gate before driving off.
Mweemba said the defense team deserved protection.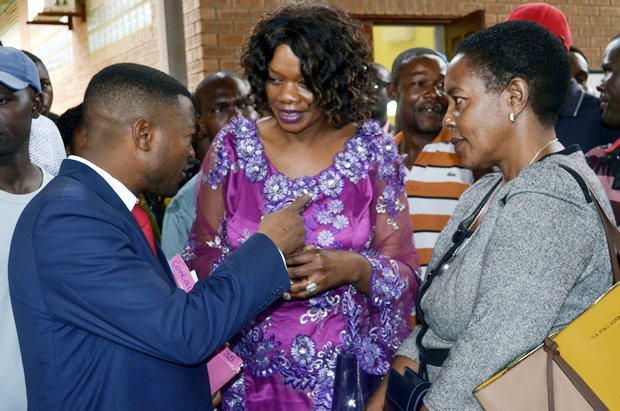 "I feel I cannot continue to be part of the defense advocates. Not because of fear, but for the safety of my family," said Mweemba.
And Malambo wondered what could have happened in the last two days to necessitate the presence of state police in the courtroom.
Malambo further wondered whether the court had invited the police into the courtroom..
He noted that their presence was meant to intimidate the defense adding that accessing the court was becoming impossible.
In response, state prosecutor Gamaliel Zimba said Mweemba's allegations were mere speculation as he had failed to identify the people who had been following him.
Zimba said there was a possibility that the people following Mweemba were his clients.
At this point, Malambo stood to object but Zimba continued standing.
But magistrate Malumani said called for order and asked Zimba to uphold professional etiquette in court.
"We ought to distinguish ourselves from members of the public because our duty first is to the court for the purpose of dispensing justice," magistrate Malumani said.
He also ordered four police officers who were standing behind the bar to leave the bar and stand in the sides of the court.
Zimba then proceeded to respond, justifying that the police in court were orderlies who were supposed to maintain order.
Meanwhile, Catherine Lombe Phiri, who joined the prosecution team today, said the State did not want to trivialise security issues by focusing on the well being of an individual (Mweemba).
Phiri said even the prosecution team had experienced some verbal intimidation when accessing court premises.
Magistrate Malumani reserved his ruling and summoned the lawyers to his chambers to further discuss the matter.
Meanwhile, security is still tight at the Lusaka Magistrates' Court.