STATE agents have failed for a third time to fork lift a printing press which was mounted in Dr Fred M'membe's garage.
The officers, operating under Post provisional liquidator Lewis Mosho's instructions, have for the past one week been unsuccessfully trying to tow away the printing press from Dr M'membe's house; where The Mast was being printed.
In their first attempt last week Saturday, police had brought to the scene a small forklift whose prongs were too short to carry out the exercise.
The officers only managed to remove small components of the machine, rendering it useless.
Yesterday, however, the officers brought a bigger forklift to which they attached chains and attempted to pull the printing press.
But when it was only half way out, they were interrupted by a power outage and had to push it back into the garage at State lawyers' instructions saying the machine was too sensitive to leave outside, given the weather conditions.
Around 10:00 hours today, the seven state agents who were deployed to haul the printing press were left disgruntled after a failed third attempt.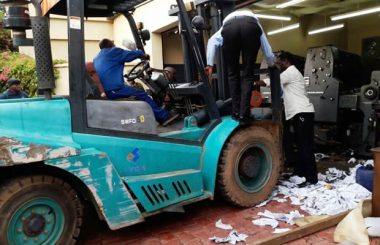 By press time, they were heard saying they had to abort the mission and advise their "bosses that it was impossible to get it out.