The Law Association of Zambia says all well meaning citizens should stand with them as they seek to uphold the rule of law.
In a statement, the Council of the Law Association of Zambia condemned the personal attacks on LAZ president Linda Kasonde.
"LAZ has noted that personal attacks have been made against the LAZ President during the protests. It must be noted that decisions of the Association are made collectively by the Council of LAZ on behalf of the Association and not by the LAZ President in her personal capacity. LAZ hopes that all well-meaning Zambians will stand in solidarity with LAZ as we seek to uphold the rule of law, constitutionalism, good governance and social justice in the country as mandated by section four of the Law Association of Zambia Act. LAZ would like to reiterate that it will continue to stand firm in executing its statutory mandate in an independent manner without fear or favour," the LAZ Council stated.
"The Law Association of Zambia (LAZ) is deeply saddened by the protests against LAZ at the LAZ Secretariat by unknown cadres this afternoon. The attack appears to be an attempt to intimidate LAZ from performing its statutory mandate. Fortunately, no property was damaged and no one was injured and we applaud the Zambia Police for their quick intervention to secure the safety of our members of staff."
The LAZ Council urged police to investigate if the protests were legal.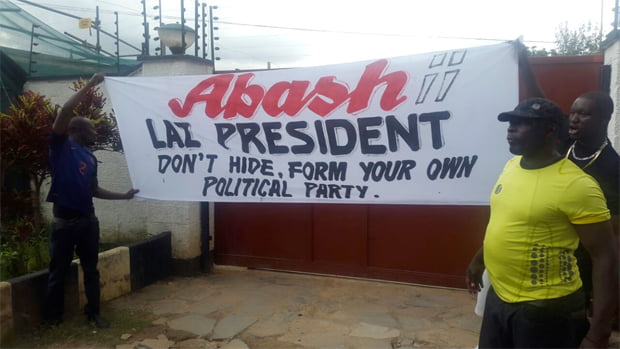 "Whilst LAZ would like to thank the police for swiftly coming to our aid, we hope that the matter will be thoroughly investigated to determine whether this was a legal demonstration. Whilst LAZ celebrates the right to freedom of expression and association and the right to peaceful demonstrations by all Zambians, that right should not infringe upon the right by LAZ to exercise its mandate freely in line with the tenets of democracy," the LAZ Council stated.
This afternoon, Kasonde sent an alert to its members to stay away from the secretariat in Lusaka's Rhodes Park area following a raid by weapon-wielding PF cadres.
The PF cadres were demanding the dissolution of the Law Association of Zambia which they accuse of taking an anti-government position on various matters.
They were also calling for Kasonde's resignation but police quickly moved in to disperse them and they manned the premises for several hours after that.