PF members of parliament this morning burst into a chorus of "ni ba Lungu chabe, zoona" when the Head of State entered the Chamber to address the House.
But UPND Whip Garry Nkombo says it's good that his party, the UPND stayed away from the "political rally".
President Edgar Lungu arrived at the Parliament Building at 10:00 hours, but all UPND members of parliament, except Chilanga's Keith Mukata were absent.
When President Lungu, escorted by Speaker of the National Assembly Dr Patrick Matibini walked into the House, PF MPs sung a chorus of "niba Lungu chabe, zoona" for about a minute until the Head of State took his seat.
Explaining why the UPND shunned President Lungu's address for the second time, Nkombo said his party had information that the National Address would be turned into a political rally.
"We know that he is President, there's no doubt about that but we also had information that his address would be turned into a political rally. You saw how for the first time in history, members of parliament were singing political songs in the House when he walked in. We did not want to be part of the charade," Nkombo explained.
He also said that due to lack of trust in the police, UPND MPs had resolved to stay away from all PF functions.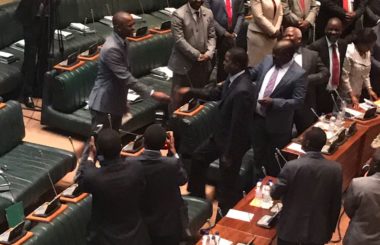 "We are scared of the police because we have been victims of the police so many times, we were very worried about the conduct of the police, we don't trust them so wherever there are PF events, we shall not be there," Nkombo said.
He further disclosed that UPND MPs were still awaiting the court's ruling on a petition they filed against Speaker Matibini for forcing them to apologise after they boycotted President Lungu's address last time.
"The official position is that it is common knowledge why we were not in attendance. Everyone knows the reasons why and I am sure that even you just want to confirm. We haven't gone there because first, we wanted to get a ruling from the courts regarding a ruling that the Speaker made when he forced us to apologizing for walking out of parliament. So the matter is yet to be determined. Another reason which is well known is the disregard of the rule of law by the PF," Nkombo said.
And when asked to comment on Mukata's decision to attend the State of the Nation Address, Nkombo said; "I think the fairest thing to say to you about that is that he can speak for himself."
When contacted via telephone, Mukata responded: "Hello… I hope you are not a journalist… I have no comment on that."
Mukata enjoyed a moment discussion with President Lungu after the State of the Nation address, much to the appeasement of PF MPs.