RTSA public relations head Fredrick Mubanga says no fatalities were recorded in the Power Tools – Fuel Tanker accident along Great North Road today.
In a statement, Mubanga stated that the accident happened when the fuel tanker attempted to overtake several vehicles.
"No fatalities have been recorded in the road accident involving a Power Tools bus and a fuel tanker which happened today along the Great North road. The accident happened at a place called Prospects around 11:40 hours. The accident occurred after the driver of the fuel tanker ACV 8404 belonging to Mohab transporters heading south direction overtook several vehicles and misjudged the speed and distance of the oncoming Power Tools bus registration number ADD5736," Mubanga stated.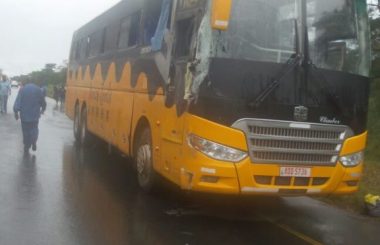 "The drivers of the two vehicles, in trying to avoid a collision, decided to go off road culminating in the tanker overturning and catching fire with the bus having minor damages which resulted in two passengers and the driver sustaining minor injuries. The injured have since been rushed to Kabwe general hospital and are in a stable condition."
He urged motorists to adhere to speed limits.
"The agency wishes to urge all motorists to follow speed limits, exercise maximum patience and caution on the road to avoid such accidents," stated Mubanga.