The Civil Society for Constitutional Agenda (CISCA) says there is no amount of money that will purchase any of the three church mother bodies.
Speaking at a press briefing today, CISCA Chairperson Bishop John Mambo said he was saddened by the attacks on Archbishop Telesphore Mpundu over his recent statement.
He warned that those insulting Mpundu were indirectly insulting Pop Francis and the Catholic establishment at the Vatican where the Lusaka Archbishop draws his authority.
"No one will deny today that this country is bleeding out with fire. We have asked state house to give us an audience to speak to president Edgar Lungu but that has not happened. What do we do?" Bishop Mambo asked.
"We as CISCA stand shoulder to shoulder with the original three church mother bodies. We adopt their statement and they have our blessings. Since time immemorial, we have had three church mother bodies, but now am hearing there are more church mother bodies which are condemning Archbishop Mpundu."
He wondered how other bishops, who were disagreeing with the statement read by Archbishop Mpundu, would describe the situation in Zambia.
"I am repeating the words of Archbishop Mpundu that if this is not dictatorship, then what is it? Why do you want the voice of the church to be in the intensive care?" asked Bishop Mambo.
And CiSCA representatives issued a winding statement about the political state of affairs in Zambia in line with the Republican Constitution.
CiSCA vice chairperson Pamela Chisanga, who read the statement said said the lack of constitutionalism and disrespect of the rule of law by those in the ruing Patriotic Front was the underlying cause of the crisis that the country was facing.
She added that there was no law in Zambia that criminalised the act of failing to recognise an elected Republican President.
Below is the full statement by CiSCA:
PRESS STATEMENT ON THE STATE OF CONSTITUTIONALISM AND RULE OF LAW IN ZAMBIA
Lusaka, 20 June 2017
Ladies and gentlemen, the Civil Society Constitution Agenda (CiSCA) feels duty bound to add its voice to the calls for the leadership of this country to rise to the occasion and resolve the current crisis in our nation. We agree with sentiments expressed by various sectors of our society, including the three church mother bodies (ZCCB, CCZ and EFZ) that our country is in a crisis. It is no secret that the country is polarised, that the mood in the country is highly toxic with hate speech, tribalist sentiments becoming a regular feature on our discourse particularly on social media and other platforms.
Ladies and gentlemen, we are not surprised to hear that our head of state, President Lungu, sees no crisis in the country. President Lungu says this is because he is able to fly in and out of the country. Perhaps this is where the problem is, that our President is not on the ground long enough to feel the palpable mood of anger and hatred that is now reaching boiling point in this country.
As a movement that is focussed on constitutionalism, we are saddened to see that in two years, our country has become a shell of a democratic state where those sworn to protect and defend the constitution and respect the rule of law are the ones at the forefront of mutilating it and disrespecting the rule of law without any restraint or shame. This is what happens when patriotism gives way to patronage and integrity gives way to greed and corruption.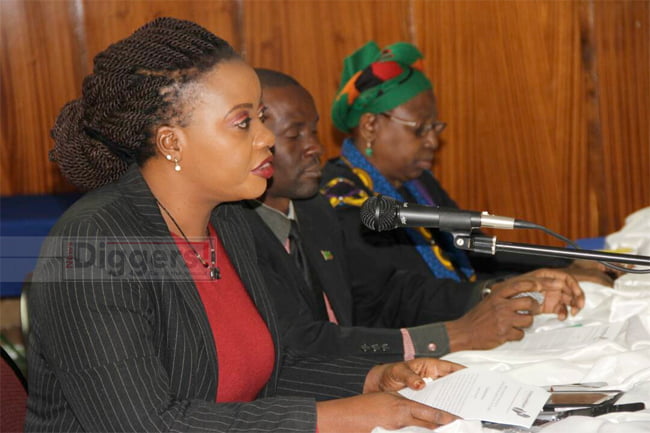 CiSCA believes that the lack of constitutionalism and disrespect of the rule of law by politicians, especially those in the ruing Patriotic Front is the underlying cause of the crisis that our nation is facing. It is for this reason that we, as CiSCA would like to bring to the attention of the nation some of the violations of both the spirit and the letter of our constitution, disrespect of the rule of law and violation of human rights by the primary duty bearers, the state under the PF government. We believe that unless the constitution, the rule of law and human rights are respected, it will be difficult to for the PF government to erase the image of tyranny that is now firmly formed in the minds of many in our country and beyond our borders.
Constitutionalism and Rule of Law
CiSCA believes that a people driven constitution and an expanded bill of rights is the basis for a true democracy, for a just work and for peaceful co-existence in society. More importantly, CiSCA believes that no one should be allowed to do anything outside the parameters and provisions of the Constitution at any time. While this applies to every individual and institutions in the land, it is even more serious when it comes to those who have taken oath of office to protect and defend the constitution. When those sworn to defend and protect the constitution elect to defy it, they do not only go against their own oath, but also institutionalise lawlessness. This causes citizens to become disenchanted and disaffected and this ultimately leads to frustration and bitterness among citizens. CiSCA believes this is where our nation sits, a nation where a significant proportion of our citizens are disenchanted and angry due to systematic breaches of our constitution, disregard for the rule of law, disregard of our national values and silencing of citizens voices. Allow us at this point to highlight some of the breaches that we have observed.

Recognition of the President
Ladies and gentleman, allow us to start by highlighting an issue that is perhaps at the centre of the crisis that our nation faces today. Following the September 2016 elections, the United Party for National Development and its leader President Hakainde Hichilema refused to recognise President Edgar Lungu as the legitimately elected President of the Republic of Zambia. They have maintained that they will not recognise President Lungu as President until their election petition is heard. We have heard a lot of pronouncements from government officials, Patriotic Front party officials and party cadres demanding that the UPND and Hakainde Hichilema concede defeat and recognise President Lungu as President. Hakainde Hichilema, UPND Members of Parliament, officials and cadres have equally been adamant about non-recognition of President Lungu.
As CiSCA, we would like to clearly state that there is no law in Zambia which criminalizes failure to recognize the President. We believe that article 103 of the Zambian constitution potentially provides for non recognition of a President on the grounds that a President has been invalidly elected or where the Zambian constitution or any law relating to the presidential election was not complied with. When this happens, the constitution mandates the Constitutional Court to hear the election petition to validate or invalidate the election of the President.
Ladies and gentlemen, the nation knows what happened to the petition lodged before the Constitutional Court by the UPND challenging the Presidency of the incumbent. Rather than go down the route of analysing what happened as this will not lead anywhere, we want to suggest the following:
• That the PF use legal means available to them to prove to the UPND that President Lungu was legitimately elected to put this matter to a close.
• Another option is for dialogue. We strongly believe that if all parties to this challenge are reasonable, this is something that can be resolved through dialogue – even if that dialogue is to agree to disagree, it will help the two parties establish boundaries on how to express their disagreement. This will ultimately reduce the tension in our country. We want to believe both President Lungu and UPND President Hakainde Hichilema have the interest of this nation at heart and will demonstrate leadership through dialogue, peaceful and civilised resolution of this impasse.
Presumption of Innocence Until Proved Guilty
CiSCA believes that a person does not lose his human rights simply by being in the custody of law enforcing agents. Even those proved guilty, while acknowledging some limitations in the enjoyment of their human rights, still retain fundamental rights such as protection against torture and inhuman treatment. Article 18(2)(a) of our constitution pre-supposes that every person charged with a criminal offence is innocent until he pleads or is proved guilty.
CiSCA is deeply concerned that the police and prison authorities have exhibited blatant violation of this provision lately when dealing with those charged with Treason and other politically motivated cases. CiSCA learnt with sadness that the police service attempted to bundle HH and his co accused into a vehicle filled with dog faeces and how Hichilema and co-accused were brutalised during their arrest and during their transfer to Mukobeko Maximum Prison. This is a violation of article 18 of the Zambian constitution because not even a convict deserves such kind of inhuman treatment.
The Zambian constitution, in line with other international and regional human rights instruments provides for the protection of individuals against torture and any inhuman and degrading treatment. Article 15 provides that "a person shall not be subjected to torture or inhuman or degrading punishment or other like treatment". Sadly, CiSCA notes that allegations of physical, mental and psychological torture are increasingly becoming an inherent feature of the police and correctional services.
This is unacceptable and must be stopped forthwith. We all know that protection from torture is a non-derogable right and therefore there is no justification in using dehumanizing tactics to mete out punishment or in the treatment of those who are under the care of law enforcement agencies.
We have heard comments from some people in our country that this is 'normal' treatment of accused persons in our country. It is sad that we as a country have been brain washed to believe that this is acceptable. The fact that the incarceration of Hichilema has exposed the blatant disregard of the rule of law in enforcing the very law does not make it right and does not make it acceptable. There has been a lot of speculation on the conditions under which Hichilema is detained. This is another source of anger for the supporters of Hichilema and his family.
To resolve this, CiSCA suggests the following:
• The Human Rights Commission must urgently undertake an enquiry into the conditions under which Hichilema and others are detained with clear recommendations to address any challenges noted within an acceptable period. Additionally, the Human Rights Commission must conscientise citizens on their rights, especially rights of persons found in conflict with the law. The case of the ZAF officer who died in police custody is still fresh in our minds and if such tragedies are to be avoided, Zambians must be fully aware of their rights.
• Further, the Ministry of Home Affairs and the department of Correctional Services must put in place a plan to improve the conditions in our prisons and detention centres.
Protection of Freedom of Conscience
Article 19 (1) of the constitution provides that "except in his/her own consent, a person shall not be hindered from the enjoyment of the freedom of conscience, and for the purposes of this article, the said freedom includes freedom of thought and religion, freedom to change his religion or belief, and freedom either alone or in community with others, and both in public and in private, to manifest and propagate his/her religion or belief in worship, teaching, practice and observance"
Clearly, the state has no constitutional right to determine how citizens should practice and manifest their beliefs as the PF government is trying to do today through the Ministry of Religious Affairs. CiSCA calls on the ministry to desist from interfering with citizen's enjoyment and exercising of freedom of conscience.
CiSCA therefore notes with dismay some of the pronouncements and actions of the Minister of Religious Affairs and National Guidance to regulate the freedom of conscience against the provisions of the Zambian constitution. The constitution does not prescribe the minimum of maximum number of people that may congregate to manifest or propagate their belief but strangely the Minister finds it necessary to go against the constitution by arbitrary introduction of a moratorium on the number of congregants that may be allowed to enjoy their right to congregate and worship.
From the number of controversies that have emanated since the creation of this ministry, CiSCA recommends that President Lungu must immediately scrap or abolish the Ministry of Religion and National Guidance. This will not only put an end to the confusion brought by the creation of this Ministry, it will save this country much needed resources that can be applied to delivery of basic social services.
Protection of Freedom of Expression
The Zambian constitution provides for the protection of citizens freedom of expression and assembly and association in articles 20 and 21 respectively. Article 20 (1) states that "except with his own consent, a person shall not be hindered in his enjoyment of his freedom of expression, that is to say, freedom to hold opinions without interference, freedom to receive ideas and information without interference, freedom to impart and communicate ideas and information without interference, whether the communication be to the public generally or to any person or the class of persons and freedom from interference with his/her correspondence."
Our country has experienced unprecedented levels of detention of persons for expressing their opinions in public, on social media and other platforms. We have seen clamping down of media and harassment of the media. The story of the Post, Komboni Radio, Ithezithezi Community Radio, Muvi TV, among others, is well known. A recent example are the threats issued by Lands Minister Honourable Jean Kapata to Muvi TV reporter Innocent Phiri on Wednesday 14th June 2017 to the effect that she would deal with Muvi TV for televising a story linking her and other government officials to an alleged land scam in Lusaka West's Zombe area. The conduct of Ms. Kapata was clearly meant to intimidate and interfere with the free sharing of information which was in public interest.
Freedom of Assembly and Association
One would not be far from the truth to allege that the Public Order Act under the PF regime does not apply to the Patriotic Front party, PF cadres and PF patrons and associates. In what appears to be a PF scheme, the Zambian police service has time and again violated article 21 of the Zambian constitution which provides for the protection of freedom of assembly and association which includes freedom to form or belong to a political party, trade union or association for the protection of a person's interest.
It is ironic that while the police have on several occasions prevented some individuals and groups of people from exercising and enjoying this constitutional right, the PF and their associates do enjoy this right, even to an extent of abusing it to infringe or threaten to infringe the enjoyment of fundamental rights by other people seen to be opposed to the establishment.
Further, CiSCA notes with dismay how the Zambia police services continually operate like a force contrary to article 193(a).
Zambians who want to peacefully express their concerns or displeasure, their solidarity with those they feel are being persecuted must be allowed to do so. Bottled anger and resentment of the establishment are not healthy for a democracy such as ours.
Our suggestion is for the Police Service to immediately allow peaceful assembly and put in place measures to ensure that such assemblies remain peaceful. Further, we urge a speedy repeal of this archaic law inherited from our colonial masters that is still glorified in an independent, democratic nation such as Zambia is supposed to be.
Sole Candidacy
More recently, CiSCA has watched with shock the debate on the candidature of the PF for the 2021 general election. It goes without saying that PF under President Lungu has been in power for the second term of office for less than 10 months now. Ordinarily, one would have thought that the regime would be now focussed on delivering on the campaign promises for improving the welfare of poor Zambians, but alas, the PF priority seems to be on securing a third term for President Lungu. This debate is logically misplaced, legally wrong and goes against the Zambian constitution. The eligibility of President Lungu is before the courts of law, why are the PF discussing it now? Do they already know the verdict?
Ladies and gentlemen, we all know that political parties are now a creation of the national constitution. Specifically article 60 provides for the rights, character, operations and limitations of political parties. Article 60 (1c) demands that political parties must conduct primary elections for the selection of candidates while article (60 d and e) requires political parties to "promote and practice democracy through regular, free and fair elections within the party" and to "respect the right of its members to participate in the affairs of the political party." respectively. CiSCA believes that the current debate in PF about a sole Presidential candidate for the 2021 general election flies in the face of article 60 of our constitution. Note that these constitutional provisions apply to ALL political parties whether in power or in opposition.
Debt Contraction
CiSCA is concerned that the PF government has continued to seek contracting public debt without seeking the approval of parliament as provided by the constitution. Article 63(2d) and 114(e1) provides that "the national assembly shall oversee the performance of the executive function by approving public debt before it is contracted."
The Zambian government has contracted over US$500 000 000 without the due Parliamentary processes as follows:
i. US$600 000 000 from the World Bank for various developmental projects. US$150 000 is direct budget support.
ii. In October 2016, the African Development Bank approved a US$50 000 000 credit line to Development Bank of Zambia for small and medium businesses.
Zambia has signed up other loan facilities and has been a recipient of other grants over the last 12 months. Zambia is also courting the IMF for a bailout package in order to support its debt repayment.
CiSCA is saddened by the apparent interference by the executive in the matter of ZCCM-IH and FQM where ZCCM-IH has been forced to settle out of court the case against FQM (worth US$1.5 billion). This, coming from an executive that has clearly stated that it cannot interfere in matters before the courts of law is highly questionable and must arouse the interest of every Zambian given the economic challenges the country is going through. Zambians must realise that without such careless debt contraction and careless management of our economy, we would still be able to enjoy cheaper fuel and cheaper electricity, even in the face of high costs of importing power caused by the low levels of water in the Kariba.
To address this, CiSCA proposes the following:
• The Speaker of the National Assembly to immediately take to task the Minister of Finance on debt contraction and to request the Minister of Finance to disclose fully the total debt exposure of the country including previously incurred debt.
• The Speaker of the National Assembly to immediately demand accountability on sue of debt incurred so far, including Euro Bond.
We are now aware that the Speaker has insulated himself against any public engagement with his recent pronoucnements and so we call upon Members of Parliament who are the people's representatives and have the interest of this nation at heart to make this request in Parliament.
Call to Civic Duty
Ladies and gentlemen, the fall of our beloved country from being a beacon of peace and trend setter of democracy on the African continent popular to dictatorship it is today is testimony of what happens when citizens cease to exercise their democratic duties and constitutional rights after they leave the polling booth. It is reminder that the task to nurture democracy to its full maturity cannot be left in the hands of politicians alone. In fact, even the most democratic politicians turn into despots the moment citizens cease to demand accountability and participation in governance processes. CiSCA firmly believes that destiny of this country is the hands Zambian citizens and not those in power who only interest and preoccupation is to have more and more power. Time has come for Zambians to defend the democracy that we embraced in 1991 at whatever cost.
Way forward
While it is generally agreed that the law does not always respect human rights, principles of good governance and constitutionalism requires that each and every individual in the land follows the law to the letter and spirit. CiSCA is deeply saddened that this does not seem to be the case in our country today. The fate of citizens who came into contact with the law appears to be at the whims and fancy of those in power. This is a potential source of conflict and tension in the country.
Ladies and gentlemen, CiSCA believes that our national reconciliation and healing should be rooted in the respect for the rule of law, human rights and constitutionalism. As primary duty bearers, the PF government has a both legal and moral obligation to provide tenacious leadership in ensuring that our lost democracy is fully restored. Indeed the restoration of our democracy entails respecting the sanctity of our laws in all political, social, economic and religious affairs. It is not too late for President Lungu to make amends.
Finally, we wish to announce to the nation that a movement, we will continue to catalogue constitutional breaches and will therefore produce a regular bulletin highlighting these breaches. We will also set up a complaints mechanism for citizens to report any breaches or infringement of their rights and we will publicise these as necessary. We urge all citizens to support and participate in this nation for the betterment of our nation.
The road ahead of us, economically, is challenging, It will be made worse by an unresponsive government, inactive citizens who will not be able to hold government accountable for its actions. At the end of the day, we must all realise that it is not President Lungu that will suffer, it will not be Hakainde Hichilema, it will be ordinary Zambians that will suffer.
Ordinary Zambians are already suffering – paying more taxes than any other time in our history, paying more for fuel and electricity and this will continue to rise. Communities that depend on agriculture will still be subjected to the chaotic FISP and e-voucher system while our leaders continue to fight for power and recognition, while cadres continue to campaign for and support a useless third term bid for President Lungu.
The Finance Minister announced an ambitious Zambia Plus programme and convinced us as Zambians that an IMF programme is necessarily – many of us have no idea what is happening because of the political crisis our country is in. IN his budget speech, the Minister announced the free distribution of sanitary ware to girls in schools. A few months later, we are told there is no money for this. What else isn't there money for in the 2017 budget? ARVs? Teachers and nurses' salaries? These, ladies and gentlemen, are the things that should be pre-occupy us as a nation.
Thank you.
Issued by:
Bishop John H. Mambo
Chairperson – #CivilSocietyConstitutionAgenda #CiSCA