I am ambitious to come back in 2021, says President Edgar Lungu.
And President Lungu says businesses must operate the way politicians do by allowing competition to flourish.
Meanwhile, President Lungu has warned State House officials against abusing their power to force contractors to employ unqualified people.
The Head of State was when he officiated at the financing framework and loan agreement for the construction of phase II communication towers between government and the Chinese government in Lusaka today.
"Those of us who are politicians know the importance of communication is. If you can't reach out to the people, you are gone…Somebody was telling me this morning that am going to fire one Minister and he picked this on social media from Morocco and I said 'why do you think I want to fire this Minister?' He said 'it is because he is ambitious'. I can't fire you for being ambitious come on. Those of you who are ambitious, I am also ambitious that is why I am President, and I am ambitious to come back 2021. We will only trash falsehood if we are able to communicate and this is why we are trying to achieve," President Lungu said.
And President Lungu said businesses must emulate politicians by not obliterating their opponents because competition was healthy.
"I cannot overemphasize the need to make this equipment more affordable. Huawei, you provide handsets, make them cheaper. If you don't, we will ask your friends to bring because we know they are being manufactured. Therefore, ministers responsible in this regard must work with the private sector to bring down the costs of ICT equipment. And I know the ministers responsible, I won't have to mention you by name but you know yourselves, you know each other. Please, talk to your colleagues in this industry. You cannot go and buy yourself a phone in Zimbabwe, South Africa but when you come to Zambia it is much more expensive. I think we know where these things are and who is manufacturing them so let us allow competition. Let me just say one thing, Huawei, I was in China and I warned you that please, let us compete favorably with your friends. I think I spoke to the CEO, I said don't be combative to a point where you want to kill each other, just compete like we do in politics, we just compete, we don't kill each other," President Lungu said.
"What I saw was a trend to obliterate other companies on the market, you can't do that because we are looking for competition, it is healthy. The more you compete, the better the prices. So if your equipment will be beyond reach by most of us, we will go to your friend who's competing. The way we compete in the political arena without killing each other and just allowing each other to combat in exchange of ideas…there is no way you can obliterate your competitor and think you are the best you may just remain a zero without being a hero. So allow your friends to come from China, from Singapore, from wherever and compete with you in this sector"
Meanwhile, President Lungu warned State House officials against abusing their powers.
"And those of you who are privy to have power, please don't abuse the contractor by insisting that he employs people who do not qualify or to engage contractors who don't qualify to deliver, it will compromise the quality. And I will not be friendly to those who those who want to push their luck in that direction, please keep away. State House you hear me?" he asked.
President Lungu also said the phase II of the construction of communication towers would cost US$282 million to build and upgrade 1,009 towers across the country.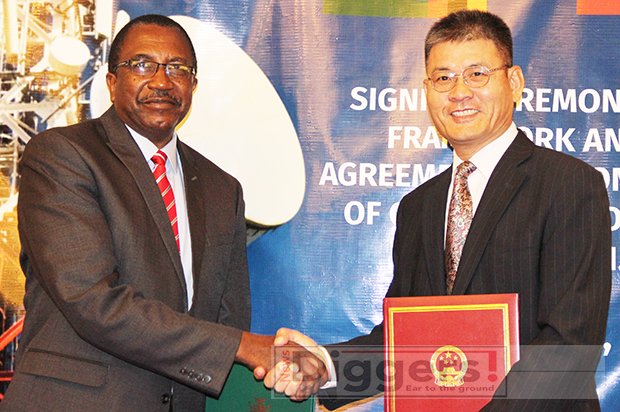 "The phase II of the construction of communication towers will cost US$282 million to build and upgrade 1,009 towers across the country. This development demonstrates government's unwavering resolve to afford every citizen an opportunity to achieve social and economic freedom through enhanced access to information communication technology services. The construction of communication towers in unserved and underserved areas will among other things create over 2000 jobs, provide connectivity for entrepreneurs who will now save time and costs by transactions online, and promote financial inclusion by capacitating the unbanked population," he said.
President Lungu also directed Transport and Communications Minister Brian Mushimba to ensure that Zambian contractors participate in the project through sub-contracted works.
"This investment in mobile communication across the country will also improve E-commerce, tele-medicine, simplify compliance to government regulations and statutes, empower farmers with access to markets, and strengthern citizen participation by promoting transparency in transactions," said President Lungu.
Speaking at the same ceremony, Chinese Ambassador to Zambia Yang Youming said China and Chinese enterprises had made great and tangible contributions to the development of ICT in Zambia.
"This project is funded by the Chinese government through confessional loan. The project includes the construction of 808 new towers, 1,009 2G/3G/4G wireless stations and the setting up of a matched transmission network and user access terminals," Youming said.
"After the completion of the project, the voice service penetration will increase from 70% to nearly 100%, the data service penetration will increase from 5% to 40%, which will greatly improve communication conditions for the Zambian people."
The project will be undertaken by Huawei technologies.
Take a look: