A tense atmosphere today gripped  the memorial church service held in honour of late president Michael Sata as those who served in his administration but are now out, joined those who are still serving under President Edgar Lungu, in celebrating the life of the PF founding father.
Just to give exposition to the narrative from the Cathedral of the Child Jesus, celebrant Catholic Priest Fr Godwin Mulenga confronted the Head of State, telling him to remove people with personal interests from his inner circle.
Then came former first lady Dr Christine Kaseba who narrated how late Sata never changed his phone number after becoming President because he wanted ordinary poor Zambians who voted for him to continue calling and interacting with their leader.
This was before former State House press aide George Chellah took to the podium to demand that the pioneers of the Patriotic Front must be honoured and not disrespected. In fact, Chellah ended his speech asking the audience how they would fair if Sata came back to life to question how they were carrying on with his legacy.
Apart from President Lungu, the audience that Chellah, Dr Kaseba and Fr Mulenga were addressing included vice-president Inonge Wina, Secretary to the Cabinet Dr Roland Msiska and his deputy Christopher Mvunga, Speaker of the National Assembly Dr Patrick Matibini, to mention but a few.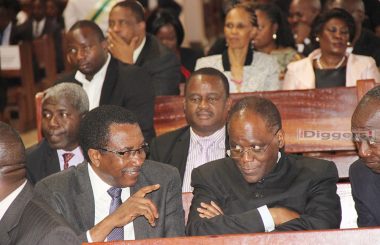 Of course PF rebel MP for Roan Constituency Chishimba Kambwili and breakaway National Democratic Congress party leader Mwenya Musenge were present, not to mention Judge Ngoma who was Sata's bodyguard during the campaign years prior to 2011.
Make no mistake of thinking those who worked with Sata intimidated the current regime because President Lungu was equal to the task, telling off distractors that they never had courage to stand up to the late president, but were forcing him to do wrong.
Anyway, the service started as advertised at 09:15 hours, and the Head of State who was scheduled to arrive 15 minutes earlier, kept 'English time', much to the pleasure of St Ignatius Parish priest Fr Charles Chilinda who welcomed him to the Cathedral.
The order of mass saw Sata's children Mulenga and Chilufya taking part in the Bible reading, while other children Mwelwa and Stella joined Sylvia Chalikosa, Jean Kapata, Samuel Mukupa and Mwamba Peni in offering Prayers of the Faithful.
The famous St Ignatius "08:15 Choir" jazzed things up with Sata's favourite "Tutemwane" song, before Fr Mulenga turned the heat to wake up the elephant in the room.
Fr Mulenga started by telling President Lungu to deal with PF cadres who were above the law.
"This culture of cadres, must come to an end. Bakateka (Mr President) it is now your time to take responsibility. You remember what Sata did that time when there was a contest during an election. We weren't sure if he had won and there was a potential of chaos. What did he do? He went to the people and spoke to them. If it was other leaders, they would have used the cadres to bring chaos. The culture of cadres must stop. Cadres have no respect for the law. They don't understand what the law is about. Imagine if you had a lawless guy moving around. It is a danger to himself and others," Fr Mulenga said.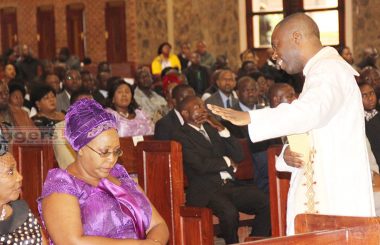 "Cadres don't listen to government instructions. They have to be treated individually, give them names, identities and addresses. 'Iwe Mutale, you did this and we will deal with you in this manner'. If we just deal with them as cadres, we are losing the battle. We cannot continue seeing these people messing around with the way we live."
He said Sata would have succeeded to reconcile Kambwili with Lands Minister Jean Kapata.
"Sata would have been happy with us to be working together… Iwe uko Kambwili wilalanda ifyo, Naiwe mama Jean the Babtist, you have to work out your things," said Fr Mulenga.
"Some of the people in government have personal ambitions which have nothing to do with the nation, and these people must be isolated from the inner circle. We must know that only those who are there to serve should be allowed to be in government. We cannot allow this culture to continue."
Take a listen:
In her eulogy, Dr Kaseba moved a few to tears as she relived the good old days with her late husband.
"He was called many names, some derogatory and some lovingly. Many of you would agree with me that Michael Sata remained true to himself. He even refused to change his cell phone number because he believed that it was the same number that propelled him to the presidency and he needed his people to get hold of him easily. He even refused to change a ka Nokia 3310," Kaseba said.
"He believed that what he needed to do was adequate using a 3310 and he died while using that same phone which was actually faded. It was a bit embarrassing when we went outside the country and he took out his phone trying to ring and everyone was looking at this faded phone."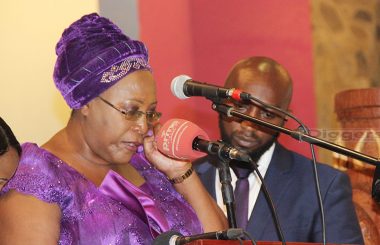 She described Sata as a forgiving man.
"I choose to remember Michael Sata as a God fearing and very generous man, he gave the last penny out of his pocket, he was honest, compassionate, selfless, humble and a very forgiving person. There were times when we reminded him of what people had done to him and his response was always 'bushe nimwe baletuka' (is it you they were insulting?). He would find you praying he says 'I don't know which God you pray to because me the God I pray to is a forgiving God. Now if you are telling me that don't forgive this person then you are wasting your prayers'," recalled Dr Kaseba.
"Brothers and sisters, the man I called my husband never focused on personal enrichment of material possession. The family has been accused of hiding perceived wealth that comes with the Presidency but to those that knew MCS, they will testify that Michael Sata was a man who never believed in personal gain. He focused on working for the good of the country and the people he loved so much. I remember how in his last days he refused to eat food when many Zambians were going hungry, he had many dreams to do but his plans where in his God's plans (…breaks into tears)."
Take a listen to the emotional tribute:
After Dr Kaseba, Chellah shared his experience of working with Sata, in a speech that left a lot between the lines for people to read.
"President Sata was the easiest boss to manage because I knew what he stood for and I did not have to guess." So, all it took to earn President Sata's confidence, respect and loyalty was to tap into his values of simplicity; forgiveness and reconciliation; resilience and good humour; never to tell or entertain lies and liars; transparency and integrity; a robust work culture even when his health was failing him; and more importantly having a heart for the poor," Chellah said.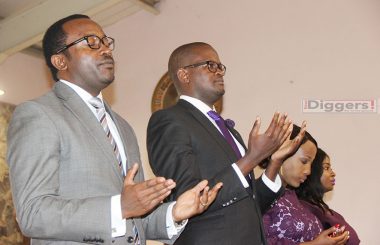 "President Sata did not make any decision unless it was in the interest of the poor. The poor remained close to his heart till his death, and he led by example, thereby challenging those around him to match their word with action. We must not allow this fragile and precious gift of a memorable legacy wither away due to hatred, divisiveness and opportunism. We should always remember that pioneers deserve to be honored and not disrespected," said Chellah who summed up his speech with a question: "If Michael Sata walked in here today, and subjected us to an appraisal over this project he left us, how will we fair? How will he rate us?"
Take a listen to Chellah's voice:
President Lungu gave a rather flat, but authoritative speech.
"In our early days of the Patriotic Front, I remember Mr Sata inviting as many people as possible to join the party including those who fought him, some of them physically. There was a time that he proposed that we embrace the now late Willy Nsanda as PF, this was in the aftermath of his having been humiliated and physically hounded out of a Catholic radio station in Kitwe. I recall it was me and Chishimba Kambwili who stood up and said 'no Mr Sata, you can't allow Willy Nsanda to join us'. Our leader told us that 'what kind of leaders are you going to be if you don't forgive?' He went further and shamed the two of us by saying 'me I have forgiven Willy Nsanda, bushe nimwe aumine? (Are you the ones he beat?' And we were left speechless," President Lungu recalled.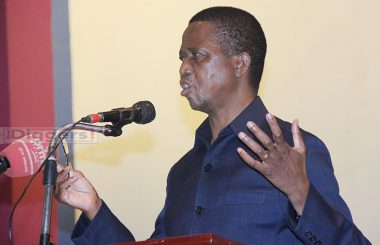 "The most shameful thing is that some of the people who never had the courage to speak out when Mr Sata was there want to be champions now and derail his vision by telling me to do things which would shame Mr Sata which himself would not have loved to do. So to those of you who want to derail me when I try to emulate Mr Sata by been inclusive, I'm saying you are wasting your time. To those of you who think will derail me from being inclusive, from been reconciliatory, from being of national character, I would just say, don't waste your time."
Listen to President Lungu's speech:
No doubt, Sata's memorial was memorable in the most unique way. Perhaps, "divided in unity" could describe the atmosphere that characterised the service as there were clearly two political parties led by two different leaders, but known by the one name – PF.