First Deputy Speaker of the National Assembly Catherine Namugala on Tuesday told Minister of Lands Jean Kapata not to blame social media for misinformation that was caused by government officials over some land in Kafue.
When Katuba UPND member of parliament Patricia Mashingwele was debating President Edgar Lungu's address to the House on national values, she made reference to some land which government had converted from agriculture to commercial in Kafue, arguing that it was unacceptable to displace people in that fashion.
"I would want to start by talking about values and principles, if the PF government is talking about values and principles and respecting our people, the first thing we should look at is respecting who they are, whether poor or rich and specifically I would want to refer to the people in Chipata today that are almost displaced from a piece of land they have been on for over 20 years. It has been on the news for the past one week. The people in Chipata are antagonising because they are going to be displaced for any reason. Does that show respect to the people of Chipata? Does it give them value? We are talking about people in Chongwe today, in Kafue under Chieftainess Nkomeysha's area, 3,000 hectares of land being given to some lodges, hotel and tourism chain to displace 12 villages Madam Speaker," Mwashingwele said but Kapata rose on a point of order.
"Is the member on the floor in order to listen to what is going on on social media? We are aware as government that there are a lot of wrong things being sent on social media. The story she is talking about Madam Speaker, the land was given in 1994 and it was 335.5 hectares and are you aware that the city planners made a mistake and instead of writing 335.5 hectares on a billboard, they wrote three million hectares. Where is three million hectares in Chief Nkomeshya's area from? Because there is no land there, all the land is taken. Is the speaker on the floor in order to mislead this House by saying that government did give a piece of land as stipulated on social media? Don't bring social media to parliament," said Kapata.
But Namugala reminded Kapata that she had admitted in her own statement that government officers made that mistake.
"The honourable minister, in her point of order mentions that some officers of government misled the public by indicating the hectarage as three million instead of 300. The honourable minister is asking the chair to rule whether or not the honourable member of Katuba is in order to state the 3,000 that she has stated. Clearly, from the honourable minister's own admission, that the hectarage that is appearing is incorrect and that that is the information that is in the public domain," said Namugala.
"The ruling of the chair is that unless and until the honourable minister comes to this House to correct the information and given an explanation as to what led to that misleading information, what is being said by the honourable member for Katuba will be taken as the information that she herself believes to be the correct information. And in this regard, I urge the honourable ministers to take notes so that when the time comes, they can correct the information so that officially, and the record of this House correctly reflects the actual position of government on matters such as this one."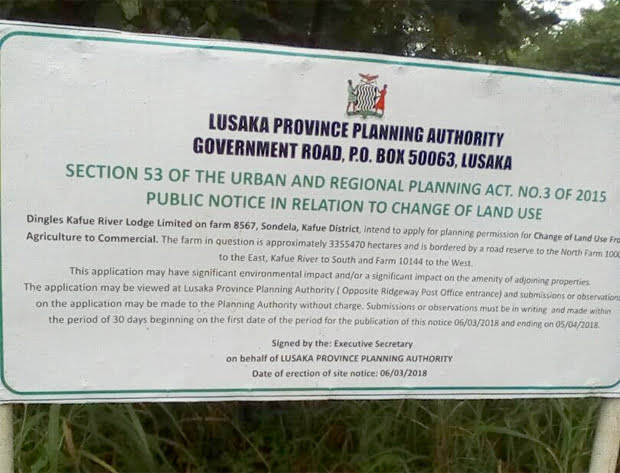 Mwashingwele then continued with her debate, saying foreigners must not be allowed to own land.
"When we talk about values and principles, we are saying 'regardless of someone's value, whether in money form, they need to be respected and protected according to the speech that was given on the floor of this House and when I refer to the two, they are not the only ones that are grieving on their land in this country. Our most precious possession has been abused and we are saying can the Patriotic Front government be more sensitive to this value if we are really going to appreciate what we are talking about because a value is regarded as something that is priceless. Our land is priceless. You go to Muchinga, you go to Northern, you go to the South, West East of this country, everyone is talking about much land is being given to people that just come. Madam Speaker, if I went to China today, even if I was in China for 10 years, I would never be given not even a hectare of land because it is the preserve of the indigenous people and we are saying no one in this country must be displaced if we really respect and value our people because that is the only thing that gives them the dignity that is being spoken about in the speech," said Mwashingwala.
On Tuesday, there was a revolt on social media after a video went viral in which some Kafue residents were agitating about being evicted from their land.
The residents were referring to a billboard mounted by the Lusaka Province Planning Authority which indicated that 3,355,470 hectares of land had been changed from agriculture to commercial.
Chief Government Spokesperson Dora Siliya also issued a statement, Tuesday night, clarifying the mistake.
"Government has refuted claims that it awarded over three (3) million hectares of land located at the south end border of the Kafue River in Chongwe District to Dingles Kafue River Lodge Limited. The land in question, which is only 335.5 hectares, was leased out to Dingles Kafue River Lodge Limited on 1st May, 1994 for a term of ninety nine (99) years for Agricultural use. However, twenty four (24) years down the line, Dingles Kafue River Lodge Limited applied to Lusaka Province Panning Authority for permission to change land use from agricultural to commercial. In line with Section 53 of the Urban and Regional Planning Act No.3 of 2015, Lusaka Province Panning Authority placed an advertisement in the print media to inform members of the public of the intention by Dingles Kafue River Lodge Limited to change land use. Nonetheless, when Lusaka Province Panning Authority placed a bill board in Chongwe District to notify members of the public in that area of Dingles Kafue River Lodge Limited's intention to change land use, they inadvertently left out a point on the figure of hectares," stated Siliya.
"This has caused members of the public to conclude that Government had sold over 3 million hectares of Land to Dingles Kafue River Lodge Limited when the actual hectarage is just 333.5, which was leased out to Dingles Kafue River Lodge Limited in 1994 for a period of 99 years. Government regrets the inconvenience this misinformation has caused to the people of Chongwe District and beyond."