World Vision Zambia has constructed a first level hospital in Chief Moyo's area in Pemba district valued at about K5.7 million, much to the excitement of the local people.
Residing approximately 13 kilometres away from the Lusaka-Livingstone Road, Moyo residents have had to walk miles in order to access improved health care either in Choma or Monze.
Following the construction of the new hospital by World Vision, Moyo residents were thrilled last Friday as they celebrated the development.
Speaking during the event, World Vision manager in charge of operations Wezzy Kaira reflected upon the journey that his organisation started together with the community to ensure that the hospital was constructed.
"When we arrived here, we heard of so many difficult stories. Stories of poor health and difficulties in accessing education facilities. Among the challenges that came out very strongly was that there was lack of a good health facility. We are happy that today that is not an issue because of what the people of Moyo, the government and World Vision have done together to address this challenge. When we came here as World Vision, we heard that there was a high number of children and mothers who were dying because of delivering at home or on the way to the hospital. Your highness you told us that there was a lot of diarrhoea and malnutrition in the area and that was confirmed by the government. That's why we thought that we could work together with you to make this change because as World Vision, we aspire that no child should die of any preventable disease and that no mother should die whilst giving life," said Kaira.
"Today we are not here to celebrate the facility but the things that this facility will entail for the people of Chief Moyo's area. I just want to emphasise that this community celebration that is happening today could not have been possible without the generous support of the people of Christ Presbyterian Church and North Ridge Church in the United States of America. But also, the Chief and the community for availing the land. We also thank government through the Ministry of Health for giving us the plan and also for supervising the construction."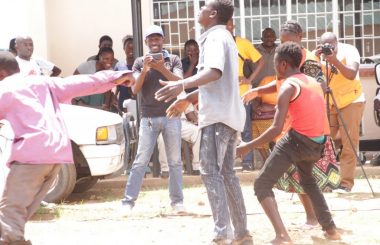 Chief Moyo appealed to government to help connect the health facility to the national electricity grid in order to make it operational 24/7.
"As Moyo residents, we say thank you for this gift that we have seen with our eyes. None of us gathered here has ever seen anything like this within Moyo Chiefdom. Governments have come and gone and we've never seen anything like this. That's why we are saying thank you to World Vision. Now that you have given us this beautiful hospital, we are requesting for electricity from government so that this hospital can be operational day and night, said Chief Moyo.
Meanwhile, Pemba Council Chairperson Peter Dyololo called on government to construct a road leading to Moyo hospital to allow people have easy access to the facility.
The event was also characterised by dance, music and poetry by pupils from Moyo primary and secondary schools who demonstrated appreciation to World Vision Zambia through their activities.