MORE pictures have emerged showing President Edgar Lungu dining and wining with influential Lusaka based businessman Valden Findlay and Belarusian oligarch Aleksandr Zingman.
In June, 2020, News Diggers published images showing President Lungu interacting with Zingman and Russian businessman Alexander Mikheev, who is the president of Rosoboronexport, a Russian state intermediary agency for the exports of defense-related products and services.
The photographs also showed Defence Permanent Secretary Sturdy Mwale, Zambia Air Force Commander Lt Gen David Muma and Military Attaché at the Zambian Embassy in Moscow, Robert Kampeshi, with the said Belarusian businessman.
Although he operates under the radar, Zingman is reported to be a valuable chain in the relations between Zambia and East Europe, and is believed to have brokered the procurement of helicopters from Russia and the contract for the supply of Sukhoi Superjet 100 aircraft.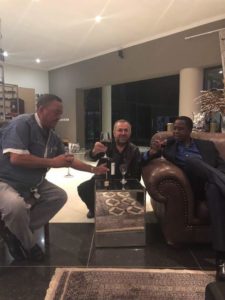 But Zingman's UK-based lawyer Daniel Delnero has told News Diggers that there was nothing sinister about the photos as it was a coincident that President Lungu, Zingman and Mikheev were found in one place.
"Consistent with his broader business activities, Mr. Zingman was in Zambia to discuss Zambia business prospects with Belarus in the area of agriculture, mining, road construction, transport infrastructure, and logistics. During these many meetings, the parties discussed the construction of the tractor assembling plant Chipata, Zambia, which will produce about 2000 tractors per year, other agriculture machinery, and farming implements… We further note that these discussions are consistent with Mr. Zingman's role in creating opportunities for Belarussian investment in Zambia and other African nations in the fields of agriculture, mining, and transportation infrastructure," Zingman's lawyer explained.
"The photograph prompting these claims occurred by pure happenstance. Mr. Zingman indeed had a meeting with The President. There was no meeting between Mr. Zingman, Mr. Mikheev, and the President of Zambia, nor was there a meeting between Mr. Zingman and Mr. Mikheev. Mr. Zingman and Mr. Mikheev happened to have met at State House of Zambia at the same time and, because they are from neighboring countries (Mr. Zingman is from Belarus and Mr. Mikheev is from Russia) and share a common language, Mr. Mikheev requested a photo with The President and Mr. Zingman. The tractor assembling plant to be constructed will be a contract under Zamcapitol of the Ministry of Defence of Zambia. Mr. Stardy Mwale, Permanent Secretary at the Ministry of Defence of Zambia, travelled in 2018 with the military attaché and other senior government officials from Zambia to tour one of the world's largest, if not number one, tractor manufacturing plants in Minsk, Belarus. During the same period, an MOU was signed to cooperate in this area for tractor production. It was as a result of this cooperation that Mr. Zingman travelled to Zambia for a follow up meeting with The President of Zambia. After the meeting, Mr. Zingman requested that Mr. Stardy Mwale and the military attaché, who happened also to be in Zambia, to meet at a resort in Lusaka and have a dinner. It was during this time that Mr. Zingman first met General Muma, who came with military attaché at the resort. During the dinner, Mr. Zingman requested Mr. Stardy Mwale and General Muma to join him for another dinner on the following day. Mr. Zingman and Mr. Findlay have been friends for long time; hence, Mr. Zingman asked Mr. Findlay to join him for dinner.
Zingman, through his lawyer then gave News Diggers an ultimatum in which to disclose the source of the images, apologise for publishing and delete them from the newspaper's online and social media platforms, or face legal action.
News Diggers Managing Director Joseph Mwenda said the newspaper would not do any of the actions demanded by Zingman, saying the matter was of public interest in Zambia and dared Zingman to sue if his dealings with the Zambians government and the Head of State were clean.