Agriculture minister Dora Siliya says yellow maize is not for poor people in society and has advised families to prioritize its use over white maize as it is more nutritious.
Speaking when she addressed journalists at her office following consultative meetings with Troika and IFAD, Siliya said the government wants to encourage Zambians to stop depending on white maize as a staple food.
"Yellow maize is not for poor people. We need to demystify this belief that orange maize, or yellow maize is for the poor. It is actually more nutritious than white maize. As government, we want to give so much variety to the Zambian consumer. People should have choices and not rely on white maize only. You should go in a shop and find orange maize ready to purchase," Siliya said.
"Going forward, FRA will buy upto 500,000 metric tones of white maize to allow the Agency to buy other commodities. This will help Zambians change their eating habits as they will start depending on a variety of other crops."
She also told representatives of IFAD that government was looking at technology partners to help create databases in order to improve and effectively manage the FISP and eVoucher programmes.
"But we need databases to enable us manage this process and to target the most needy in the communities that we serve. We need to identify where our farmers operate from using the database. Young farmers will be on phone, we need agriculture technologies which can help support data analyses. We need to know who the farmers are and what their interests are. As government, we have also taken the Zambia Professional Institute Bill. Our Farmers need information on where they can get agriculture related information. We need to encourage professionalism in the agriculture sector."
Siliya further lamented that the country did not have enough Extension Officers.
"At the moment one extension officer is serving up to 1,000 farmers. We need to employ more of these officers. And government has realised that the eVoucher system remains an efficient way of helping farmers. Government is also concerned that most farmers are dependent on rain-fed crops; we need to get them into more sustainable co-venture agreements with foreign investors. Co-venture will bring infrastructure that will allow speedy growth for the sector. Yesterday, Zambia made its first ever export of bananas to South Africa," said Siliya.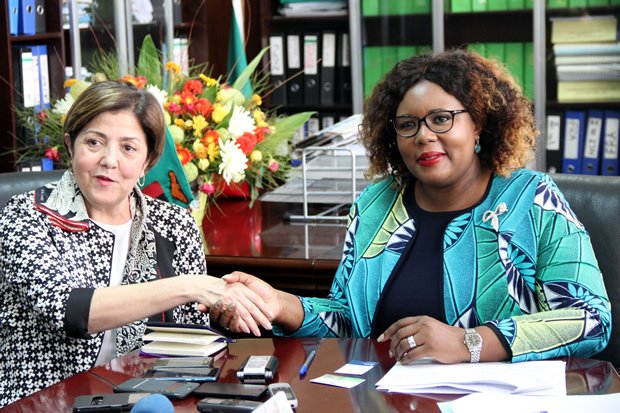 And IFAD country director Abla Benhammouche said her organisation was eager to work with the government.
"We are celebrating 40 years of existence. We are focused on helping people in the rural areas. We want people to stop depending on selling talk time on the traffic lights. We need them to depend on agriculture. There are about 1.2 million small-scales farmers in Zambia and about 1.2 million subsistence farmers, these have to be helped with growth," said Benhammouche.
"We are now working with the revised Sixth National Development Plan to improve the agriculture sector and to help the farmers with access to the market. IFAD wants another "P" added to the "PPP" and this is the Public Private Producer Partnership. We want the producers of the farm products to be part of the modernised agriculture development. The young people, women and disabled can do something economically, but we need to give them opportunities. They also don't want to remain dependents. We need to learn from the young people what they want to do and what they can contribute to the sector."