Zambian youths are piercing into their power like never before and demanding a space to make their voices heard. They are front runners of their generation and others to come towards a more successful and compassionate world.
For Zambian citizens involved in making a meaningful impact through driving social inclusion movements for underrepresented communities, this should be an opportune time to reach populations that the market and governments are unable to account for. However, certain factors such as lockdowns, have hindered and restricted these efforts inevitably. In spite of this, they have defied the odds in an effort to foster solution-based action plans to render help to fellow Zambians where needed.
"I miss you, Nathan," says a teary-eyed Madalitso Chelenga to his son over the phone. He is a Malawian Ph.D. student in Japan whose two-year plans to visit his Zambian child this summer were thwarted because of the unprecedented closing of borders worldwide.
Also affected by the closed borders is Fred Lungu, a Zambian citizen who recently lost his mother to cancer two months ago in the United Kingdom, and because of the virus, could not give her the burial she respectfully deserved.
"It's very difficult knowing that someone is lying in the mortuary, and the rest of you have to go back to normal life," Fred grieves, "We're literally putting the funeral on pause."
In the midst of devastation and distress, a sliver of hope manifests through the selfless acts of young people in Zambia who have chosen to rise to the plate and cushion the tangible impact of the virus on their fellow citizens. Lusaka Helps is an initiative run by youths in Lusaka which supports the efforts of young people making a difference in their communities during the COVID 19 crisis. This includes supporting efforts of Zambians donating supplies, safety items, and food and even sharing words of faith and encouragement to those in need of it, such as sending cards to health workers or making phone calls to those living away from their loved ones or suffering emotional breakdowns.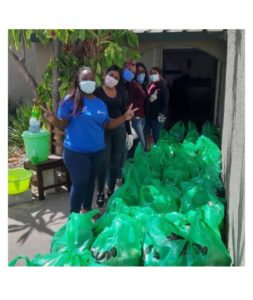 A professional Zambian tennis player and coach called Mulenga Chileshe stands on an empty court in Roma Park. In his 12 years in the game, he has never experienced a significant plummet in business like this.
"I went from having 13 consistent clients a week paying me per one-hour session, to three vacillating clients I wouldn't even be certain would attend," he narrates.
Aside from his tennis job, Mulenga helps run his family's restaurant in downtown Lusaka, the bustling capital of Zambia. However, the crisis has pulverized his business, leaving his five workers unpaid and uneasy.
"It hurts me that there's nothing I can do to help them right now," he says, "I am equally struggling."
At the other end of town, Anthony Cheela, a reporting manager for a well-known Zambian Bank, packs his belongings and leaves the office for home. He has just been informed that his personal business in cross border trade, supplying stock seed for farmers in Botswana may also have to lay off several employees.
"It's a whole chain reaction of people affected," he says, "African families are big as you know, so when you lay off the breadwinner, you cripple the entire household financially. It's disheartening."
To combat the economic effect of the unprecedented retrenchments countrywide, a private hospital in Zambia called Victoria Hospital recently donated bags of corn flour- Zambia's staple food mostly known as 'Mealie Meal'- to individuals who lost their jobs due to the COVID 19 crisis and couldn't secure a single meal. Speaking of meals, an initiative created by Orange Tree Public House called The Lab Lunch pulls their weight by providing free lunches for the scientists and health workers treating myriads of people infected with the Coronavirus.
The psychological aspect of COVID 19 is continuously overlooked daily, as people are expected to 'just deal with it' like any other problem. Mwanja Sinkala, a global learning coordinator in the non-profit sector, believes, "it takes time to adjust to, and that's okay."
"In the beginning, I was scared," she recalls, "Not because people were dying, but because, for the first time in such a technologically advanced era, we still didn't know what this was." "I became more anxious by the day, but what supported me was leaving social media and cleansing from the numerous reports which gave me anxiety."
Mwanja is grateful for her youth-empowerment organization that hires a psychologist on standby during online meetings to help her and her workmates cope better during the pandemic.
Typing furiously on her laptop keyboard, Kasuba Kaisa creates a petition for her college institution to introduce an online graduation amidst the pandemic in order for her and her peers to graduate. Without her degree, she can't get a stable job anywhere.
"I don't know how long this will go on for or how long I will be jobless," laments Kasuba, "Even if they sent my degree via email, I wouldn't mind. I just desperately need it."
Kasuba hopes that this petition can speak for the potential graduates countrywide who feel like their lives and dreams have been put on hold abruptly and indefinitely.
As the country learns to live in the 'new normal', it continues to work together, apart- proving fierce solidarity and a strong sense of togetherness in the face of uncertainty.