Inspector General of police Kakoma Kanganja spiced up the Police Day commemoration ceremony today while he presented medals to deserving officers.
Hundreds of officers were awarded for bravery and distinguished service, among other categories, at a colourful ceremony held at Lusaka Showgrounds.
As a female officer tilted her left shoulder towards the police chief, Kakoma found it awkward that he needed to reach out for the officer's breast position to remove a pin holding a plain budge.
"Oh sorry sorry…" Kanganja hesitated, "I am not touching the breast," he added while laughing with the photojournalists who captured the moment.
Moments later Kanganja added more fun to the event as he ordered a group of medal recipients: "As you were!" after they fumbled a routine drill.
The Police Day was not short of thrilling moments as another officer fainted on parade while home affairs minister Steven Kampyongo was stressing a point in his speech, warning the men and women in uniform that the service was not for the faint-hearted.
A police medical team weaved through the paraded officers to aid the collapsed officer whom they moved away on a stretcher.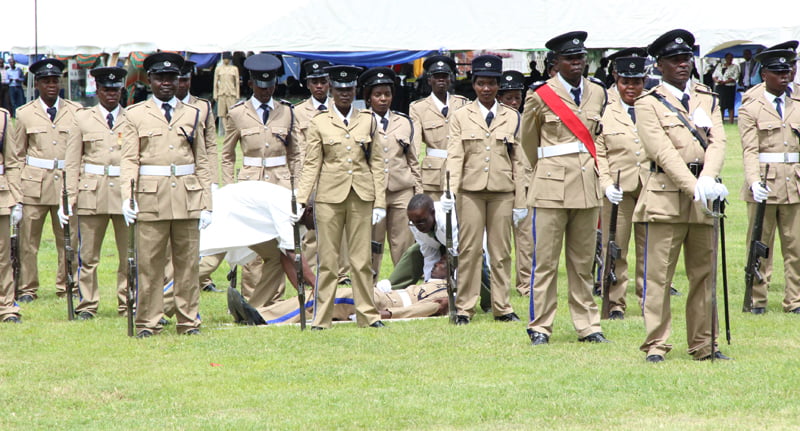 Kampyongo also told Kanganja that he was not impressed with the dwindling disciplinary levels in the police service.
"Let me warn that criminal activities and bad conduct may not be taken kindly. The disciplinary levels in the police are also not so impressive,' said Kampyongo.
He added that he was sad that most police officers were still accommodated in unpleasant camps.
"I wish to announce that I have started visiting police camps because we want to make sure that we return to those days when the police were living in pleasant camps," said Kampyongo and the police high command applauded him.
At the time of writing, Kampyongo, as guest of honour, was touring the exhibition stand while acrobats and other entertainers were getting ready to display their skills.