The UPND says police must investigate and bring to book those circulating forged letters stating that the party has asked Keith Mukata to exculpate himself before a disciplinary committee.
Mukata was the only UPND member of parliament who attended President Edgar Lungu's State of the Nation address.
UPND leader Hakainde Hichilema told a media briefing yesterday that the country would soon be informed on what action the party would take against Mukata; saying his actions did not represent the views of those who voted for him.
However, a letter, purported to have been signed by UPND secretary general Stephen Katuka emerged today stating that the party had decided to summon Mukata to exculpate himself before a disciplinary committee for defying Hichilema's directive.
But in a statement, Katuka asked police to nab those who were circulating the false document.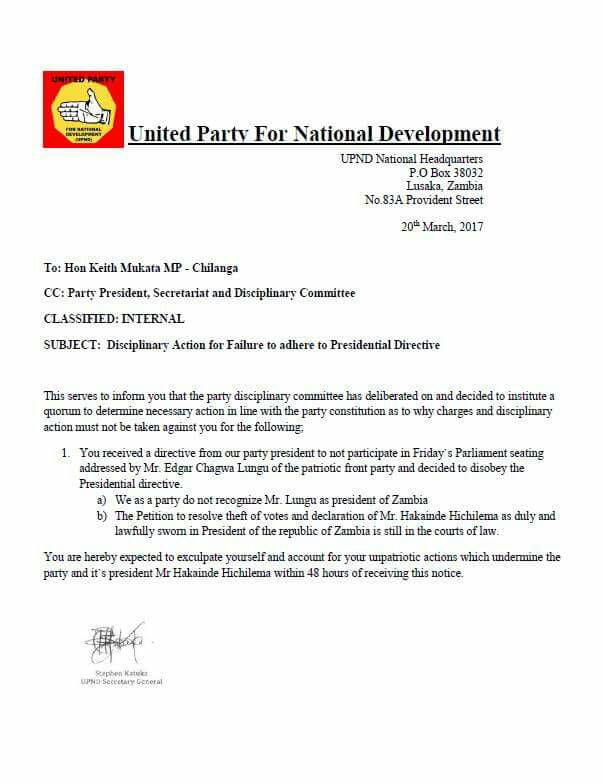 "It has come to our attention that some enemies of the party are busy writing and circulating letters purported to have been written by ourselves regarding our MPs not participating in the address and now another one purporting that the party had a disciplinary hearing with a view to charge Chilanga MP Keith Mukata. As a matter of fact, no such a letter has ever been written by the UPND Secretariat under the signature of the Secretary General. We are a civilised party with our own procedures in dealing with issues," Katuka stated.
"We call on the Police command to immediately institute investigations on the source of these fake letters which are forged. Forgery is a serious crime in Zambia and we are ready to cooperate with law enforcement agencies in nabbing and bringing to book whoever is behind these fake letters."