Former UPND Bweengwa Member of Parliament Highvie Hamududu says he will be President in 2021.
Speaking when he announced the formation of Party of National Unity (PNU), a break away from the UPND, Hamududu said his party would take Zambia by storm.
"This new political party will take the political space and I want to assure you, we are forming government in 2021, we will take this country by a whirlwind on issue based politics, nothing personal but will give clear alternatives," Hamududu said.
He said PNU was not born out of frustration but that his colleagues made him realise he had the potential to be president.
"If I was not adopted by my party I must not aspire for anything? I must be tied by a parliamentary seat? You want to reduce my value to a parliamentary seat and also in this political movement, I was invited by colleagues and identified by colleagues, so I couldn't say no. And also I have a right just like anyone to aspire for presidency and I can even be, and I might be a president of this country. Am from a family of service, my family is a family of service," Hamududu said.
"You know that Zambian MP in Poland? Killian Munyau…..he is my brother. The mother to Killian is a sister to my mother. So we are not a strange political clan. Am not just coming from anywhere, my father was a politician and I grew up in a political family, also I cannot retire from politics. Today I will be an MP, tomorrow I could be running for presidency or become anything else. So that is my democratic right. And I think there are fundamentals that has driven me to accept this position as invited by colleague."
Hamududu also said it was not a secret that Zambia was polarized.
"It is not a secret that Zambia today is polarized and if not managed well, this country could end in a very chaotic position," he said.
"The two main forms of polarization that are causing anxiety in our country are political and economic. The country is being torn apart by political extremism that has little room of political dialogue in our country. This state of affairs is eating away the very fabric of national unity and collective progress as a country. In some cases, this tension is growing into deep rooted ethnic hatred. A lot of time and energy is being expended on what divides us than what unites us."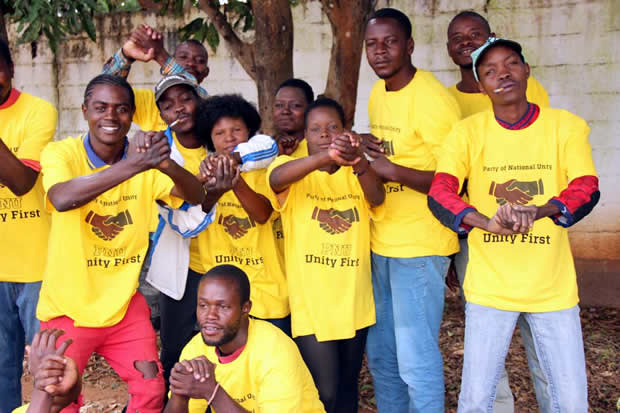 He also expressed sadness that the country was getting bitterly divided along tribal lines and that there was no unity of purpose across the political landscape.
"At 53 years of independence, the country is getting bitterly divided along tribal or regional lines and there is no unity of purpose across the political landscape. Politics have become more divisive, violent, petty, personal, ethnic and non-issue based. The 2016 general elections were the worst demonstration of the above, threatening the very fabric of our cherished national unity," said Hamududu.
And speaking at the same launch, interim vice president Mukuwa Lusaka announced his official resignation from UPND but assured that he would forever remain indebted to UPND leader Hakainde Hichilema and his party.
"I have resigned from the UPND today to focus on this noble task of national unity, integration and national building. UPND was a good home for me and I take fond memories with me, its only that my perception of things has changed and they have gone at variance with my personal principle. I will forever be indebted to president HH and his VP GBM and the entire UPND family. For now going forward, I belong to the PNU," said Lusaka.