Mothers, grandmothers and fathers who support the UPND in Zambia stayed away from official Africa Freedom Day celebrations today, but later converged in large numbers at the party secretariat where they exposed bare breasts and underwear to protest the incarceration of their leader Hakainde Hichilema.
The United Party for National Development supporters clad in their usual red, assembled at the party secretariat where riot police were keeping vigil from a distance, and took off party regalia to express their inner hurt at the detention of HH.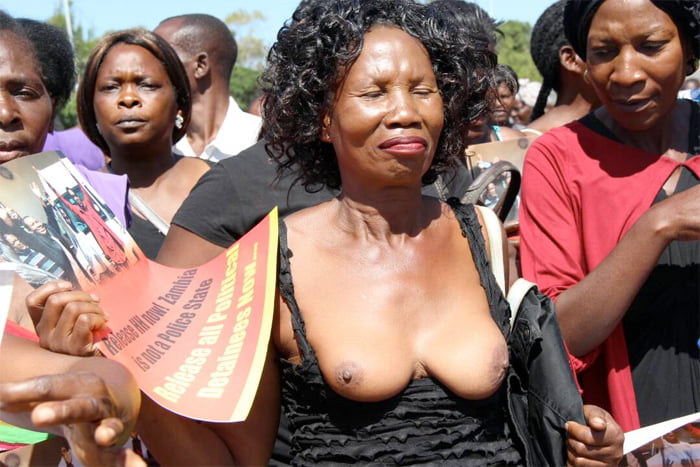 "Zambia is not a police state, release HH now!" read some of the placards that the men and women lifted high up in the face of the police. Another placard read "We say no to police brutality. Lungu, stop the dictatorship, Free HH".
Songs and dance also characterized the UPND protest, which was led by party national chairperson Mutale Nalumango and Mazabuka member of parliament Garry Nkombo.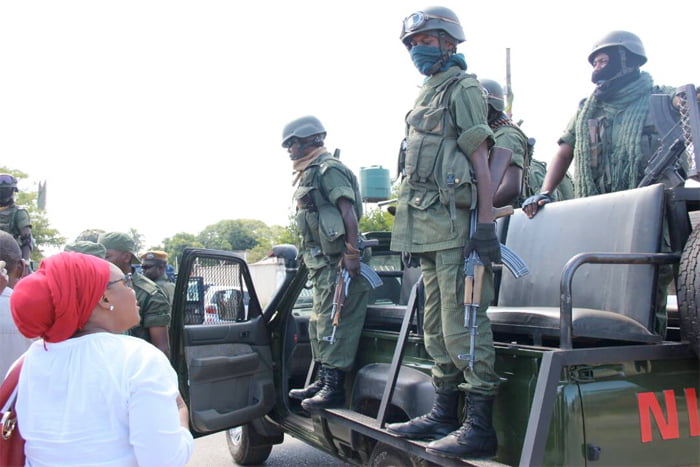 The UPND protesters then moved in vehicles to go and continue their protest at the Freedom Statue, but were sent back by police officers who were also founding at the venue.
Earlier at the secretariat, Nalumango said the party was also demanding for the lost freedom in Zambia where "abaleteka nabayafye chiyeyeye (those in power have become uncontrollable)" like in a one party state without the opposition to challenge them.
"There are no checks and balances in a one party state. Abaleteka, bayafye chiyeyeye, takuli wakubeeba ati mwalufyanya, that is why we don't want a one party state, because those who are ruling should be accountable to the people. How can they be accountable to the people if there is no opposition?" Nalumango said.
"In a democracy, there must be opposition. In 1991 we saw the devastation, politically, socially, economically that was brought about by the one party state. But the PF is now taking us back, the PF is not taking us forward. They want to take us back into the one party state."
Nalumango said freedom in Zambia would be felt if the authorities released HH.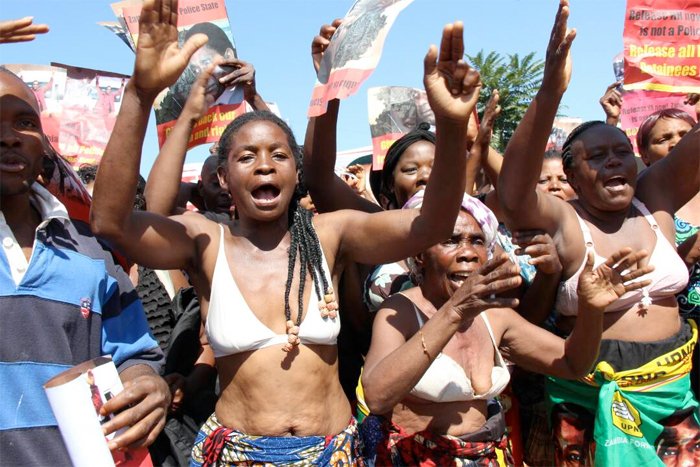 "And our freedoms will start with Hakainde to be released from detention, that is what we are doing. Freedom means the rights to assemble, without anyone hindering us, freedom means being able to express ourselves, freedom means I can go anywhere without anyone telling me not to stop anywhere, freedom means I can join a political party of my choice, freedom of association," said Nalumango.
And Nkombo charged that President Edgar Lungu had inflicted pain in his heart.
"My heart is in pain, the wound that has been inflicted in my heart by Lungu will not heal, no mater what you do, the wound will not heal. On this day, I am ready even to be arrested but we don't want to provoke the police, let us take our message. The biggest thing is to go and march. When we get there! Our chairman and other senior party officials will put flowers to thank our freedom fighters who died for our freedom which is no longer there today," said Nkombo.
"So for us, we are not celebrating freedom, we are mourning freedom because freedom is no longer there. They can arrest us but it is better they arrest us from the freedom statue. Its not just for our president but for many people who were arrested before our president."