Zambia Correctional Services (ZCS) Commissioner General Percy Chato says his commission is committed to embracing the Nelson Mandela Rules of ensuring that no prisoner will be subjected to torture and other cruel, inhuman or degradation treatment.
Chato said this during a breakfast meeting on the Nelson Mandela rules, which was organized by the United Nations Office on Drugs and Crime (UNODC), as a build up to the commemoration of the Nelson Mandela International Day which falls on 18th July, 2017.
He said the commission was committed to ensuring that all prisoners were treated with the respect due to their inherent dignity and value as human beings.
"The ZCS is committed to embrace basic principles contained in the Mandela Rules, that is; All prisoners shall be treated with the respect due to their inherent dignity and value as human beings; and that no prisoner shall be subjected to, and all prisoners shall be protected from, torture and other cruel, inhuman or degrading treatment or punishment, for which no circumstances whatsoever may be invoked as a justification," Chato said.
Other rules which the Zambia Correctional Services committed to embrace include; to establish and improve collaborative partnerships with stakeholders in Correctional/Prisons/Penitentiary management; Undertake to professionalize Correctional/Prisons/Penitentiary Services as a strategic objective; Strive to transform the African Correctional/Prisons/Penitentiary systems as a critical agenda; Embrace the media to promote the positive image for Correctional/Prisons/Penitentiary Services; and to improve the rehabilitation and reintegration processes in Corrections/Prisons/Penitentiary Services in order to reduce high levels of recidivism.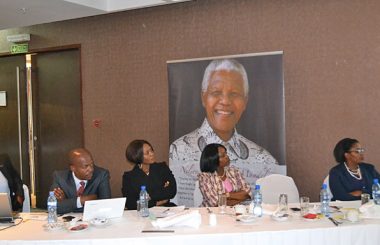 Meanwhile the Nelson Mandela Rules presented a minimum of 122 rules for the treatment of prisoners in African Correctional Facilities.
Other rules which were highlighted in the Mandela rules report included rights to family and friends, rights to legal representation, conjugal rights, right to embassies for foreigner prisoners, education, health, and meaningful activities among others.
"Prisoners are allowed to receive visits and to contact their family and friends through other means such as by phone or letters. Visiting restrictions must not be used as a disciplinary measure, particularly for women prisoners and their children. Prisoners have the right to inform friends or family about their imprisonment, transfer and of serious illness or injury. If a near relative or spouse/partner falls seriously ill or dies, the prisoner should be authorized to visit or attend the funeral. Conjugal visiting rights should apply without discrimination," read the report book on the Mandela rules.
"Prisoners must be given adequate opportunity, time and confidential facilities to meet with their lawyer. They should have access to effective legal aid, in accordance with international standards. Prisoners are allowed to have access to and keep legal documents, so they are able to effectively participate in legal proceedings."
And Speaking at the same event, United Nations Office on Drugs and Crime, National Coordinator Sharon Nyambe disclosed that the prison population stood at 10.3 million worldwide.
"A lot of prisons are in Crisis. Many are overcrowded, others are inadequate. Across the world, prisoners face health risks, violence, high rates of recidivism, as well as emerging threats, such as violent extremism in prisons. All of these challenges have added to the complexity of combining security, safety and human dignity within prison systems. As the guardian of the Nelson Mandela Rules, UNODC is responsible for providing technical assistance and advisory services to Member States in the field of penal reform," said Nyambe.