Ruling party youths from Eastern province and several district officials today launched a "Mutati must go" campaign, alleging that the Finance minister's continued stay in government was strengthening his opposition party.
And President Edgar Lungu says he will hear and attend to the demands of the petitioners "behind the cameras" as they were a party matter.
Eastern Province PF Deputy Chairperson Gideon Phiri presented a petition to party Secretary General Davies Mwila demanding that Mutati must resign on moral grounds.
They charged that the MMD leader-cum-Cabinet minister was using government funds to revamp the former ruling party, with an agenda to challenge President Lungu in the 2021 general elections.
And speaking when he received the petition at the party Secretariat in Lusaka today, PF Secretary General Davies Mwila asked all the MMD members who were currently working with the PF to leave the opposition in order to maintain peace and harmony in the country.
"Colleagues on behalf of the central committee, I want to thank you for coming. Whatever goes up must come down. So nga baletulufyanya, kuya! Nga balefwaya umutende bafwile bachileka chi MMD, elo nomba twalabomba bwino nabo tefyo? (if they are disturbing us, they should go, but if they want peace! They should stop MMD, that is when we are going to work with them, not so?). So they should choose PF or MMD," Mwila said.
He said PF was a political party on its own and would remain as such.
"PF is a political party on its own and shall remain as such. We have President Edgar Lungu as our party President and Republican President. And we expect as a party that all those who are working with the President, they have to be loyal to the party and the President of this country. All those who don't want to be loyal to the party and to the government, they are free to leave. I want to repeat and to make it clear that all those who don't want to be loyal to the President and to the party, the Patriotic Front, they can leave. All those who are working with President Lungu in government, we expect total loyalty. Failure to be loyal to the party and to the President, we have to separate," Mwila said.
"So the petition that you have brought to the secretariat, we are going to take it to the appointing authority so that he can decide. And on top of that, we are going to present this petition to the central committee because they have to know what is going on. If MMD officials are undermining us, we have to come up with a decision. So I want to assure you colleagues who have come from Eastern province that today, before the President leaves for Swaziland, am taking this petition to him. President Edgar Lungu and PF, we don't have time to waste. Our time now is to develop this country, and we expect harmony and unity in the party."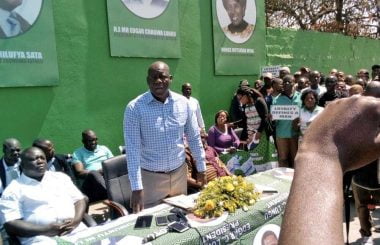 Meanwhile speaking earlier when he presented the petition to party Secretary General on behalf of others, PF Eastern Province Deputy Chairperson Gideon Phiri accused the Finance Minister of secretly mobilizing his party structures to undermine the PF leadership.
"Mr Mutati is using proceeds to advance his personal agenda in order to revamp the Movement for Multy Party Democracy (MMD) and challenge your good leadership in 2021. when we look at that we get sad, our hearts are paining hence our coming forward to bring this petition. He is secretly instructing the MMD party structures to undermine your leadership. For example in Eastern province, he is using his vice president Mr Reuben Mutolo Phiri and Mr Samuel Phiri who was once elected PF Chairman for elections in the Eastern province to destabilise the PF in the province. They have of late held press briefings to denounce your leadership and that of the ruling party PF," Phiri said.
"Furthermore, they have all been calling for all former members who joined PF to come back to MMD. They have been poaching our members to join MMD. We feel duty bound that such behaviour, if left unchecked, our party will be unmanageable and risks loosing all those genuine MMD members who joined PF and have continued to be loyal to the party PF."
He said Mutati was behaving like an enemy of the PF.
"Honorable Mutati's behavior has been more of an enemy than an ally of the party and appointing authority. It is for this reason that we are demanding that he clearly states where he belongs because he does not mean well for the party and government. We want him to resign as Minister of Finance on moral principal so that he can openly do what he is doing," said Phiri.
Meanwhile, in Northern Province, North Western and several other Provinces, PF youths held procession demanding for the resignation of Mutati. The youths carried banners and presented petitions to the provincial PF leaderships.
And President Lungu said: "I will wait to hear from the SG. You know those are politics, we are in this political process. He is the Minister of Finance and leader of the opposition MMD. He is our strategic partner. But if there are issues, we will handle them and talk, I guess we can talk behind the cameras."