Nigerian Actor Ukwa says the world is now for the younger generation and that older leaders must pave way for them.
And Ukwa, whose real names are Nkem Owoh, says the bad impression that the West has about African culture will only be corrected if African actors use art to portray the positive side of the continent's traditions.
Featuring on the Sunday Interview this evening, Ukwa who was recently awarded a lifetime achievement award at the 2017 African Movie Academy Awards, said even if people chose not to retire from their calling, they would still die eventually.
"Getting that award made me feel very good, I wish I was much much younger. I was going to put my two legs into it and get a degree. But if I don't do it, I will impart it in the younger people, that is why I have a school that teaches art where I am trying to impart the knowledge into younger ones. Yes, I am planning to retire, sometimes you have to retire or you die. So if you do not leave something that people will remember you with, I doubt if you will be free. So I want to leave a footprint, a legacy," Ukwa said.
He told programme host Grevazio Zulu that even in governance, the older generation needed to pave way for the youth.
"I don't intend to go back to politics, what am I going to do there? If I have to go back in politics and be a governor, it means I am so greedy. This world as it is now is for the younger generation. Even in my industry, I want to move away now. That is why I am establishing one or two things on the front so that the young ones can have the opportunity. If I plant myself there, it does not make sense. If you want development, the youths will have to come up, even in governance," Ukwa said.
He warned artistes against getting too involved with politics and losing focus of their career.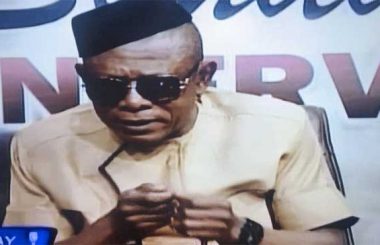 "At one point I declared that I was not going to feature at a government function because I was trying to avoid politics. I was in politics before even the film industry. But I was playing a minor role there. I found out that God had given me my own political party, so why must I go and do this. I decided that I was not going to feature in any political thing because the politicians, generally like popular people, we do campaign for them and in the end we lose concentration. I decided not to do it and concentrate [on the acting career]," he said.
"I am very close to most of the politicians and even Presidents, I don't think there is a President, apart from the current one whom I haven't really associate with, that I am not close to. When they have their social functions I will go, but once you make it political, no matter how much you pay me, I will not attend, it's just my personal conviction that I will not get involved."
And the actor expressed difficulties to pick his favourite movie between "Ukwa" and "Osuofia in London" saying the two films had their own positive stories.
"The difference between Osuofia and Ukwa is that the other one is cross culture, not between two African countries but between Africa and the West. There were other characters between Ukwa and Osuofia, but between the two of them… (hesitates) they have their pluses. But I think in Africa, Ukwa reigned more; it is still reigning more than Osuofia. But I think outside Africa, Osuofia takes preference," he said.
He went on to explain that it was not his intention to demean the African culture in the movie which he went to shoot in Britain.
"It is the impression people have about African culture. You see, we were colonised and the colonial masters didn't want to bring up that African culture very much. If they had done it diplomatically, probably we would have developed with our own culture. But they said this one is bad, even your names they said 'your name is too difficult to call, let me give you my own name'. So when we tell it now, we are trying to portray it and let people know that not all things about our culture is all that bad. But if you are an Europeanised African, you will see it from that view point that we were trying to demean African culture in the movie 'Osuofia in London'," Ukwa said.
"If you analyse our own culture in comparison with the European culture, you will find that ours has got a meaning too, a great meaning. So I don't find anything demeaning in portraying my culture, provided I am not doing it in a negative sense. My message was that we have a culture that is plus not minus. I remember in 'Osuofia in London', somebody met me and said 'why did you go and disgrace us by talking about Nigerian Naira in London and you were telling them you need Agege bread and all that?' I said 'look, the Europeans brought cake and biscuit and we eat it, so when we talk about our own food, people must appreciate it'. I was proud of Africa, its not the other way round. I was telling them that we also have something that we appreciate."
Meanwhile, Ukwa also talked about why he dropped his engineering career, his kidnapping and the ransom he paid to be released, his music career and how his hit song "I go chop your dollar (419 is just a game)" was banned in Nigeria, as well as the need for African countries to create synergies for development.