Suspended PF deputy secretary general Mumbi Phiri says her haters are now accusing her of having a child with President Edgar Lungu in order to scandalise the Head of State.
In an interview at her house in Waterfalls area on Sunday, Phiri complained that even after being suspended from the ruling party, some people were still going after her with malicious allegations.
The nominated member of parliament without government portfolio said this as she narrated how she was serving her 30-day suspension from her position and from the PF Central Committee.
"Life is okay and I thank God that I am married, my legs are swelling here, grand children take care of me.  But these people who want to talk just want to scandalise me. You have seen my ka grandchild this one. He has this gap on the teeth, the child only has four teeth, yabili pamulu na yabili panshi. But people want to claim that I have a child with the President meaning this one. If people can claim whatever they claimed [during the fundraising dinner] that I said 'iwe Lungu sit down, which I never did, and now they want to scandalise me with the President, then where are we going?" Phiri asked.
"They started by claiming that I went into South Africa to go and abort a two-months old pregnancy, secondly they were claiming that I went to India, and they have continued with these allegations that I have a child with the President. You know, I thank God that I have a man who stands by me. One thing which I have always said and stood by is being a woman and a mother. I want to ecnourage husbands to support their wives, that's what has brought me here where I am."
Asked to explain if her haters were within or outside the ruling party, Phiri could not state categorically, but complained that their intentions was malicious.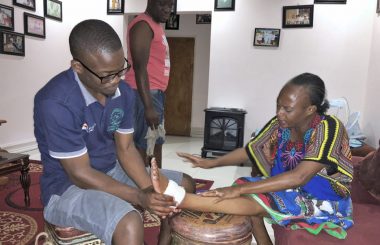 She went on to talk about how she is enjoying quality time with her husband and that she also finds time to knit baby clothes.
"I don't know what the intention is for these people who are now saying I have a child with the President. You know in 2013/2014, my husband decided not to come. Those who don't know, my husband wasn't here when I was elected member of parliament. In 2006, he got a UN job, my husband only came when my mother got so sick. And I didn't even realise that she was not my biological mother. That's when he came three years ago and he has been with me, supporting me everyday. Even when you go round this house and look around the pictures, you will see him, he is not even photogenic. I am encouraging you to support your wives, believe in them," she said.
Asked if she has had an opportunity to interact with the President after the suspension, Phiri said she does not want to put the Head of State into disrepute by meeting him.
"I haven't had time to meet him deliberately because I don't want to put him into disrepute. I am a woman, a mother and a grandmother. My biggest support is mama Esther Lungu. She can talk to me, she phones me and I appreciate that much. So for me to say that after this suspension I have talked to the President, no. But you won't believe this, even the [President's] children come here to visit and they sit here where we are sitting. Like Tasila sits here with me, kateka, they sit with me," Phiri explained.
"So even after these accusations about me, there is peace between the President's family and my family. There can never be war. Do you remember that even when I was appointed deputy secretary general, it's him who came out and said people are feeling jealous?"
She also said she was looking forward to returning to duty so that she could go and deal with those who are claiming that President Lungu is not Zambian.
"Finally I want to say that I am happy that the chiefs from Eastern Province have come out the way they have done to protect the President. Can you imagine these people saying that the President is not Zambian, when he comes from the village next to my husband's village. When this [suspension] finishes, I will go there to dig and expose the lies," said Phiri.
"But for now I will stay at home. When I wake up I pray and I don't go anywhere. Like I have said, even if I was expelled from the PF, I am not going to join any other political party. I will sit at home and remain a wife to Mr Phiri."