IN THIS audio, Petauke District Commissioner Velenasi Banda Moyo vows to shut down PASME FM Radio and keep it closed until after the 2021 general elections, because the station aired a programme featuring opposition UPND president Hakainde Hichilema without a police permit.
And Petauke Association of Small and Medium Entrepreneurs (PASME) FM Radio station manager Mathew Banda says the station saw no logic in reporting Commissioner Moyo to police over her actions on Thursday last week, because she used police officers to shut down the station.
Last Thursday, Moyo stormed PASME FM in the company of armed police where she disrupted the programme, claiming that the station needed to have a police permit to air opposition parties.
During the raid of the station, Moyo is heard ordering police officers to switch off the station, as she harassed staff who were found at the premises.
She wondered why the station would go to an extent of using a power back up generator during load shedding hours, just to air an opposition programme that she said was ridiculing the Head of State.
"Give me one good reason why [you aired this]. Nakuuza ati you lock this radio station. I want to tell you…, this radio station is not going to open. Izasililamo election siizakaseguliwapo (elections will pass, this radio station will not be opened)… Moyo is heard saying, as another woman comments: "uyu muzako enzo running'a programme ya HH. Mukazikamba pali ba president bathu? …Ala! Bachita kuliza na genset, kulibe ma light"
Police officers from the CID department are also heard threatening to torture anyone who would dare reopen the radio station without their consent.
"The station is under police now, we are here. Tiyeni tonse tichoke nivala pa gate manje (all of you vacate the  premises we are locking the gate). Iwe malonda uli kuti , bwela kuno…. musanike light uyu, (You security guard, come here), we don't want this gate to open again, okay? If you allow anyone to open, we will come and turn you upside down and torture you," said one officer in vernacular.
Another officer is head saying: "We will monitor this thing (radio). You have deprived us of sleep so we will be coming here to patrol. If you don't oblige, we will make you urinate in your zip."
Take a listen:
Eastern Province Police Commissioner Luckson Sakala said his office was yet to receive a report about the incident.
"We don't have a report concerning the same matter, I just also read it on social media because they are supposed to make an official report but there was no report which was made," said Sakala.
In a separate interview, PF Eastern Province provincial chairperson Andrew Lubusha claimed the radio programme was not disrupted by Moyo but that UPND failed to pay the full amount for it to air.
"I tried to make independent inquiries from different people in Petauke and what I was getting is that the accusation is not true at all. I think it is because of the [UPND] failure to pay for the program. I heard that they were charged K4,000 and they only managed to pay K1,000. I am told that HH was busy negotiating that 'reduce from K4,000 to K1,000. Basically speaking, we have so much respect for the media, we perfectly understand that for us to build the nation, the media is a very cardinal stakeholder we are partners in national development and we are committed in supporting media houses. We feel it is our obligation as the ruling political party to create a conducive environment for our media personnel to operate freely, so we remain committed. Honestly speaking, we have no intention of interrupting any radio program. So, it was their own failure, to the best of my knowledge," claimed Lubusha.
Narrating the ordeal, Banda said the incident was shocking as it was not illegal to air a political programe without a police permit.
He said said PF's claim that UPND failed to pay the full amount for the radio programme was false.
"That is a big lie! Why am I saying that? The UPND came to us to say we have a recorded programme which was aired by another radio station in Petauke some months ago. So they had requested for air time for a repeated radio programme and we charged them K1,000 for us to air their programmes and so they paid the K1,000 that is why we issued the receipt and we aired the programme. So in the process of running the programme, that is when the DC came to interrupt the programme. The programme ran up to 34 minutes, that is when it was interrupted. It was an hour-long programme but it only ran halfway before it was interrupted. She ordered the police to close the station saying we are not supposed to air an opposition political party without getting a police clearance; saying we are supposed to get a permit from the police," Banda said.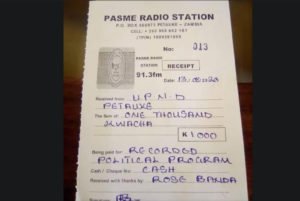 "So I refused to say 'no no it is not us the radio station to get a police permit, we are not mandated to do that', what we are supposed to do is just to inform the police if we feel the security is not okay at the radio station. So we actually informed the police about the radio programme and they were aware. So the issue of saying the UPND failed to pay K4,000 is not true! We charged them K1,000 for a rebroadcast of a program and that is what we were paid. The DC came herself to stop the program by ordering the police to switch off the station so the issue of the K4,000 is not even an issue we can talk about. We never negotiated for the K4,000."
Banda lamented that the station incurred loses because it was closed for the whole night.
"The programme happened on Thursday in the night around 19:30 hours. The station was closed for the whole night. The programme was featuring the president of the UPND Hakainde Hichilema. The station was closed after she (Moyo) pounced on us. We lost business during that night because we had so many paid up programmes that were supposed to run apart from that programme," Banda lamented.
He expressed gratitude that the station was able to reopen the following day.
"The station is [currently] working, we were only shut off for the night and later in the morning, we started broadcasting and operations are normal. We had informed the IBA about the programme and also MISA Zambia who said they will look into the matter. We are currently broadcasting, everything is back to normal.
Banda said the station had not reported the matter to the police because the police acted with Moyo in disrupting the programme and closing it down.
"We have not reported the matter to the police because the police are the ones who came to disrupt us together with the DC. Now, even if we go and report, what answer are we going to get? For us as a radio station, it is very difficult for us to go and report to the police because the police are the ones who threatened and closed the station. What sense does it make for us to go to the police? We have reported to our regulators the Independent Broadcasting Authority (IBA) so that if possible, they can engage the DC and we have also reported to MISA Zambia so that if possible they can take legal action against the DC," said Banda.
"It is very embarrassing that this is even the constituency of Dora Siliya who is the Minister of Information and Broadcasting. This has never happened, our radio station has never been closed since inception. We have been in existence for 17 years, we are one of the oldest radio stations in Zambia and we have done a number of political programmes since inception. We have featured all political parties in Zambia, talk about UNIP, talk about UPND, talk about PF all these we have featured them. So, it is unfortunate that the DC decided to act beyond her limit."
Source have told News Diggers that PASME has been targeted for closure by the IBA over the incident, and the authority has not condemned Moyo or the police for storming into a radio station and disrupting a recorded programme.