Lusaka magistrate Ireen Wishimanga has directed that her court order of June 15 2017, where she directed that Hakainde Hichilema must be remanded at Lusaka central Prison, must be obeyed without fail.
And Hichilema today asked the court to ignore the purported take over of the contempt case by the DPP's office.
Magistrate Wishimanga said if there were any security concerns requiring that HH is detained at Kabwe's Mukobeko Maximum Prison, they must be put in writing to her for consideration.
"The court has given an order whether orally or formally has to be obeyed. Indeed if there are concerns by the prisons they should make a formal application," said Wishimanga.
The ruling came in the wake of the concern raised by Hichilema's lawyer Vincent Malambo at the end of hearing today when he asked the court to restate it's position on where the complainants must be detained.
Malambo urged the court to restate her orders as they wanted access to the complainants.
The court ordered that Hichilema and five others be detained at Lusaka central prison until the case was disposed and determined.
The case has since been adjourned to Wednesday next week for raising of constitutional issues by the complainants lawyers who have objected to the decision of the DPP taking over the prosecution.
Lawyer Keith Mweemba said the purported takeover of the prosecution was illegal and unconstitutional as it was against public interest.
But the accused Godfridah Sumaili's lawyer Lubinda Linyama urged the court to refer the matter for constitutional determination which submission the court dismissed as she had not started hearing the constitutional issues.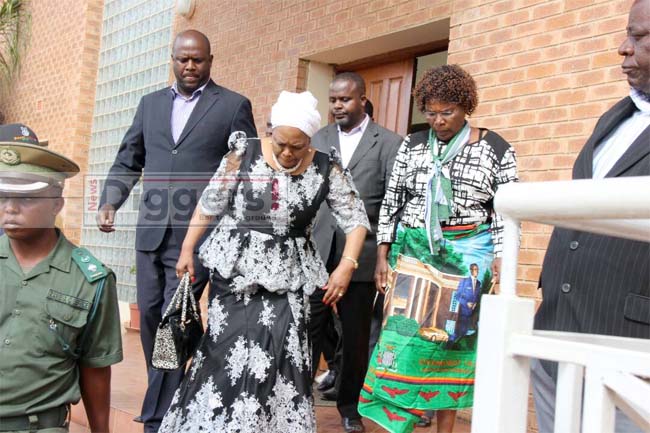 After the case was adjourned to Wednesday 28 June the accused who is the National Guidance and Religious Affairs Minister was surrounded by some cadres who was offering her protection.
Sumaili was in the company of Commerce Minister Margaret Mwanakatwe.