Under-20 coach Beston Chambeshi has been implicated in a player transfer scandal after his club Lumwana Radians snitched striker Edward Chilufya upon arrival from South Korea, preventing the goal scorer from traveling to Sweden where he has been offered a 400,000 euro deal.
Chilufya scored a winner against South Africa during the Under-20 Africa Cup of Nations semi-final and went on to score against Honduras during the four nations invitation tournament in South Korea.
The center forward who is still under 18 years, is among the most sought after Junior-Chipolopolo players, alongside Enock Mwepu who has also been sneaked out of the country for trials in Austria, following his brace against Honduras which attracted player scouts.
Chilufya is currently registered under Kasama based Division One club Mpande Youth Soccer Academy and is on the wanted list of Swedish Top Club FC Djurgardens IF, La Liga outfits Celta Vigo as well as Moïse Katumbi's TP Mazembe of Congo DR.
But it is the Swedes who dangled the best offer and summoned the budding goal scorer three weeks ago to finalise a contract.
A source at FAZ has revealed that FAZ president Andrew Kamanga directed Mpande, the owner of the Kasama based academy, to allow the player to participate in the invitation tournament in Korea before he could travel to Sweden.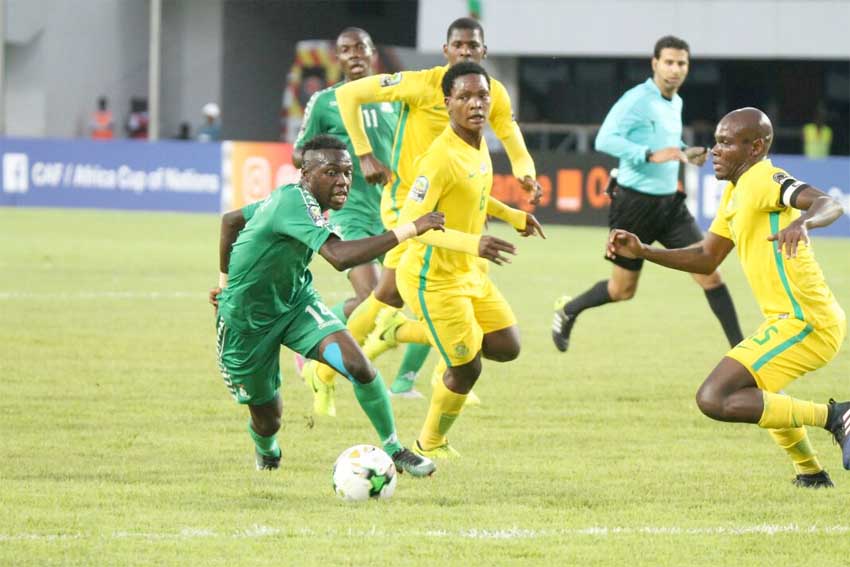 The source revealed that when the junior Chipolopolo team arrived from South Korea on Sunday, where Zambia emerged second, Chambeshi facilitated for the covert movement of Chilufya to his Premier league club in Lumwana to sign a deal.
"The [Under-20] coach is at the centre of this and they are taking advantage of the fact that Mpande is not very exposed. They have gone behind his back, they practically stole the boy on Sunday and moved him to Lumwana to close a loan deal. The owner of the boy arrived here in Lusaka on Monday and he has passports ready for travel to Sweden. They were even chatting on the phone while Mpande was travelling here, but suddenly the player vanished, only to hear that he is at Lumwana Radians," the source narrated.
"What FAZ has heard is that Chambeshi played on the boy's mind and threatened that if he does not sign a deal with Lumwana Radians, he would not be featuring in the national team. So the boy now is not picking calls from Mpande. Meanwhile the Swedish club has been waiting for three weeks. They already sent air tickets and the boy was supposed to travel with Mpande tonight (Tuesday). They are now calling the FAZ president to ask what is going on because he is the one who assured them that the boy would leave Zambia after the South Korea tournament."
The source said Chambeshi has been queried and he was claiming to be innocent about the Lumwana transaction.
"The coach is playing innocent, but its clear that he is trying to use his national duty influence to build his club. So Kamanga called Lumwana this evening (Tuesday) and gave them an ultimatum in which to release the boy. He has also told them that they may face sanctions if they deprive the club and go against his orders because the player is registered under Mpande Academy. When Lumwana approached Mpande with a loan deal, they offered K12,000 but Mpande refused because he had a better offer," explained the source.
"As things stand, this scandal has put FAZ in an awkward situation because the player is still under 18 years, and the FIFA statutes say a player below 18 years cannot sign a professional contract without the consent of the parents. So the player's parents signed the consent in court today and that consent is with Mpande. So apparently, Kamanga fears that this may result into the 2009 transfer scandal involving Emmanuel Mayuka."
In 2009, FAZ under Kalusha Bwalya, issued an International Transfer Certificate for Mayuka who was under 18 years at the time, to move from Kabwe Warriors to Maccabi Tel Aviv of Israel, without the Zambian club's consent.
Sports minister then, Kenneth Chipungu, ordered an inquiry into the matter and the Elliot Mhende-led commission found that FAZ secured the teenage striker's released from his mother who gave parental consent, without the knowledge of the club. Chipungu then ordered the National Sports Council of Zambia to invoke Act no 15 of 1977 sub sec 2 and 3 in deciding disciplinary measures against FAZ officials who were implicated in the illegal transfer.
Meanwhile, Super Division club NAPSA Starts have written to FAZ complaining that 19-year-old attacking midfielder Enock Mwepu has travelled to Austria for trails without the club's consent.
"Mwepu who is on loan at NAPSA from Kafuel Celtic has also been sneaked out of the country and has gone for trials in Austria where Patson Daka is playing. Meanwhile NAPSA Stars have written a letter complaining, because he is currently registered with NAPSA and is on their payroll. So how does someone get a salary and when it matters the most he runs away from you?" wondered the source.
When contacted, FAZ president Kamanga said the matter would be dealt with administratively.
Chambeshi did not answer calls and by press time, he had not yet responded to a press query sent to him over the matter.