In these photos, a Luanshya man identified as Michael Mwewa was found naked with a hoe this morning after he dozed into deep sleep during his stealing mission.
Owners of the house in Ndeke township where he allegedly went to steal, told News Diggers! that Mwewa was woken up at around 05:30 hours in the sitting room with a kambwili between his legs, as he struggled to explain the circumstances that led him into the house.
"We asked him what he was doing in the house, he said 'I was at a club, they have beaten me and they took my clothes' but one of the people identified him as a hardcore criminal who was in Katombolya prisons for children," the source narrated.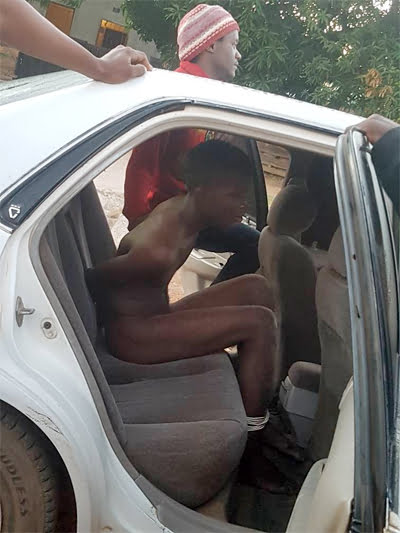 Residents gathered to witness the bizarre incident and after interrogations, they drove the suspect, in his birthday suit, to Luanshya Central Police where he was detained.
"When we went to the police, the officers opened the docket and advised us to go back at 08:30 so that we can check properly if he had stolen anything from the house," Mutale Mulenga who witnessed the incident explained.
When we came back, we found that he entered through the window and his clothes where outside, so he intentionally removed his clothes to create some charms. He had been wearing coffee brown Timberland shoes, white ripped jeans, a white sweatshirt and two boxer shots."
He said it was clear that Mwewa kept the hoe between his legs while taking a nap behind a sofa, so that he could attack anyone who confronted him in the night.
Take a listen:
When contacted, Copperbelt Province police Commissioner Charity Katanga confirmed the report.
"Luanshya Central Police received a report of Burglary With Intent To Commit a Felony Reported by male, Chama Chungu aged 30 of Hse. No. 4507 Ndeke T/Ship, Luanshya who reported having found an unknown person in his sitting room, naked and armed with a hoe. Entry to the house was through a toilet window which he opened. Further more, the suspect is an ex-convict, who was serving at Katombola Reformitory Prison. Details of suspect are male, Michael Mwewa aged 22 of H/No. 19 new Ndeke compound , Luanshya. His village is not known, Chief also not known, Distrist Mansa. This occuredd on 7/05/17 between 21 hours and 06hrs; 08/05/17. The suspect is in custody," said Katanga.