THE newly-constructed Luangwa-Feira Road has become impassable after heavy rains weakened a stretch after the Luangwa Bridge.
This happened this afternoon and there are serious cracks and a portion of about 5km from the Great East road in Mankhokwe ward is damaged.
This has posed a threat to the motorists and community members who are likely to get disconnected from the rest of the country should the road get damaged any further.
Luangwa District council chairman Austin Botha, who inspected the damaged portion on the road, appealed to the Roads Development Agency to quickly intervene.
"The damage keeps expanding and I am afraid this might affect the provision of service delivery to this area or even completely cut off the district from the rest of the country. We therefore request for RDA to come and access the damage and the cause because what has caused the cracking and making the road to bulge cannot be explained," said Botha.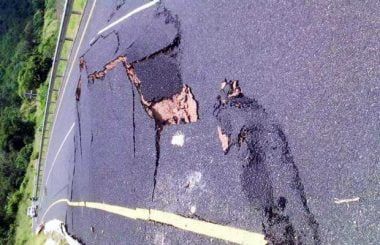 Meanwhile, Luangwa Police Officer In-Charge, assistant superintendent, Muleta Mataa has instructed police officers at Luangwa Bridge and Chitope to monitor the spot and guide motorists to avoid accidents.
And RDA director of communications and corporate affairs Loyce Saili said the agency had dispatched a team of engineers to access the damage.
Saili further advised road users traveling to and from Feira not to use the road as their safety cannot be guaranteed because the structural integrity of the road had been compromised.
"The agency has instructed the contractor China Geo to mobilise to site to help in remedy the situation. The agency will be able to give a comprehensive statement on the extent of the damage to the road soon and the possible intervention required to fix the damaged section," said Saili.
Just a few days ago, a stretch of about 43 kilometers on the Batoka-Maamba road collapsed after heavy rains washed away the bridge in Batoka which disconnected Sinazongwe district from the rest of the country.
The road has since been temporarily fixed by Maamba Collieries Limited.