A HORDE of armed police officers have raided Fred M'membe's house along Nangwenya Road in Lusaka.
And police have arrested and charged M'membe's wife Mutinta with obstruction of justice and assault.
Meanwhile, some Mast employees who were found at M'membe's house have been prohibited from leaving the premises whilst police have set camp there.
But according to sources, M'membe is out of the country and police have been instructed to arrest him on arrival at the airport.
The officers went straight to the garage where they found The Mast newspaper being printed, chased the workers, and stopped the printing.
Some officers spoken to disclosed that lawyer Lewis Mosho, working with his State House allies ordered the arrest of Post Newspapers Limited proprietor and the Nchito Brothers.
This follows the move by M'membe to challenge the liquidation of The Post newspaper in court.
The police sources confirmed that Mosho wants M'membe arrested immediately and that the command had sent them to search his house and to find charges.
The source further narrated that Mosho, the provisional liquidator of Post assets, is also targeting lawyers from Nchito & Nchito who have been retained by M'membe in the court matter to challenge the liquidation.
"The whole issue has been sparked by the move to challenge the liquidation. He (Mosho) feels that giving an opportunity to Fred [M'membe] in court over the liquidation will be a mistake. He feels that this matter has already gone past redemption and The Post should never be allowed to recover. We understand that he will not allow Fred to have a say in court on this matter," the source said.
"That is why when you hear the tone from his end, it's that of wanting to conclude this matter and sale Post assets. So State House has been engaged on this matter and there is a go ahead from there to have Fred and the Nchito brothers arrested. These [lawyers] are believed to be the ones who are keeping Fred going, so the idea is to keep them busy with the arrest."
But according to a warrant of arrest signed by Lusaka principal resident magistrate on February 14, M'membe is accused of impersonating an officer of Post Newspaper Limited (in liquidation).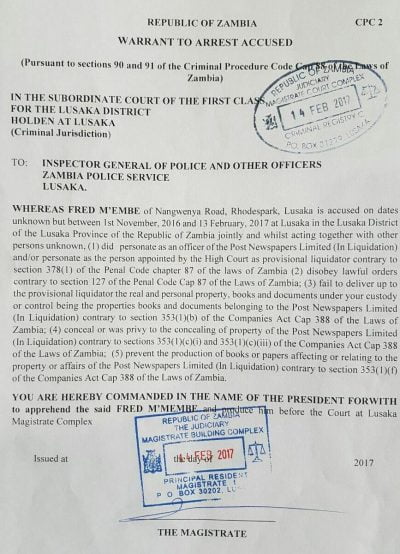 Meanwhile, police yesterday arrested Mutinta, accusing her of tearing M'membe's warrant of arrest and assaulting police officers.
But before getting into the police van, Mutinta bitterly complained of being harassed by police and displayed her scratched wrist, cut lip and unzipped dress.
"Wait, I have the right to have pictures taken of myself. I want people to see what police are now doing to people in this country. Look at this, undressing a woman, look at this," said Mutinta as she displayed her injuries.
Mutinta was taken to force headquarters where she was charged and she was taken to Kabwata police station where she will spend the night.
Meanwhile, some Mast employees found at the house have been prohibited from leaving the premises whilst police have set camp there without any indication of when they might leave.