The Zambia Cooperatives Federation has narrated how middlemen duped government and struck a deal in Malawi, while demanding a commission from Zambia for the supply of maize to that country.
In this 10 minutes video, ZCF executive director James Chirwa explains that the Ministry of Agriculture, authorised the maize transaction between the federation and the Malawian government.
He added that both the Zambian government and ZCF did not know that an agent (Kaloswe Commuter and Courier Ltd) contracted in the purchase and supply of maize had gone to Malawi to close a deal with that government's department of agriculture (ADMARC).
Chirwa says the US$34 million maize deal, meant to be a government-to-government transaction, went sour after agents from Kaloswe went to demand commission from him.
"Kaloswe entered into a contract with ZCF on 31st May, 2016 and the contract that Kaloswe entered into with ZCF was that Kaloswe was going to find maize on behalf of ZCF at $215 per ton, COB which means Cost On Board. So we were selling the maize without any cost at all in 2016," Chirwa explained.
"It came to our attention that Kaloswe also after that went to Malawi and entered into a contract with ADMARC for the supply of the same 100 000 metric tonnes of Maize. So it appears that Kaloswe was like in the middle, they were going to buy from ZCF and sell it to ADMARC."
Chirwa claimed that the ZCF did not know that Kaloswe was holding two big institutions.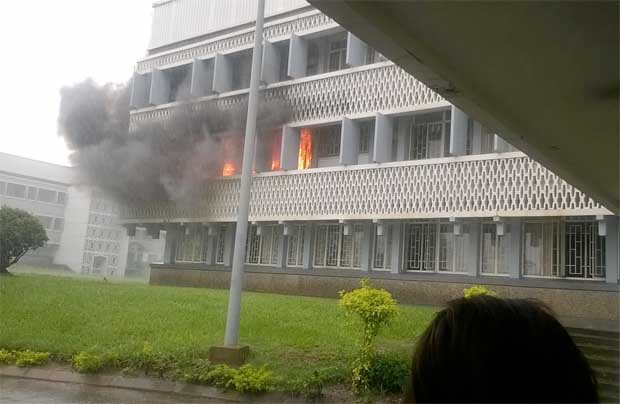 "Kaloswe could buy the maize from ZCF and transport it up to Lilongwe without us knowing that we were dealing with…without knowing that this person has actually held two big institutions, one this side and the other that side," narrated.
"You see, had this ADMARC paid Kaloswe cash, Kaloswe was going to come here and pay us cash, you understand? If ADMARC had in their procedures that they could pay cash, they would have paid Kaloswe cash and Kaloswe was going to manage to complete this deal and pay off ZCF."
He said Kaloswe went further to demand for a trade agent fee.
"They came to ask for commission which we refused [to pay] and the reason we refused is very simple. ZCF could not supply Kaloswe with money because ZCF did not appoint Kaloswe as a trade agents or its trade agent to source for market of maize on its behalf, so there was no agency agreement. How do we pay commission? Commission is paid to an agent. If auditors came here and said I have paid Kaloswe they would say 'how come you have paid someone who was supposed to pay you money to give them maize? It is our refusal to pay the commission that brought all that; because this is public money, we just don't dish out like that," narrated Chirwa.
He said ADMARC then approached ZCF in order to transact directly.
"The next thing we got was a visit by Malawi people to say 'we want to have a business contract with you' and then we started negotiating with government that lets give Malawi some Maize using ZCF …so that's the status.
Asked why the Ministry of Agriculture did not use the Food Reserve Agency in the government-to-government maize deal, Chirwa said the Zambian government was at liberty to choose which institution to work with in any transaction.
He further claimed that ADMARC did not pay ZCF the $34 million until the deal got sour because the Malawian-government agency was waiting for the maize to be delivered first.
One-week efforts to get a reaction on contact number 0977347712, advertised on the company letterhead, Kaloswe Commuter and Courier Services Ltd did not answer calls.
A check at plot 23 Buluwe Road Woodlands, found some old abandoned tracks and no visible office for Kaloswe. Response for a press query sent to kaloswe@gmail.com was still being awaited by the time of writing.