Former vice-president Nevers Mumba says charging UPND leader Hakainde Hichilema with treason is an illegality because it was police who did not perform their duties in Mongu.
And Peoples Party president Mike Mulongoti says there is no order in the country under President Edgar Lungu's regime.
Meanwhile ADD President Charles Milupi says PF will not succeed to force HH out of politics.
The trio was speaking to journalists after police sealed off Lilayi Road yesterday.
"We want to assure the Zambians that the reason for which they have arrested president Hakainde is totally illegal because there is no law that allows the cops to arrest Mr Hakainde because he was on the same road with the President. They are using the clause of the Ambulance that when it is on the road people should move away from the way. First of all President Hakainde was not driving that vehicle and second of all there is no law that implicates him for being on the same road because he has got his rights, enshrined by the Constitution, of movement so he can be anywhere at any given time. If the President wants pass, the Police should come and do their job 20 minutes ahead," said Mumba, who is also MMD president.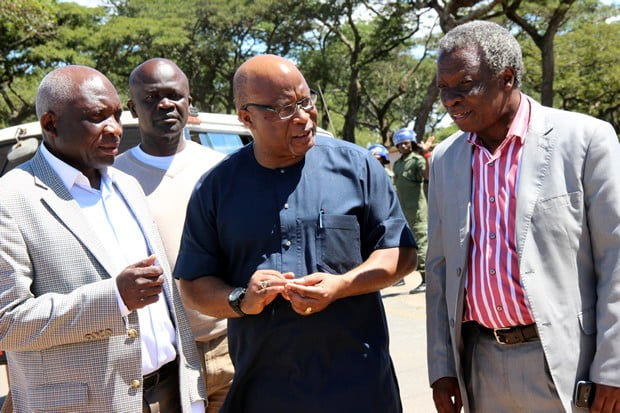 "I was vice-president myself and we have moved like that before, 20 minutes ahead the police have to do their job.It's not Hakainde's job to get himself out of the way. So this is an illegal case. We know that they want to take him to Mukobeko in Kabwe and charge him with treason but that is an illegality and it will hit them back into their head. We appeal to the Zambian people. We have allowed many things to go but this one shall not allow it to go because now they have gone too far."
And Mulongoti observed that there was no order in government as there was no differentiation between the state and the party.
"One sad thing about the administration of the PF is that there is no order! You cannot tell the difference between the party and the government. You can find instructions coming from the party to government officers and more so the police have now made a confession that the police are unprofessional but forgetting that they are getting unprofessional instructions from the PF. And IG [Kakoma] Kanganja knows very well that he is supposed to protect the profession now at the end of the day he is being used. Now they are accusing him of being unprofessional. These are the same people we warned you about in the beginning that be careful and use your police in a normal way so that they can give service to the people of Zambia," said Mulongoti.
Meanwhile, Milupi said PF would not succeed to forcefully remove HH from politics because Zambians were watching.
"Hakainde has been arrested more than 16 times but at no time has he ever refused a police call out. Why didn't they just call him out if they think that he has committed an offense? They didn't call him out, they went and destroyed his property and tear-gassed him. This is wrong and we know their plan. They want to slap him with treason so that they can get him away from politics. Zambian people must watch out because this is an assault to the independence that we fought for so hard for in 1991. This is a multi-party democracy. Mumbi Phiri says PF has the militia stronger than police that can protect the president, how can they have that militia? So we as must say no to this creeping dictatorship," said Milupi.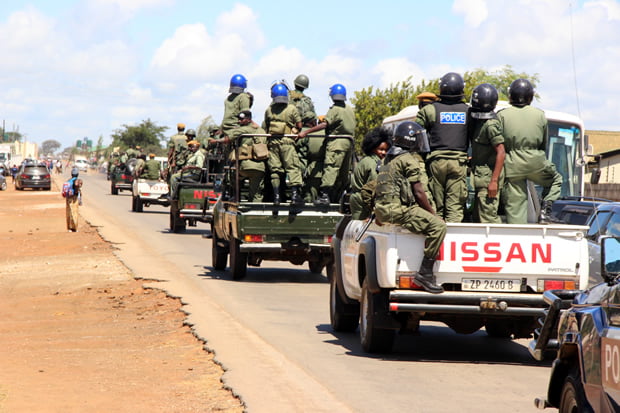 And in a statement yesterday, UPP president Saviour Chishimba asked President Lungu to find it in his heart to release HH.
"We seize this opportunity to humbly appeal to the President of Zambia and Commander in Chief of the Armed Forces to find it in his heart to prevail over the police and release Mr Hakainde Hichilema. Meanwhile, we propose the appointment of an independent commission to thoroughly investigate this matter because of conflict of interest – they are potential culprits as well," stated Saviour.
And People's Alliance for Change (PAC) president Andyford Banda, in a separate statement, said the midnight raid at HH's house by police last night was unacceptable and illegal.
"We would like to request the Zambia Police Service to explain to the Zambian people which law they used to raid Mr. Hichilema's house. Was the UPND Leader given a call out and he refused to appear at the police? Was there a rumour that he was about to escape the country?" asked Banda.
"Why was his house raided in a flying squad style where the doors to his house were broken down and his family terrorized? What prompted the police to teargas his house affecting not only his innocent wife and children but his neighbors too? What was the police's business in cutting power to the residence of Mr. Hichilema? We thought the contract of electricity is between Mr. Hichilema and Zesco."