UPND vice-president Geoffrey Bwalya Mwamba says Hakainde Hichilema must be released from detention so that he can seek medical attention.
And GBM has called for the resignation of Inspector General of Police Kakoma Kanganja and Home Affairs Minister Stephen Kampyongo for allowing President Edgar Lungu to roll down his bulletproof-car window in Mongu.
Meanwhile, UPND spokesperson Charles Kakoma has lamented that police are denying lawyers access to HH, demanding that they get visitation permits from Police Headquarters in Lusaka.
At a media briefing this morning, GBM announced that HH's face was distorted and swollen because police officers used harmful gas to torture him during the midnight raid at his house.
"The UPND warns Edgar Lungu and his entire Government that should anything happen to our leader Hakainde Hichilema in Prison, they will bear the full consequences of their actions because the gas which police officers used on HH was not a standard gas and it damaged his face. His face is swollen and his skin changed, therefore he needs instant medical attention," GBM said.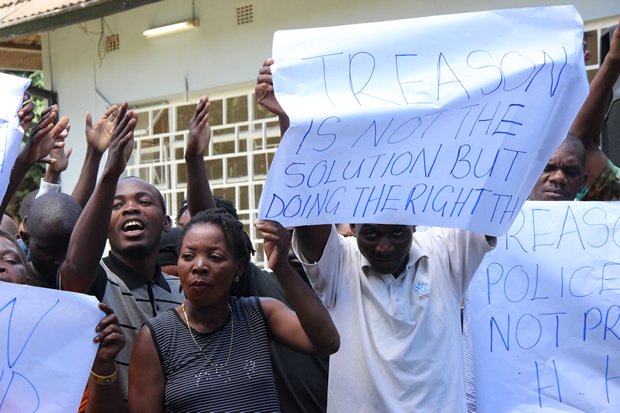 "So we would like Edgar Lungu to release Hakainde Hichilema so that he can be attended to by medical personnel, he is not feeling well. We are concerned over HH's health and we demand that he is given medical care to clear the suspicions of poisoning by the police."
He wondered why police raided HH's house without a search warrant.
"Those officers did not have a search warrant and the police denied HH's lawyers access to the house. This is a clear violation of HH's rights to legal representation. Moreover, in today's treason charge, Hakainde Hichilema was not interviewed nor was he given a warn and caution, neither were his lawyers given an opportunity to question the charges, they didn't follow the Procedure. So as far as we are concerned in UPND, this has obviously nothing to do with treason, it is a politically motivated charge," Mwamba said.
And Mwamba insisted that the Inspector general of Police and the Home Affairs Minister needed to resign because they were incompetent.
"I have moved with several Heads of State before and I have never seen a President who opens a window for himself. In fact, the security officers who were there when Edgar Lungu rolled down his window must be fired immediately. The IG must be fired for allowing the President to move with an open window. Even Stephen Kamyongo should be fired because that was a serious security breach. I have never seen, these guys are playing with the Presidency. How do you allow the President to be moving with a window open?" wondered GBM.
Meanwhile, Kakoma said police in Lilayi turned away HH's lawyers today because they did not have a police permit to meet him.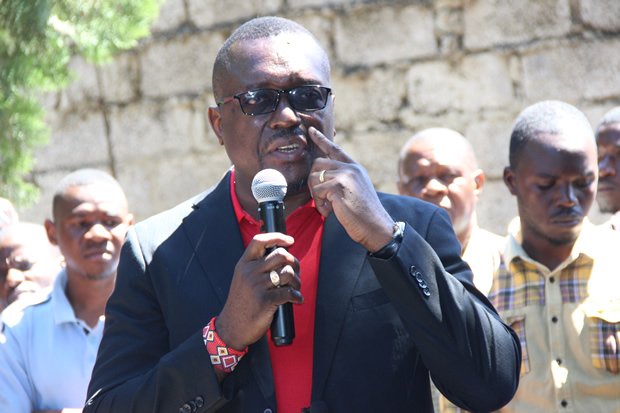 "We had lawyers who went to visit President Hichilema this afternoon but the authorities in Lilayi denied them access to see him, saying they needed a permit from the Police Headquarters. This is a violation of the laws of Zambia and individual rights of detainees who should be allowed to have a lawyer visiting them or accessing them," said Kakoma.
But police spokesperson Esther Mwaata Katongo dismissed the allegations saying HH's visits were simply being regulated.
"We have not denied Lawyers and Mr Hichilema's members of the family to visit him because access to Lawyers is his Constitutional right. We are just regulating visits. Even in Hospitals visitations are regulated," said Katongo.
And Mazabuka Central member of parliament Garry Nkombo said there was no leadership vacuum in the UPND and dismissed reports that GBM was poised to take over the party presidency, as reported by the Daily Nation Newspaper today.