Zambia Correction Service Commissioner General Percy Chato says UPND leader Hakainde Hichilema is allowed to meet three visitors at any given time.
And Chato has explained that UPND officials were not allowed to see Hichilema yesterday because Saturday was not a visiting day at Kabwe's Mukobeko Maximum Prison.
In an exclusive interview with News Diggers!, Chato said the Correctional Service respected the principle of the inherent dignity of humans as well as the safety of accused person, and as such, it had no plans to infringe upon the visitation rights of Hichilema and his co-accused.
"We are not infringing upon the visitation rights of all the accused person. All visits are conducted as per rules contained in Rule 132 (1) and (2) of the Prison Act (CAP 97 of the Laws of Zambia) i.e. "No prisoner shall be allowed more than three visitors at any one time and All visits to prisoner shall take place during such hours as the officer in charge may direct…" Chato explained.
He said Kabwe Maximum Security Prison only allows visits on Tuesday, Thursday and Fridays.
"As a Service we operate by a system of laws and procedures. Visits to Kabwe Maximum Security of the accused persons by their family and friends shall take place on Tuesday, Thursday and Friday from 9 to 11:40h and from 14 to 15:40h to enable us conduct midday lockup and final lock up respectively," he explained.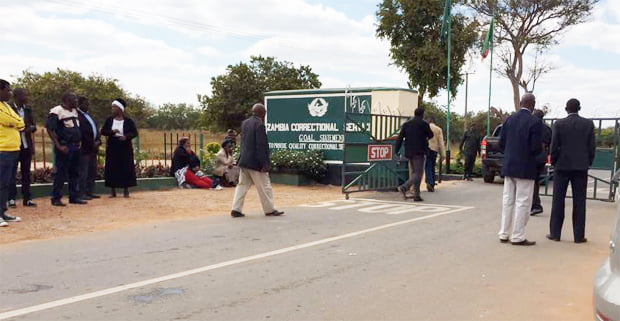 He added that since Hichilema was not yet convicted, his wife Mutinta was allowed to visit him on a Saturday and she managed to take food inside the maximum prison facility.
"Some party officials and Chiefs were not permitted to visit yesterday because Saturday was not a visiting day. However, HH's wife was permitted to bring food to the accused person because HH as an unconvicted prisoner has been permitted to maintain himself or to receive from private sources at proper hours, food or other necessaries in accordance to Rule 87 of the Prison Act," said Chato.
"As a Service we respect the principles of the inherent dignity of human persons and ensure that the safety of the accused persons is guaranteed."
Meanwhile, a horde of UPND members of parliament is camped outside the gate at Mukobeko Maximum Prison in Kabwe where they are trying to negotiate passage with the prison authorities.