Alliance for Community Action executive director Laura Miti says Zambians do not need "Angel Gabriel" in State House but someone who does not cross the lines.
And Political Science lecturer Lee Habasonda says democracy is an illusion in Zambia because even a stupid law can pass in Parliament when introduced by the President.
Meanwhile, Dickson Jere says police are abusing the public order act.
Speaking at a public discussion moderated by Voice of America presenter Shaka Ssali at the University of Zambia (UNZA) yesterday, Miti said Zambia needed citizens who could fight for their rights.
"I heard Dickson speak, for example, about how we need the right people in offices, the kind of people who understand democracy. No! We don't! [But] we need a general public that demands those in power not to encroach on their space. The problem in Zambia is that we seem to imagine that we'll get an angel Gabriel in State House – we don't want a good President, we want a humble President, we want a Christian President [but] we don't need any of those. We can have a devil in State House but we need to have people who can say being a devil is yours but you cannot cross this line," Miti said.
"So, the democratic space in Zambia has died not so much because of power holders but because of right holders. It is our inability to demand and protect our space; let's take the University of Zambia, for example; this University is going to be unbundled into colleges but I have not heard any student ask 'at what point was that decision made?' The first [time] we heard about it was that it was in a 10-hour Cabinet meeting [and] in that 10-hour Cabinet meeting, they came out with mandatory HIV testing, they came out with unbundling [UNZA]. [But] who sat in that Cabinet meeting who understood anything about how a university runs? It was left to the Minister of Information Kampamba Mulenga to tell us about it! She is not particularly articulate [and] she didn't seem to understand what she was saying to us. The academia has not asked questions, the university has not asked questions. When I was at this university, we were two in a room [but] right now I hear from students that they are five, seven in a room… [But] I always wonder; why is that the university students have not raised that as an issue?"
She observed that the Patriotic Front had shrunk the democratic space.
"This government that we have now is the most dictatorial between [Dr Kenneth] Kaunda and now. It is the one that has shrunk democratic space. So, if we expect that President Lungu and his Cabinet are going to give us back our democratic space for free, it will not happen. We must demand for our democratic space and if we must protest peacefully, we must! Let's not break the law but let's not sit back and say my core business is working at the market, my core business is being a student. The government cannot pick and choose when they can allow us to speak and when they cannot. My view, for example, of the last election is that it was deeply flawed! It might not have been flawed on the day we went to vote but it was deeply flawed in the campaign period because the opposition parties could not campaign, they could not go on ZNBC. I would say that democracy is a system that tries to put citizens at the centre of governance. We can't afford to be scared, we can't be fearful [because] democracy will not come for free," said Miti.
Miti also observed that many people like herself were resorting to writing their thoughts on Facebook because there were no media houses to cover them.
And Habasonda said democracy was an illusion in Zambia.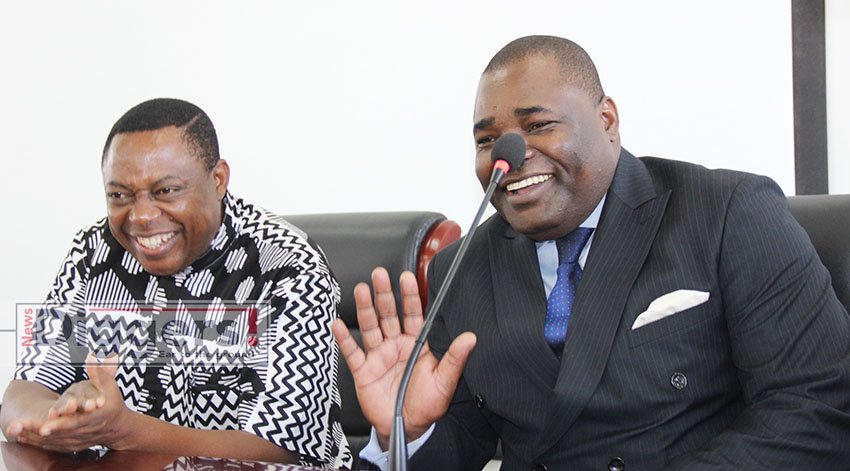 "Participation or inclusion in this country is for people who are in power and those who support them. President Lungu can make a decision today and even if it is very stupid it will pass because he has people behind him and are backing him. So if you are a critic and maybe your son is looking for a job, they will not give it to him even if he is qualified because you don't support them," said Habasonda.
"Democracy will remain an illusion in Zambia if we don't fight because it's like if you don't support them when they are campaigning then they will not even look at you or greet you when they win. But since Amos Chanda, the Presidential assistant is here, let us advice him directly, please can you begin to involve everyone in matters to do with the nation because no matter how educated we might be, our ethnicity and tribal manner in which we do things will continue killing our democracy, if we don't put a stop to it."
Meanwhile, Jere, who was Rupiah Banda's press aide, observed that police were abusing the public order act.
"There is nothing wrong with the public order act in itself but we have problems with our police when it comes to the implementation of the act. The Courts clearly ruled that the they were doing away with police permits because the process of obtaining it was long and so what is there now is the police notification where you have to notify the police when holding an event but it's like our police are still considering the notification as permission, so that is why we are having good all these problems," said Jere.
And UNZASU vice-president Piyo Ndhlovu said Zambians are no longer living in a democracy because no one was allowed to say or do anything against the government.
"We are no longer living in a democracy especially us as students. The democracy being talked about is just on paper because right now we don't have the right to express ourselves even when the Constitution is very about our rights. We can't speak out even when our allowances have not been paid because we fear being arrested, So that democracy being talked about is just a formality and it is only paper. People are not free to do anything that does not agree with the current government," said Ndhlovu.