Opposition UPND president Hakainde Hichilema says he will have no credibility to claim that he is different from those who brutalised him into incarceration, if he does not forgive them.
Speaking yesterday during the thanksgiving prayers for his release from prison at the Cathedral of the Holy Cross in Lusaka, Hichilema also emphasised the need for dialogue.
"I want to say to you on behalf of our colleagues that despite the injustices, despite the inhuman treatment that we endured following our brutal arrest of course and detention, we harbour no bitterness, we harbour no anger because the Bible says if you are angry all the time, you will make mistakes. So we harbour no hatred, and I therefore say on behalf of our colleagues; I Hakainde Hichilema having reflected on everything that happened in light of every word of God and the love of our lord Jesus Christ! We do hereby forgive all of those, and they are many, who were involved in our brutal arrest and subsequent detention.' If we did not forgive them, we would have not credibility to claim that we are different from them," Hichilema said.
"Suffice to say this country needs dialogue, there is no alternative to dialogue, am not aware of any alternative to genuine dialogue. I yet stand here to be challenged if there is any because the opposite or absence of dialogue is not desirable in any country including our lovely country Zambia. Because of this realisation, we in the UPND have always been open to dialogue. It is in line with the word of God that we believe that is based on the truth, on fairness, and open minded, and one which leads to lasting solution. There is no value in dialoging, then after dialoging you retain to the same old habits and acts, it doesn't help. So a genuine dialogue must lead to creation of lasting solutions."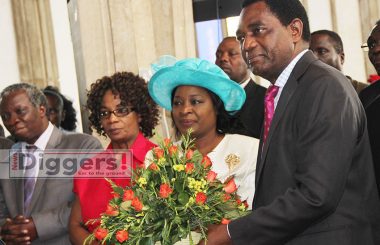 Hichilema said that his incarceration had not broken him but instead strengthened his spirit.
"Our beloved friends, we all are aware that Zambia is a Christian nation, it is therefore imperative that we love one another. The Bible in Romans 12 vs 17-18 tells us that we should not repay evil with evil. But that we should strive to live at peace with all men. Furthermore, the Bible teaches us to live at peace with one another in order to attract God's blessings," he said.
"My experience and those of my colleagues of being incarcerated has not broken us but has strengthened us in our resolve to see a better Zambia for all. All Zambians need is observants to the rule of law, adherence to fair justice, [this is] very important. We all know that God is a just God and he hates injustices. We are therefore focused to see a fully functional society where all institutions of government without exception, within the law, they must uphold the rule of law. They must dispense justice to all the citizens and residents of Zambia without exception."
He said that if given an opportunity to serve Zambia, he would correct a lot of wrong things in prisons.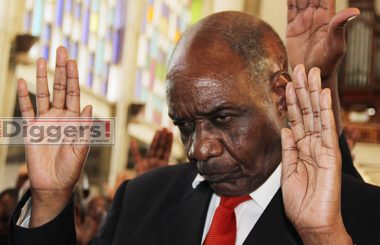 "Brethren, we believe that God allowed our incarceration so that we can learn and know the prison life and understand what really goes on inside there and prepare on how to humble ourselves and how to handle the prison issues including the state of our prisons, congestion, basically dehumanizing treatment that goes on in those prisons. I must tell you that if I didn't go to prison in the manner that I did, I would have never believed anybody telling me what is obtaining in those prisons. God's way.. And I think its fair to say when God gives us the opportunity to serve this country, we will do the correct things, we will make the lives of prisoners better. Therefore allow me to state that a country that is divided against itself cannot stand, it is for this reason that I urge all of you our colleagues of this country to put our differences aside and focus on the common good of our great nation Zambia," Hichilema said
And Hichilema urged the church to continue playing its mandate of mediating for the country in times of conflict.
"The above line is that the church has a divine mandate in ensuring that it mediates in times of conflict, promotes truthfulness and justice, teach peace, love and unity, and speak for the Holy space. Very important. I think thats a noble role of the church. It is our duty those who can tell the story as is, it is to commit ourselves to changing these negative ways, to create no space for these negative ways in our country. We commit our lives to unifying this country again," said Hichilema.
Among the notable people who attended the thanks giving prayers were Hichilema's wife Mutinta, UPND Mazabuka Member of Parliament Garry Nkombo, UPND national Chairperson Mutale Nalumangoand, Secretary Genral Stephen Katuka, veteran politician Vernon Mwaanga, FDD Spokesperson Antonio Mwanza, Former Secretary to the Cabinet Dr Sketchley Sacika, NGOCC Chairperson Sara Longwe, Former Lusaka province Minister Obvious Mwaliteta, Former first lady Maureen Mwanawasa, Freedom fighter Martin Jangulo, Bishop John Mambo, NAREP vive president Charles Maboshe, UNIP vice president Njekwa Anamela among many others.
Apart from thanking God for the peaceful release of Hichilema from prison, the church also prayed for the Executive; President Edgar Lungu and his cabinet, the judiciary and legislature. The church further prayed for the continued spirit of unity among political party leaders.