A container loaded with illegally cultivated Mukula logs is packed at Lusaka's Garden Compound Police Station.
According to a News Diggers! investigation, however, the truck has not been impounded for transporting illegal goods, but there is an ownership dispute among the powers that be, while the dealers have turned against each other.
A Zambian businessman alleged to be the owner of the truck gets agitated after getting a call from a reporter demanding an explanation on why his truck is packed at the police carrying Mukula logs.
And another businessman explains how he was crooked into transporting illegal Mukula and ended up being arrested by police who further (allegedly) stole US$4,500 from him before demanding a K10,000 bribe for his release.
But first, we recorded a thrilling encounter of how the whole scam was done in Serenje, Central Province, by a witnesses who took part in the scam.
Sikazwe (not real name) narrates that the alleged mastermind of the business identified as Emmanuel Simangolwa hired a truck from Alex Tembo, through a third party, to transport Mukula from Serenje to Lusaka on the pretext that it was ordinary timber with export documents.
"What happened is that, about a month ago, Mr Simangolwa sent one of his business partners, a Mr Joseph Simwanza to find a truck that could transport the logs from Serenje to Lusaka. Simwanza approached Tembo with the story that they had mukula 'trees' in Serenje with clean papers. They told him that the mukula had been impounded a long time ago, but then it was discharged through the court process and was supposed to be taken to Lusaka. And that is how Tembo released his truck with an agreement that he would be paid his money in Lusaka, upon delivery," the witnesses explained.
"But when the logs came to Lusaka, Simangolwa and Simwanza had a dispute over some payment and they differed. So Simwanza disappeared with the container so that he could sell and probably get his cut from there.
Sikazwe narrated that Tembo got angry after discovering that the Mukula was illegally obtained from some villagers in Serenje.
"Apparently, these people got the Mukula from some villagers in Serenje and left secretly, forcing the village people to chase after them. They caught up with them in Kapiri Mposhi but they lied to the village people that they would pay them when the logs get to Lusaka where some Chinese businessmen were waiting for the goods with ready payment. But in Lusaka, the deal went bad when Simwanza sold the logs to some Chinese without involving Simangolwa," the witness narrated.
"Now it got bad after police started hunting for Tembo because he was talking too much about this illegal Mukula and the bigger people, the ministers involved, heard that the deal had gone bad. So when Police finally found Tembo trying to get his payment from Simwanza, they arrested and detained him at Garden Police Station."
The witnesses narrated that police also arrested Simwanza, while Simangolwa, the owner of the truck parked at Garden Police, was free.
"As we speak, Joseph Simwanza is in police custody today (Friday) at Central Police. I believe he was picked up at Cosmopolitan Mall last night (Thursday). The challenge that is there is that the senior government officials involved, the ministers, want to move the truck tonight. But the task force [on Mukula] wants to secure the truck today anytime, but there is a dispute. If you go there now, you will still find the truck at the police station," narrated the witness.
"It is a red container on a Renault truck labeled SEMMANUEL TRADING LTD, registration number AJD 8466 and Trailer registration number BAF 128 T. It belongs to his trucking business company."
A check at Garden Police found the truck as described, but when contacted, Simangolwa claimed the story was not true.
"Aaa.. no no no! there is nothing like that. I will get back to you, thank you," said Simangolwa.
When asked if he was denying the fact that the truck parked at Garden Police was his, Simangolwa cut the line.
The investigation then turned to Tembo who also denied having any connection to the illegal mukula trade, but admitted that "Simangolwa hired him through Simwanza on false pretences and later refused to pay him after using his truck.
He complained that he was kept in police detention and charged for "stealing goods in transit", when the Mukula was illegal.
"I have nothing to do with that Mukula, the people who hired me said the timber they were transporting had all the documents. The agreement was that they would just put fuel, go to Serenje, get the timber and within two days they were supposed to return to Lusaka and pay me," he explained.
"So the truck went there and stayed in Serenje for over a week, of which when I returned from South Africa, I pushed them until the truck came to Lusaka. Somewhere in… I think Katuba area, they said they had a problem with the truck. Not knowing that it was carrying illegal Mukula, I told them to come and park it at my yard in Lusaka where I said I would give them an alternative truck. So they came and parked it where I park my other trucks. I think that was last Wednesday, but they got the truck imagine on the 16th of September.
He narrated that the deal went bad after the business partners differed over some payment.
"Initially, they were supposed to move the timber to South Africa on their own, but since my truck is South African registered, they asked me to go and discharge it in Johannesburg. So I insisted that I give them an alternative truck, but they said 'no wait a bit'. So on Thursday I was told they had an issue. It's like there was an issue between the same boss Mr Simangolwa and Mr Joseph Simwanza who had initially approached me. On Friday, this Joseph comes to tell me that 'no I am having an issue with Mr Simangolwa it's like he wants to swindle me he wants to get this truck the whole truckload and he won't pay me anything so I need to move this container to somewhere where it is safe because here at your yard am sure he is going to send people they will come and find it and they will get it'. So reluctantly, after realising that there was something fishy, I told Joseph to go and remove the container from my truck, and I started demanding for my money. On Saturday I called Simangolwa I asked him 'what is the problem between the two of you?' He said 'I cannot talk to you, find Joseph and come to me'. I told him 'I am not your employee, find your employee and pay me, otherwise, I am going to dump that container and get my trailer," Tembo explained in a winding interview.
"Somehow, Joseph found another horse, pulled the trailer and took it to a yard just behind Novatek in the industrial area, belonging to some Chinese. They offloaded the logs and asked me to go and get my trailor, which I did. But I also demanded for my money, so Joseph told me to go back to the same place by Monday 08:00 hours for my payment. On Monday on my way there, a group of police officers came to my car, told my driver to stop. They pulled me out by force, searched my car, from which they stole $4,500."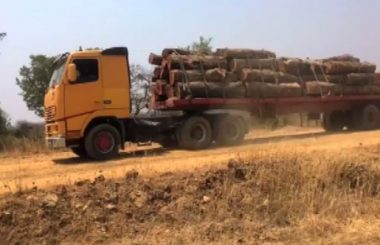 Tembo explained that he was then detained at Garden Police Station.
"So I am told what they did in the night whilst I was locked up at Garden, some police officers and the same Mr Simangolwa got another truck, went back to Fly Dragon and loaded the timber to take it away. But on their way, the Mukula task force squad got wind of it and started trailing them. That is how they U-turned and brought the truck to Garden. They lied to the task force that it was my truck and I was the owner of the Mukula when the truck is clearly written Simangolwa Emmanuel, he narrated.
He explained that he denied owning the track and he was later released on police bond around 16:00 hours.
"I lost US$4,500 which the police took from me and before coming out, my arresting officers asked me to give him K10,000. But I reported that to another office and they started threatening that they were going to make me suffer for jeopardising the Mukula deal and for reporting the K10,000 demand. They said 'why did you allow your truck to offload', I said 'because later on I came to realise that the mukula was illegal, it had no paper'. As I am talking to you, they got all my phone, the money and all the things I had in the car. But I am not involved in their business. If you want, the same way you have reached me, you can also call Mr Simangolwa and ask him. If he is innocent, he will tell you, the way I have told you. You can also call Joseph and You can ask the police what happened. Let them tell you the truth [about] who the owner of that Mukula is, it's not mine."
He said he had been warned to stay in doors.
"What I know is that mukula is banned, so I don't know why they are threatening me as if I am involved. As I am talking to you, I have been warned not to come out of the house. I can't even take my children to school. So ask the people who gave you this story to tell the whole truth and the true owner of that Mukula which is at Garden," said Tembo.
The News Diggers crew was able to independently verify that the Mukula logs in the container truck at Garden police was illegally cultivated and the dealers, as well as the government officials involved have distanced themselves from the consignment after it was publicised.