An American based organisation called Environmental Investigation Agency (EIA) has released a report into the smuggling of Mukula logs in Zambia, which has implicated President Edgar Lungu, his daughter Tasila, Justice Minister Given Lubinda, his lands counterpart Jean Kapata and a traditional leader, among other influential figures.
According to the investigation contained in the 18 paged report released Thursday, President Lungu allegedly gives instructions, personally, for dubious export permits to be issued to smugglers who transact for his interests.
The EIA undercover investigators who were on the ground in Zambia this year interviewed smugglers who revealed the role that Tasila Lungu plays in the smuggling cartel.
EIA investigators were told by a relative and business partner of Minister Lubinda, that the Kabwata member of parliament is also involved in the mukula trafficking network.
Below are excerpts from the EIA investigative report which can also be downloaded from the News Diggers website.
Trafficking Routes:
Despite bans and public declarations by senior officials, well-informed sources – including African and Asian traffickers – unanimously confirmed that the harvest and trade in mukula logs has never stopped in Zambia. The primary mukula extraction areas in Southern DRC (Katanga Plateau) and Zambia (Mamba region and Northwest region) are located in landlocked forests, forcing traffickers to pass through several countries in order to reach a port from where the timber can be shipped to China, and, to a lesser extent, Vietnam. As with other rosewood species, mukula trade appears to be linked to illegal trade in endangered animal parts, and there are indications that routes used by wildlife traffickers to supply Asian markets are the same for animal and timber products.
ZAFFICO's "Special Permits"
Traffickers told EIA undercover investigators on multiple occasions that the official export of seized mukula logs by ZAFFICO has served as a cover for a large clandestine operation for the past two years, allegedly allowing anyone with enough money and high-level connections to secretly export freshly cut mukula logs out of Zambia.
The volumes involved are difficult to evaluate, but triangulating information from multiple sources, it can be estimated – conservatively – that on average a minimum of 50 40-foot containers of mukula have been exported each month under the guise of seized stockpile wood from June 2017 to May 2019.
ZAFFICO issues so-called "special permits" allegedly for the disposal of confiscated timber to preferred companies yet these permits enable them to transport and export freshly harvested mukula. The permits specify means of transport and the port of loading for export (usually Durban in South Africa). Based on the ZAFFICO special permit, "joint forces" of army, security and police issue the export permit and required transportation documents for the shipment to Durban through Zambia. These documents would also facilitate the customs clearance for shipping the timber in South Africa.
Political Connections:
Chinese traders explained to EIA investigators that it is not difficult to circumvent the export ban.
"If you have connections with high level [governmental] relations, you can get an export permit with ZAFFICO and you're good to go. But you have to have a reliable local partner to help with that. Sometimes that partner takes your money but didn't actually submit the exporting permit."
A reliable connection on the ground and in the ruling party appears to be an important channel to obtain the ZAFFICO special permits.
An influential Zambian trafficker, Mr. J, stated:
"I am a government officer. What happens is that we are protected by the party [Patriotic Front], by the government."
He described the trafficking activities as a sort of "joint venture with the Central Committee", whereby the ruling party ensures special permits for traders/loggers in order to secure votes in rural areas.
"Because they lost a seat in Shesheke so they want to win that province", he explains.
One way to do that is give special permits to close allies who are using them to buy freshly cut mukula logs from communities in the province in exchange for their votes. The same trafficker explains that he shares the ownership of a forest concession in the northwest of the country with a well connected "friend."
He explained to EIA investigators that he and his associate would "just need a partner" to buy the mukula they are harvesting in their concession. He explained: "I am in the system. I work in the system. I work in the government, but I do private work also. And this is actually the business." For his business partners, this trafficker usually arranges all necessary documentation: production document, transport ("conveyance") document from the point of harvest, export permit, and the "certificate" for the company, which he described as the "very crucial document" needed to start and complete the process. The mukula logs he offered EIA investigators are harvested in the Northwest Province, then moved to Mansa where they are containerized, before being trucked to Lusaka. In Lusaka, the containers are moved to Namibian trucks for transport to Walvis Bay. The trafficker said he works in collaboration with an "agent" located at Walvis Bay port who facilitates the export. Given the diplomatic incidents related to the mukula trade between Zambia and Namibia, he recommended to mis-declare mukula logs as "African timber" or "Guibourtia coleosperma."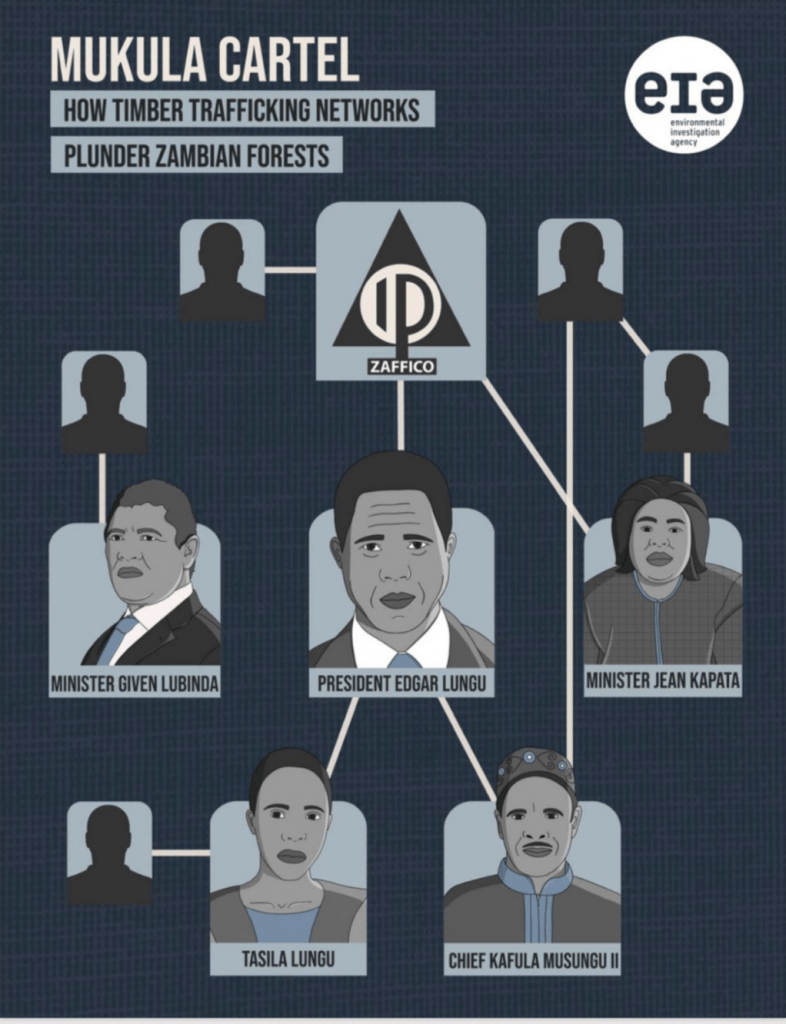 Jean Kapata's connections:
Foreign traffickers also need to establish strong connections. One of them, reportedly the owner of the company Qingwan, apparently partners with Jean Kapata, the Minister of Land and Natural Resources to get the timber out, according to one of his business associates and a close relative who talked to EIA:
"EIA: How could you get the logs out? They all said no way get out…have you successfully got logs out for a couple of years?
Ms. R: I used to do business in DRC but my [relative] has been in Zambia for years. […] We shipped out a lot of mukula. Two years ago we lost a lot of money due to the export ban. Last year we got access to the documents in Zambia. We are one of the three exporters who got the permits there. We were able to get containers out of Zambia since then.
EIA: You've been shipping out for a year?
Ms. R: Yes! We've been in this business for over ten years in Zambia.
EIA: Did you mention last time that you're partnering with the Minister of Land and Natural Resources there?
Ms. R: Yes.
EIA: A female minister?
Ms. R: Yes.
EIA: Her name is Kapata?
Ms. R: Yes."
"Big Money" for the "Big Boys" and the "Big Girls"
Political connections to corrupt senior officials appear to be the key to gain access to the special permits. The Chinese trader who has been involved in mukula trafficking for more than five years explains:
"Mr. D: I don't give money to the president directly. I bribe those who are above ministers' level.
EIA: Above ministers? You don't have to pay the ministers?
Mr. D: I don't have to establish a relationship with the ministers. Instead, I got well with those who are close to the president, the ones that collect money for the president. I have good connections with people around the president, who collects money for him. Those guys are the regular guests I have to social frequently with drinks. Even the ministers go visit their homes for drinks.
EIA: So, even ministers are no match for those guys?
Mr. D: No need to get acquainted with the ministers whose powers are limited to certain narrow fields, which doesn't serve our needs.
EIA: Who exactly do you refer to by "people close to the president", someone like the bodyguards?
Mr. D: No, these are who doing business, running companies, etc., under the president's name and collect money [for the president]… They are acting like the president's "house-keeper."
In order to guarantee access to fresh mukula logs, he also reports to have "donated" US$40,000 for the president to buy outfits for his re-election campaign.
Using his political connections, a Zambian trafficker told EIA investigators that he is paying US$5,000 for a "special permit" and then will pay approximately US$1,000 in bribes to local officials in order to ensure smooth loading of the container. When asked about the road-blocks and the police, he answered: "Police on the way, they are my babies. They are not a problem, because there is a caveat: when the goods are going we put a police officer there for exporting those things."
Another trafficker, Mr. O, complains that the bribes he has to pay have become too high, and the mukula business would now only be reserved for well-connected individuals or wealthy exporters. He explains:
"Mr. O: Yes, you can buy [mukula]. Depending on how much you can afford to pay. What is now expensive to make us local guys difficult to export is the export permit. It is very expensive. Actually, to some extent, it's more expensive than buying the product and bringing it here [Lusaka], because that's how ZAFFICO has done it. If they are telling you to produce 15,000 dollars, where do I get that money? It means they are telling me don't do the business, that it is for the big boys.
EIA: So 15,000 dollars is the price that you have to pay for the document?
Mr. O: Yes.
EIA: Okay. Does the government actually have that money? That goes into the country or it just gets pocketed?
Mr. O: That is for the big boys. We don't know because looking at what is going on, government as an institution is broke but there are a few government officials who have got money. Where are they finding the money? Through this, same as copper, mukula, and other things that they are selling.[…]
EIA: So the 15,000 dollars, you're saying it does not… You don't know…
Mr. O: It will be received by a government official. Where he takes it…I don't know if it will go in a government account or an individual account. Where the money goes, no one knows. Whether it goes into the government or individual pocket. But now you find these guys buying big cars."
Tasila Lungu Connection:
Confronted with her involvement in the mukula trade, Tasila Lungu publicly refuted the allegations and declared: "I have not at any juncture been involved in either of the alleged criminal transactions. This kind of reporting is highly regrettable."81,82 EIA undercover investigators had the opportunity to talk to two individuals involved in the traffic of mukula who clearly explain Tasila Lungu's role:
"Mr. O and Mr. L: They have [mukula] taken, diverted by the daughter of the Man […] The daughter of the president, whatever comes she gets first of first.
EIA: So some money pays to the president?
Mr. O: No, it's the daughter… The daughter is directing… whatever comes in Lusaka, she has an ear to the ground… she will easily know that containers […] and she will be fast to take care of them.
EIA: So who is she?
Mr. O: The daughter…
EIA: The daughter of the president?
Mr. O: Yes.
EIA: Of course […]
Mr. O: The moment she gets wind of it, she has engaged a lot of guys, when it comes they call her first thing.
EIA: What's her name?
Mr. O: Tasila… It's a common name.
EIA: That's a pretty name.
Mr. O: She is a councilor in the next shanty compound here casino down town yeah that's the councillor.
EIA: So timber business is her side business?
Mr. O: Yes, but you know the father knows everything. You know the father can't do these other businesses so these other businesses are done by daughter and others."
The traffickers that explain Tasila Lungu's role are themselves very organized. One trafficker appears to be the brains of the operation, connecting the other members of the illicit network with the high authorities. Another trafficker is a timber expert who claims to have worked in the business for 20 years, and the last person involved leads field operations. He deals in particular with loggers, local communities, and the owners of mukula stockpiles in the bush. At the time of the investigation, this trafficking network was exporting mukula logs via the ZAFFICO scheme and preparing their next move, according to the members met by EIA investigators.
Chief Kafula's Quid Pro Quo: Votes in exchange for Mukula Logs:
EIA investigators were told by the business partner of Kafula Musungu II, Senior Chief Nkula in Muchinga Province, that the chief allegedly convinced a large majority of "his people" to vote for President Lungu in the latest presidential election. As a thank-you gift, the president reportedly issued him a permit for the export of 100 containers of mukula in 2016. But the permit was suspended in 2017, after only 38 containers had been exported. The chief told EIA investigators that the president assured him in person that he is about to issue a "special permit" to export mukula "just for [him]." The permit would allow the export of 100 containers and could be renewed easily. The chief traveled to Lusaka in mid-March 2019 to meet the president, hoping to finally close the confidential deal, but the permit was allegedly pushed back for a couple of more weeks. The chief explained to EIA undercover investigators:
"Chief Kafula: I try to get in contact with some people so that when we start producing mukula trees so that we can be exporting. I don't want to work with ZAFFICO.[…] I think I will make an appointment with the president so that he can follow up with my application because I left my license to the State House to the president, and he gave it to somebody so that they can process the papers, it is just to renew. My [2016] license, I didn't finish my containers that I was supposed to finish. So I claimed to finish them, no one will say no. […] Me, I go straight to the president. I don't go to this office and other things. It's him." Chief Kafula produced his canceled export permit to EIA investigators and further explained that his objective is to reach out to several chiefs in other areas in order to fill the containers, as he did three years ago. In 2016, his license was used to cut trees in several other regions. He bought the timber from other traditional chiefs and would himself sell the containers to a business partner.
Given Lubinda's Group:
EIA investigators were told by a relative and business partner of the Minister of Justice, Given Lubinda, that the minister is also involved in the mukula trafficking network. In addition to timber deals with the minister, the informant stated that they were also involved in trading gold and diamonds from Angola. He explained to EIA investigators:
"EIA: So what we are here for is to try to buy some mukula. Can you still do it?
Mr. H: That's my business.
EIA: We are concerned, is that possible? Is it illegal or legal? Mr. H: It is illegal but now it's open. People are trading. But not to everybody, only for special people and even myself I alone I cannot do it.
EIA: Okay you are going to hire people?
Mr. H: Yeah government people. Number three minister, Justice Minister.
EIA: And you have been working with them before in the past?
Mr. H: He is my travel mate! And I am his bishop, I do with him business. I do go to Angola. I was supposed to go to Angola. You know stones? Precious stones.
EIA: Okay so you are involved with that?
Mr. H: Yes. Diamonds and gold."
Mr. H confirmed to his knowledge the existence of "special confidential" permits to a "very small group of people." At the first meeting with EIA investigators he was not sure about the details, but he said that he was to talk to the Minister to get details. A week later, he introduced EIA investigators to a company called "TiJem" directly recommended by the minister, according to him. Mukula trafficking appears to have deep roots at the heart of the current government in Zambia. The issuance of clandestine rights to export in exchange for votes, and the cover apparently provided by the ruling party's central committee are highly problematic for national governance. The mukula cartel poses a major threat to Zambian rule of law.Mukula_Cartel-HighRes