Yes, his name is Dhruv Darji, but no he is not a foreigner.
Since the University of Zambia was opened in 1966, there has never been a student performing better than 19-year-old Darji; and he is among the only eight so far who have reached this peak of academic excellence.
Now, before I tell you more about Darji in a moment, let me just describe the School of Natural Sciences and how competitive it is.
Firstly, to be admitted into the School of Natural Sciences, you need to have at least 6 or 7 points at Grade 12, while the School of Humanities asks for at least 10 points and 15 points can see you in the School of Education.
But getting into the School of Natural Sciences is actually the easy part if you ask me, because even an underachiever with a friendly headmaster can make it; but it is staying there which is mind blowing, let alone getting distinctions.
Let me put it this way; last year alone, over 800 natural science students failed to make it to second year and those who made it have four or six more years of sleepless nights.
Before they can become engineers, pharmacists or doctors for example, students like Darji need to prove that they understand human biology without error of margin.
For Darji, not only did he make it past the most difficult part, but his name will remain engraved at the University because he scored A+ in all the courses including Math, pure Biology, pure Chemistry and pure Physics.
Born in 1998 in Kitwe District of the Copperbelt Province, Darji attended his primary school at St. John's Convent and later did his secondary school at Mopani Copper Mine Trust School where he graduated with six points.
Passionate about natural sciences and medicine in particular, Darji applied for admission at the University of Zambia and was admitted in 2015 in the School of Natural Sciences.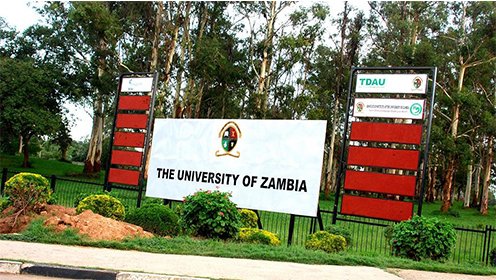 Darji proved to be a modern day scholar when he scored 20 straight points with A+ in four courses, and is currently quoted in Human Biology, a prerequisite to studying medicine.
Not to be confused with the high school scoring system, at UNZA the higher the points the better. In the School of Natural Sciences for example, if you score A+ in a particular course or subject, you are rewarded five points. The lower the percentage, the lower the points and the higher the chances of going back home.
According to the current grading system for the University Of Zambia School Of Natural Sciences, to get A+ a student needs to score 90% and above, which is a first class distinction. Darji got more than 90% in all his subjects; thus 20 points, the highest score anyone can ever achieve.
He explains in this interview how hard it was to make it as one of the best students in the history of UNZA.
"There is academic pressure and tough competition among us. It's quite tough actually, I remember I had to fight for 2 or even 0.5 marks just to ensure that my Continuous Assessment (CA) is right, so that I can get an A+ and at least be among the best."
Asked how this academic achievement made him feel, Darji said it was a pleasure to be among the best students in such a competitive School in the University.
"It's a privilege for me to be among the best students. Everyone works hard here, it's an amazing learning environment," added Darji.
Darji appreciated the lecturers in the School of Natural Sciences whom he described as very good in both academic and social relation.
He further stated that the School of Natural sciences was fairly equipped with enough studying material. He however appealed to relevant authorities to consider building more laboratories to caution the high number of students who have to access the facilities.
"The equipment in the lab is not enough to cater for all students, we have to divide ourselves in smaller groups just to ensure that we share the apparatus easily, but still you will find that some groups do not manage to do the labs. It would be good to have enough laboratory space and equipment I believe, as science is largely based on practical," he said.
Darji says he aims to become a professional Doctor and to work within Zambia. He added that his dream is to contribute to the science field in the country.
"Well, I would like to be trained as a medical professional and just have a good career in Zambia, I wouldn't want to end at first degree level, I would want to do my masters and PhD. I don't know where I would do that but that's my dream, and I want to contribute to the field of science in Zambia, that's my passion," explained Darji.
Darji is looking forward to storming the University of Zambia Ridgeway Campus for medical studies after finishing his human biology programme at the Great East Road Campus.
I don't know about you, but after Dr Darji graduates, I won't mind falling sick. Anyway, there you have it.
So next time you hear my wonderful voice on UNZA Radio during the Lusaka Star programme, and you feel as proud of me as my parents, please spare some respects for students like Darji who make all of us UNZA students really proud.