A research by World Vision Zambia has revealed that the country has the highest child marriage prevalences in Africa with Eastern Province recording the highest rate in comparison to other Provinces.
And a Sansamanje Secondary School pupil in Isoka says parents in the area rush schoolgirls into marriage to gain an income and as a means of protecting children from contracting sexually transmitted diseases.
Speaking at the launch of the organisation's 'It takes Zambia to End Child Marriages' campaign in Isoka district of Muchinga Province, World Vision Zambia communications director Pamela Chama said eliminating child marriages was a collective responsibility, adding that children who were forced into marriages missed out on a lot of lifetime opportunities.
The launch which took place at Isoka's Sansamanje Secondary School in Isoka district, attracted government officials, people from the civil society organisations, Church and traditional leaders.
"Zambia has one of the highest prevalence of child marriages in Africa and the rates are even higher in Eastern Province, compared to other Provinces. Government through the Ministry of National Gender has provided guidance through the national strategy to end child marriages in the country. This development has led to positive developments aimed at ending child marriages. As we were driving from Lusaka, I was happy to see so many billboards in various Chiefdoms declaring their support to end child marriages in the Province. This is a job well done by cooperating and implementing partners working closely with the traditional leaders. A girl bride is denied many opportunities in life, among them education; skills, resources and social support. Young married girls often have little power in relation to their husbands and in-laws. They are therefore extremely vulnerable to domestic violence, abuse and abandonment," Chama said.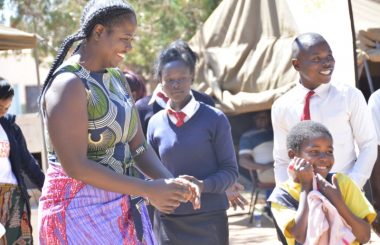 "In response to violence against children, World Vision launched it's 'It Takes the World to End Violence Against Children', a call for all countries to ensure that children are not just protected from violence, but have safe and loving environment's. This global campaign was launched last year on our continent at the Africa Union (AU) in Addis Ababa, Ethiopia. Here in Zambia, after engaging children, youth and other stakeholders, child marriages was determined as our focus, which is also aligned with the government's priority."
She pledge that the World Vision's "It takes Zambia to End Child Marriages" campaign will be implemented in the over 40 districts across the country where the organisation has been operating so far.
And Isoka District Commissioner Evenwell Mutambo said more needed to be done in ending child marriages because the trend had continued to be practiced in many communities despite government efforts to try and eliminate it.
"Government has made significant progress in reducing child marriage rates in Zambia from 42 per cent to 31 per cent, according to the 2014 Zambia Demographic survey. An estimated 31 per cent of women aged 20 to 24 marry before the age of 18. child marriages stems from a multitude of causes and situations as demonstrated by growing evidence. The consequence of this practice are far-reaching for the communities and the country at large. At present, the early marriage prevalence rate for Muchinga Province stands at 44.7 per cent while the Isoka district rate is 33.7 per cent. this shows that we have much to do as a district to protect our girls and boys from child marriages. It is also worthy to note that marriages affects more girls than boys with 17 per cent of girls aged 15 -19 married compared to only 1 per cent of boys in the same age group. So the girl child is more vulnerable than the boy as indicated by evidence," said Mutambo.
"Child marriages in Zambia are more common among adolescents who are pregnant, from poor families, in rural areas and not attending school. For us to ensure that Isoka district and Zambia as a whole is child marriage free, we need to collaborate with all partners, including parents, guardians. Ending child marriages will teach us to make conscious decisions to take action. I would like to commend World Vision for coming on board to complement efforts by government to end child marriages. I implore other partners to join this partnership so that we can ensure that collectively we build safe environments that allow boys and girls to explore their full potential."
Meanwhile, delivering a speech on behalf of Sansamwenji Secondary leaders, pupil Belinda Nachalwe said most children were being forced into early marriages because parents regarded marriage as a source of wealth.
"The launch of the campaign against child marriages could not have come at a better time than this when our district and in particular Sansamwenji community is gravely hit by this scourge. Despite international agreements and national law, marriages of children below 18 years of age are common in our area and affect hundreds of our colleagues every year. Child marriages are rampant in our area because parents look at girls as the source of wealth. Besides, they see child marriages as protective mechanisms against premarital sexual transmitted infections especially in then era of HIV/AIDS. But the reality is quite different, among other reasons are cultural traditions, poverty and ignorance," said Nachalwe.
"Our colleagues have dropped out of school and forced into early marriages and though sometimes the community thinks children prefer marriages to school, I stand to say it's not correct and this launch against child marriages marks the beginning of a solidarity walk against the vice in our area. This will also send a signal to the entire country as one of the concrete and practical actions to prevent and eliminate the scourge. However, there is no single solution to ending child marriages; rather it must begin with me, parents, the traditional leadership, and different partners like government and the civil society organisations."